Just witnessed your best live gig?.. send us a review!
FIREFEST
Rock City, Nottingham 19-21 October 2012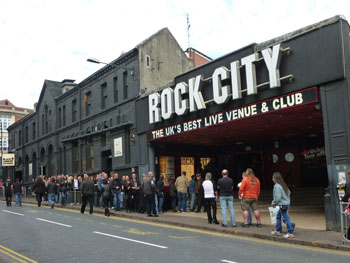 Photo: Phil Berisford
Already established as something of a mecca for melodic rock fans from across the world, Firefest just becomes bigger and more successful. The ninth show, and eighth at its traditional Rock City location, was a weekend sell out for the first time.
Part of this is accounted for by the usual mix of the genre's favourite bands and cult acts exhumed from obscurity that we thought would never be seen live again, and perhaps their most diverse bill to date.
However just as important is the unique spirit this festival has managed to generate, and when first timers experience it they are guaranteed to return and bring more friends next time.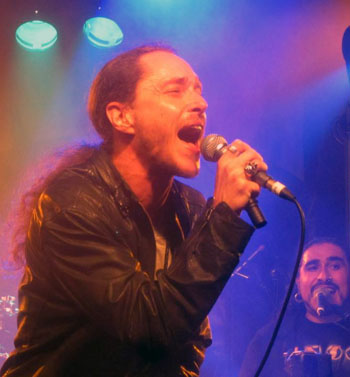 Photo: Andy Nathan
DAY 1- TYKETTO, TEN, DANTE FOX, LIONVILLE
Firefest's Friday evening has grown over the years from a low key pub event to a full blown four band bill in the main room at Rock City, and this year's featured three bands who have been regulars on the live circuit in the UK.
First up though were Lionville, who opened with a piece of classic prime time AOR in 'Here by My Side', and proved that Italy has become a rising force in the AOR world, though their trump card were the clean, soaring vocals of ponytailed Swede Lars Safsund, of whom more anon.
The Richard Marx and Brice Gaitsch penned World Without Your Love was another great number but sadly after just 25 minutes the set was curtailed, leaving me curious to discover more.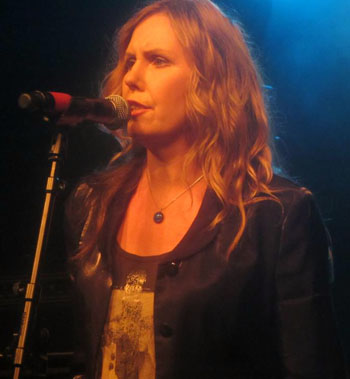 Photo: Andy Nathan
Dante Fox have been treading the boards on and off for many years now, and stuck to old favourites like 'Lost and Lonely Heart', 'Under The City Lights' and 'I Can't Sleep' but this was the most polished I have seen and heard them.
Sue Willetts has a great voice that even has the power of Heart's Ann Wilson at times, while guitarist Tim Manford's enthusiastic shape pulling is always entertaining.
A good new song was aired in 'Who Stole the Innocenc'e while the forceful hooks of 'Walking the Line' and their cover of 'Remember' ended an excellent set. Yet something was missing in a muted crowd reception and Sue's apparent discomfort at being on stage and working an audience counts against them as live performers.
In the days of Firefest's predecessor festival, The Gods, Ten were virtually the house band, so it was perhaps surprising that this was the first time they had played Firefest.
As the curtain dropped and they opened with the lively 'Lights Go Down' from their brand new 'Heresy and Creed' album, two changes struck me from their low key comeback tour earlier this year - one was that singer Gary Hughes, resplendent in military jacket, had dispensed with his curls and was reminding me of Alan Shearer. The other and more significant was their act was so much more polished, aided by the larger stage.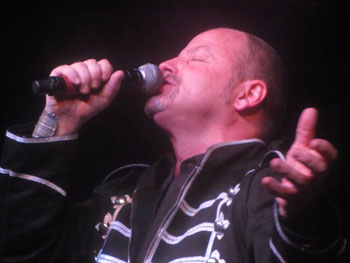 Photo: Andy Nathan
It was tough for a band with a penchant for epic songs to condense them into a 50 minute set, but they mixed another two newies - 'Gun Running' and 'Unbelievable', which both have a bouncy lightness of touch not always associated with Ten - with old favourites, including 'Spellbound', the epic 'Ten Fathoms Deep' with some almost Deep Purple like heavy keyboards, 'After the Love Has Gone' which will always remind me of the old melodic rock nights at Maximes in Wigan, the celtic tinged romp of 'Red', and 'Name of the Rose', with talented guitarist Dan Mitchell soloing with almost Satriani like speed and fluency.
With this set Ten may have taken a significant step towards reversing years of under activity and working their way back into public consciousness.
Tyketto were appropriate headliners as few bands are more revered in the melodic rock word, keeping the flag flying during the locust years of the nineties.
Compared to their last headlining appearance in 2008, this one came with added authenticity as all four original members including guitarist Brooke St James were present, having recorded a new (and slightly disappointing) album in 'Dig in Deep'.
Indeed after opening with 'Strength in Numbers', which is one of my less favourite tracks, newie 'Faithless' proved a worthy addition to their live canon with some powerful drumming from Michael Clayton.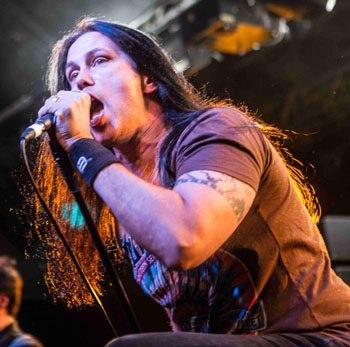 However it will always be the songs from the classic debut 'Don't Come Easy' that have mythical status among Firefesters, beginning with 'Burning Down Inside'. The atmosphere was superb as people sang along to 'Standing Alone', after Danny Vaughn expressed his pride in having written a song that has personal meaning to so many people.
Compared to previous years, Tyketto now come across as a tad mellower and more polished, aided by a keyboard player in Ged Rylands and with Brooke perhaps a more tasteful yet restrained player than when a young hot shot.
However two other new songs, the bile releasing 'Here's Hoping It Hurts' and 'Fight Left in Me' came over much more powerfully live and sat comfortably alongside six songs from the debut and four from 'Strength in Numbers'.
Danny also explained his bonds with the festival including meeting his now wife on a previous visit, and then dedicating her favourite song, which was the classic 'Wings', which I had been beginning to fear would be omitted with time ticking on.
Inevitably the encore was 'Forever Young', which is the nearest melodic rock has to a national anthem, with Danny begging the crowd to jump up and down as much as they could, which was a perfect end to a set of pure quality and an excellent start to the weekend.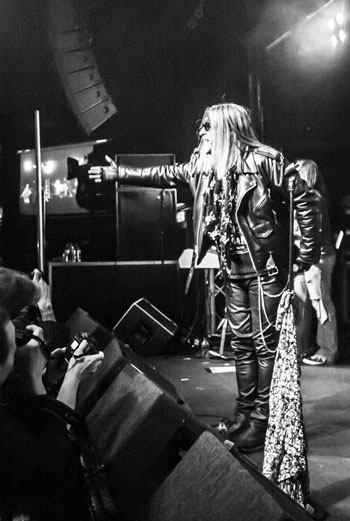 DAY 2
MITCH MALLOY, GOTTHARD, XYZ, SANTERS, ROBIN BECK, WORK OF ART, JOHNNY LIMA
Another former Gods regular making his Firefest debut, Johnny Lima, kicked off Saturday proceedings with the autobiographical 'Made in California', as if you could not tell from his LA hair metal meets biker image.
Backed by a hairy band of German musicians, his music and image seems to have toughened somewhat in the decade since I saw him,with 'Wild Flower' even sounding a bit like late eighties Motley Crue.
The Bon Jovi-isms of his early years are less prominent though on a couple of the slower numbers like 'Blame It On Love' and 'Hard to Say Goodbye' there was still a Jon Bon Jovi esque catch to his voice.
While I would have preferred some of his older material an increasingly enjoyable set featured strong catchy songs like 'Caught In The Middle'. A mark deducted though for his incessant and exaggerated name checks for Notting-HAM.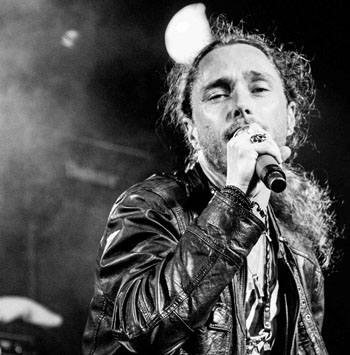 Typically at Firefest, the crowd fills up gradually during the day but Work of Art, led by guitarist Robert Sall (also of W.E.T. who were such a hit at last year's Firefest) have generated such a buzz that the floor was packed in the run up to their appearance.
They did not disappoint with the same Toto-esque west coast class they have shown on their two albums to date, albeit somewhat rockier. Opening with 'The Rain' and 'Nature of the Game' from their last 'In Progress' album, the crystal clear, soaring yet techincally perfect vocals of Lars Safsund, on his second shift of the weekend, lifted the songs into a higher gear.
Their debut also got a look in with the likes of 'Cover Me', but for me the highlight was 'The Great Fall', which upped the tempo a few notches when it was threatening to get a touch bland, and though they were not the most visually exciting, the sheer quality they showed was worthy of a higher spot on the bill.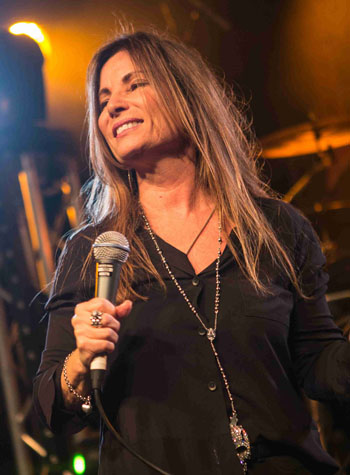 It is not often, if ever, that Firefest features someone to have sung a UK No 1 hit (even Jimi Jamison joined Survivor after Eye of the Tiger), but in the first of the cult acts brought out of the wilderness, Robin Beck, we had one such.
Although she started tentatively, catching her breath between songs, her diminutive frame still packs a surprisingly gutsy voice, not to mention a quirky, feisty attitude.
Bearing the brunt of much of her caustic humour was husband and House of Lords singer James Christian, playing bass in a band of some of melodic rock's most prolific and respected artists such as Tommy Denander and Eric Ragno.
To my delight she opened with not one, but a quartet of songs from her 'Trouble or Nothing' debut which saw the big hit machines of the day like Desmond Child and Diane Warren contribute most of the songs with typically big choruses: the feisty 'If You Were a Woman and I was a Man', made more famous by Bonnie Tyler, 'Don't Lose any Sleep', the Alice Cooper penned 'Hold Back the Night', with a great wall of vocals from her band and 'Save Up all Your Tears', a hit for her in Europe but only for Cher here.
A duet with James on 'That All Depends What You Do Tonight' and 'You Are the One', dedicated to co-promoter Bruce Mee, were fresh but melodic and lost nothing by comparison with first album classics in another ballad in 'Tears in the Rain' and the much covered 'Hide Your Heart' which had me and a fair few others at the front rocking out.
Inevitably 'The First Time' ended the set, in a far more powerful version than the original with great guitar solo from Tommy whose style was perfectly suited to this type of music, but she even returned for an as yet unreleased song 'Follow You'. She was an early contender for act of the weekend and I hope this was not a one off return for her.

Photo: Andy Nathan
After striking paydirt last year with Coney Hatch, Firefest tried to repeat the feat this year with another Canadian act who had not been here in close on 30 years in Santers. They were one of the biggest draws for me, but in hindsight not a great fit for the bill.
The stage suddenly felt very sparse just hosting a power trio- guitarist and singer Rick Santers,his brother Mark on drums and ponytailed bassist Rick Lazaroff – who were not the most visually inspiring performers.
Despite a good start with 'Winter Freeze', the Coney Hatch esque 'Mistreatin Heart' and 'Black Magic', the set- especially when numbers from their 1981 debut 'Shot Down in Flames' were played – descended too often into musically tight but slightly dated bluesy classic rock in the mould of Pat Travers or early Rush or Triumph , with the trio regularly diverting into jams.
With nowhere to sit and eat at Rock City many chose the set to disappear for a comfort break and a drum solo and a cover of 'All Right Now' further seemed to misread the mood.
Thankfully the set was redeemed in its closing stages by 'Can't Shake You', while if fellow Canucks Rush took the 'Passage to Bangkok', the galloping 'Road to Morocco' was a suitable end to Santers' Firefest journey. I did enjoy Santers for the most part but they will have been the Marmite band of the festival, dividing opinion.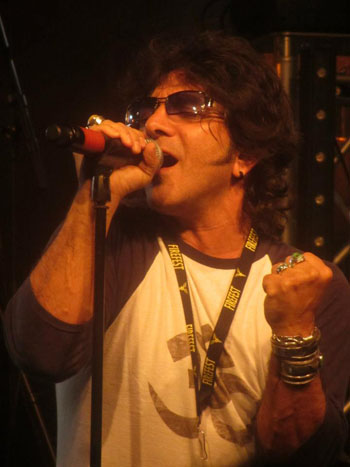 Photo: Andy Nathan
XYZ, back for their first UK show in over 20 years were the heaviest band of the day with a brand of unoriginal but dynamic and muscular hard rock such as 'Come On and Love Me' and 'Maggi', topped off by some superb vocals from Terry Ilous (even if his spoken voice was a bizarre hybrid of accents from his native France to Woody Allen style New York Jew!)
'Follow the Night' with its bluesy, smoky feel demonstrated exactly why Great White enlisted him to replace Jack Russell, but in a total change of pace and a bold move he and guitarist Tony Marcus played a trio of acoustic songs, seemingly spontaneously.
'Face Down in the Gutter' and 'Inside Out' ended an excellent set in more typically aggressive and crowd pleasing style, and having largely passed me by in the day at the turn of the nineties, this set was a real incentive to check out their material.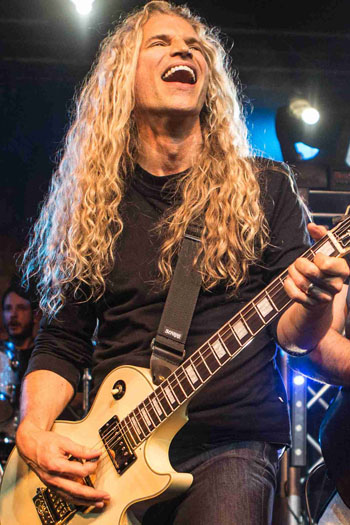 In contrast Mitch Malloy is a familiar visitor to Firefest and was making his second appearance in successive years, again backed by the Italian musicians who form the basis of Lionville including bassist Ana Portaluppi and Marco Percudani whose guitar solos had a great understated melodic feel to them.
The winning formula was unchanged as, looking the all American hero with his flowing hair and perfect gnashers, he opened with a storming 'Mission of Love'.
For most of the set he alternated favourites from his classic debut such as 'Stranded in the Middle of Nowhere', on which his voice sounded rather strained, and the bluesy 'Over the Water' with a series of excellent cuts from last year's back-to-AOR-roots 'Malloy II' and interestingly the likes of the crisp modern pop rocker 'Falling to Pieces' and 'Love Song' seemed to go down almost as well. Surprisingly the reissued 'Shine on' was barely promoted in his main set other than with 'Its About love'.
'Our Love Will Never Die' was a beautiful stripped down version showcasing Mitch's yearning, slightly heartbroken voice before the band kicked in, and then he cast off his guitar to work the crowd during a rousing 'Forever'.
Ending the main set early he surprisingly returned with Danger Danger bassist Bruno Ravel guesting on 'Shine' before one of the genre's guaranteed dance floor fillers, 'Anything at All' had everyone clapping and singing along,
However curiously he chose to end not on that note, but with the country rock flavoured 'All my Friends'. His enjoyable performance was on a par with last year's, and yet the set was too similar to be able to make quite such an impression this time round, especially on a weekend when we were being spoiled by so many rare performances.
Gotthard were worthy headliners on their first tour since the tragic freak death of singer Steve Lee, and were a little late appearing while their own sound and lights were set up. Steve both had a special voice and was a magnetic live performer, giving Swiss-Australian replacement Nic Maeder a near impossible job following in his footsteps.
However from a cracking opener in 'Dream On' and 'Gone Too Far', it was clear that his band mates have chosen well: his voice is not too dissimilar and he fronted the band like a seasoned professional.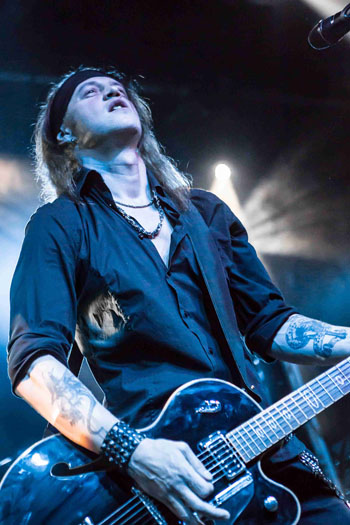 With songs ranging from selections from new album 'Firebirth' including semi ballads 'Remember Its Me' and 'Shine', and lead off single 'Starlight' with its instantly catchy vocal effects, to oldies like the irresistible 'Top of the World', this was looking like a triumphant return. The tribute to Steve was heartfelt but low key and, accompanied only by piano, Nic's delivery of 'One Life, One Soul' did his memory proud.
However as the gig wore on I found myself enjoying it somewhat less than their previous shows. Possibly set up for the larger halls they play in Europe, a combination of a deafeningly loud sound and strobe lighting illuminating a darkened stage made me feel as if I was at a nightclub.
Too much of the music was run of the mill sub AC/DC numbers such as 'Fist in Your Face' and 'Ride On', with the emphasis on thick guitar riffing rather than melody while 'Mountain Mama' saw guitarist Leo Leoni playing his talk box and adding some high pitched screams.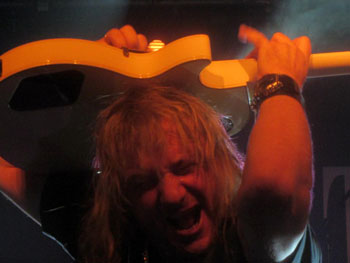 Photo: Andy Nathan
Any doubts though were cast aside when the beats of 'Lift U Up' had the whole of the front jumping to what has become something of a party anthem; indeed the chant from it rang around the crowd for some while after the band left the stage.
Again a tight curfew loomed but they squeezed in two encores, an almost unrecognisably heavy 'Master of Illusion', followed by 'Anytime Anywhere', perhaps my all time favourite Gotthard song from their standout album 'Lipservice', even if the keyboards blasted through ridiculously loud, at least where I was stood.
The Swiss masters' reversion to a rawer sound may not have been quite to my taste, but this gig was still a triumphant illustration that one of the best melodic rock bands of the last two decades have emerged from a dark time and can face the future with confidence.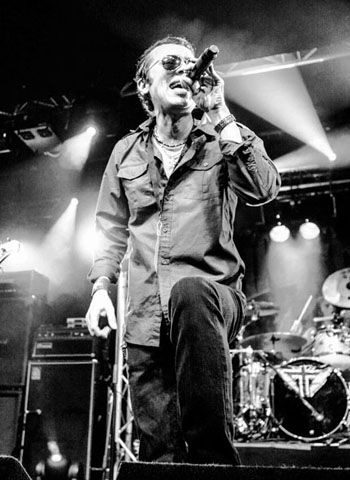 DAY 3
DANGER DANGER, STAGE DOLLS, LILLIAN AXE, BRIGHTON ROCK, ROYAL HUNT, FIONA, FARCRY
It was a case of third time lucky for me as I finally got to see Sunday openers Farcry. On the undercard at Melodic Rock Fest in Illinois in 2010, they were the only band I missed after a food order failed to arrive, and I then returned to find people raving about them. They were then booked for 2011's Firefest but rising air fares from the USA put paid to their trip.
I was thoroughly impressed with a set of well constructed songs which had a classic hard rock edge to them, and new singer Mike Ledesma was a real asset with his strong vocal range. Songs such as the impressive pair of openers 'She's Crazy' and 'Over and Over Again' were driven by Pete Fry's lead guitar but Eric Ragno came on to add keyboards to a great story song 'Better Than This', while Mike sang quite brilliantly on the ballad 'Fine Line'. They were thoroughly worth the two year wait.

Photo: Phil Berisford
Fiona (Flanagan) was the second eighties rock chick brought back into the spotlight after a long absence: slender in a black dress, like Robin Beck the years had been kind to her, and she also shared largely the same band of melodic rock's top players.
After opening with a pair of songs from her first album in nearly 20 years, 'Unbroken' - of which 'Loved along the Way' borrowed the unmistakeable keyboard melody of Jefferson Starship's Jane - I was delighted to hear a pair of classics from (IMO) easily her finest album, 1992's 'Squeeze', in 'Aint That Just Like Love' and 'Squeeze'.
Joking about how awful the eponymous film was, in which she starred with Bob Dylan and Rupert Everett, 'Hearts of Fire' also impressed the further it went on, while my ageing memories were stirred even more by a pair from her 1985 debut: 'Hang Your Heart on Me' had the big hooks and keyboard-guitar balance so typical of that era, and 'Talk to Me' was more stripped back and bluesier. It was also noticeable that her voice has developed a huskier, almost Stevie Nicks like edge over the years.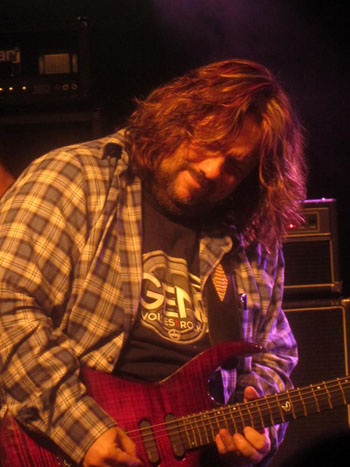 Photo: Andy Nathan
Surprisingly she finished up with a slightly different version of 'Shadows of the Night', made famous by her contemporary Pat Benatar. Fiona's biggest difficulty was that comparisons were always going to be made to the more naturally outgoing Robin Beck, who had set the bar extremely high the previous day, yet I thoroughly enjoyed the chance to see her perform songs I have lived with for so long.
One of the selling points of this year's Firefest was that the most diverse bill yet offered something for everyone. In my case, my tendencies towards the 'fluffier' side of melodic rock meant that there were now a trio of bands, Royal Hunt, Brighton Rock and Lillian Axe with whom I was either unfamiliar or had little interest in.
Yet I bumped into other acquaintances from the London rock scene, who would consider the label AOR a deterrent rather than an enticement, who were most eagerly anticipating the self same bands, and indeed there seemed to be a higher than usual quotient of hair flailing and fists punching in front of the stage.
After 2 ½ days taking station near the front, I was more than happy to watch from the side over a couple of beers and catch up with people I had managed to miss all weekend.
Danes Royal Hunt were possibly the heaviest and certainly most progressive act in Firefest's history, with the soaring vocals of returning singer DC Cooper and the keyboard wizardry of Andre Andersson with his double bank of keyboards, not to mention a large band with two female backing singers. I enjoyed them but it was frustrating not to be able to catch song titles to explore them further.
Canadians Brighton Rock were last here a decade ago at Z Rock, since when singer Gerry McGhee appears to have become more hirsute.
They generated quite an atmosphere with their uncompromising approach, metal poses that were clichéd in the nicest possible way and Gerry whipping up the crowd.
The set was comprised of hard hitting songs like 'Young Wild and Free' and 'Hangin High and Dry', with the sole exception of the ballad 'One More Try'. However Gerry's gravelly rasp - akin to AC/DC's Brian Johnson - is something of an acquired taste and despite the great riffs of a song like 'Power Overload', prevented me from fully enjoying them.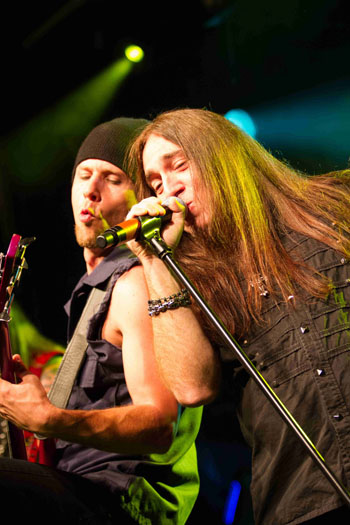 For a band I had personally written off, Lillian Axe were a pleasant surprise Back in the day I had found them one of the less original and memorable of the hair metal brigade and even left a show early at the Marquee in 1992.
However, now with just one original member in muscular armed Steve Blaze with his red guitar and an excellent new singer and frontman in Brian C Jones, a series of hard hitting yet catchy songs like 'Misery Loves Company', 'Love and War' and in particular 'True Believer' made a favourable impression.
I was very surprised to gather they had actually made eleven albums in their long career and one from their latest, 'Camelot', was the heaviest in the set, but the ballad 'Streets of Winter' and set closers 'Show a Little Love' and their cover of Badfinger's 'No Matter What' were more commercial anthems and received among the best response so far all weekend. To quote George W Bush, I think I may have misunderestimated them for all these years.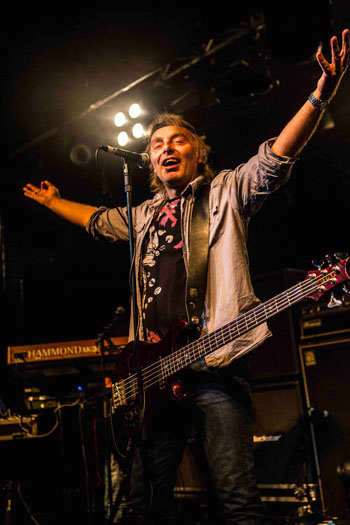 Norwegians Stage Dolls were perhaps surprisingly high on the bill, given that two years ago they had only been fifth on the bill and have quite a low key approach. However from the opener 'Always', with some very Bryan Adams sounding vocals from lean singer and guitarist Torstein Flakne, their sheer class carried the day.
After their classic 'Love Cries', which nearly dented the US top 40 back in 1989, was slipped in surprisingly early before bassist Terje Storli, whose turned round baseball cap gave him the appearance of Kevin the Teenager but played by Rik Mayall, led some crowd participation during 'Left Foot Boogie'.
With no new product, they dipped into their long back catalogue for gems such as 'Commandos' and the moody 'Tail Lights', but the highlights for me were a pair of understated but classy ballads from 1991's 'Stripped', 'Sorry is All I can Say' and 'Love Don't Bother Me', with the crowd joining in.
The rockier classics 'Wings of Steel' and 'Love Cries' picked up the pace before they finished with oldie 'Soldiers Gun', very celtic flavoured keyboards giving it the air of Big County or Wild Frontier era Gary Moore. As with Mitch Malloy, as 'repeats' for Firefest the sense of surprise was not there, but they were still one of my favourite bands of the whole weekend.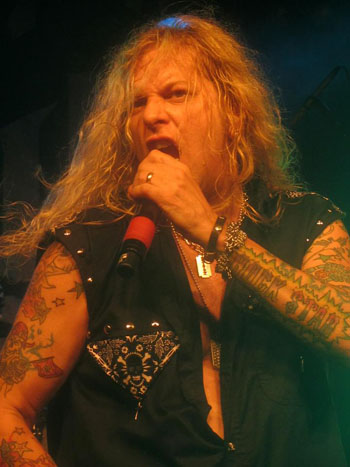 Photo: Andy Nathan
Danger Danger have been third and second on the bill on previous visits here, but if a party band was needed to end the weekend on a high note, then the New Jersey cock rockers were the perfect people to send for.
Larger than life as ever Ted Poley is a great frontman, even to the extent of diving into the crowd and going on a tour of the dancefloor and balcony during 'Don't Walk Away', while the heart and soul of the band, bassist Bruno Ravel effectively acted as the MC for the festivities, even if at times there was perhaps too much banter at the expense of the music.
Best of all, the set - mainly drawn from the first two albums - generally focused on the songs with the strongest and most melodic hooks; opener 'Rock America' (though I could have done without the obvious taped keyboards), 'Beat the Bullet' and 'Don't Blame it On Love' to name but three.
The Def Leppard-esque 'Shot of Love' was the sole number from 'Cockroach', which always makes me regret it was shelved for so long after record company politics, band disputes and the onset of grunge.
However a couple of songs from 2009's triumphant 'Revolve' comeback, the slower paced 'Killing Love' and 'Hearts on the Highway', as demanded by co-promoter Kieran Dargan show a more mature and slightly mellower side to them.
In addition, despite his rather androgynous appearance - accentuated by borrowing one of Bruno's psychedelic shirts form the eighties - Swedish guitarist Rob Marcello showed stunning effortless rapid fire technique, plus a sweet solo on the pure AOR of 'Feels Like Love', and it occurred to me he is seriously underrated.
A packed house rocked to one classic after another with the catchy 'Bang Bang', the ballad 'I Still Think About you' with the whole crowd signing along and 'Crazy Nites', so good that a rock club in London I used to frequent was named after it.
It is a tradition for the Firefest crew to let their hair down after so much hard work so I was braced for some surprises and fun during the encores which saw DD in single entendre territory.
During 'Monkey Business', the stage was invaded by people in monkey costumes throwing bananas, although one was thrown back and hit Mitch Malloy who was on stage in a reciprocation of the previous day's favour.
Bruno then took requests from the crowd which the band had no intention of performing but played a few bars, while 'Naughty Naughty' saw the likes of Robin Beck, Terry Ilous and James Christian joining the party and the unforced joy from these seasoned pros said everything about the special atmosphere that had been bubbling all weekend and which Danger Danger brought to the boil.
Kieran Dargan expressed what I and many others had been thinking all weekend when in his traditional thank you speech he described Firefest as being like an extended family that comes together every year.
It also has to be said that the stage presentation becomes slicker every year with the lights and sound the best I can remember.
If there was perhaps not the stand out performance that Jimi Jamison and Coney Hatch had provided in previous years the attendance and all round quality of performances made this probably the most successful Firefest yet.
Getting some extra special acts to mark the tenth Firefest next year would be the icing on the cake, but the way people were already reserving their hotels for next year suggests most of us cannot wait to return regardless.



Review by Andy Nathan
Photos and Gallery by Simon Dunkerley
Additional photography: Andy Nathan, Phil Berisford
You can use the direction keys on your keyboard to navigate easily through the photo gallery. If using Windows use the mouse wheel to flick between photos.
---
Firefest archive
---