Just witnessed your best live gig?.. send us a review!
FIREFEST VII
Nottingham 29-31 October 2010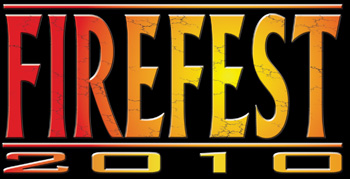 Another October, and once again Nottingham was taken over for the weekend by a gathering of melodic rock fanatics from around the world.
The genre has revived spectacularly in the last couple of years, to the extent that Classic Rock has jumped on the bandwagon with an AOR special, but, run by fans for fans, Firefest remains a true festival for connoisseurs and this year's was the biggest yet with 17 bands old, new and reformed over the weekend.

Day 1 Friday 29 October
Nottingham Trent University

As in previous years, the weekend kicked off with a Friday night at Nottingham Trent University, and this year whether by accident or design it featured a trio of the new generation of melodic rockers, all from Scandinavia which seems to have a melodic rock gene pool all of its own. Judging by the number of young faces at the front, they are proving successful in attracting a new generation of fans, not just those of us who were there in the eighties.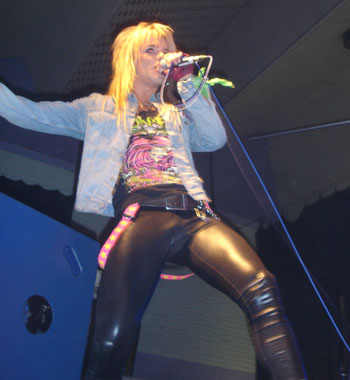 Despite recently playing Download and a near sell out headlining tour, Finnish glamsters Reckless Love found themselves opening the bill and were their usual lively selves, particularly high-kicking, speaker climbing singer Olli Herman, who comes over as an amalgam of Michael Monroe, David Lee Roth and Bret Michaels.
The set list was identical to the recent tour, and numbers like Paradise and Born to Rock reduce the genre to its bare essentials- gloriously dumb yet with irresistible singalong hooks and choruses.
On 'Bad Ass', Oli unleashed some screams before they finished with the insanely catchy 'Beautiful Bomb'. However his hyperactivity means that they rely on guitarist Pepe and bassist Jalle Verne to keep the show on the road with their backing vocals.
That ability allowed them to perform a passable cover of 'Hysteria', before finishing with one of the other crowd pleasers in 'One More Time'.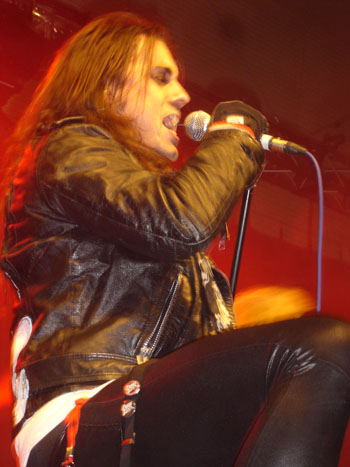 Crazy Lixx from Sweden take a slightly different set of hair metal influences, with the more aggressive sound of a Ratt or early Skid Row.
Singer Danny Rexon, borrowing Alice Cooper's make up and Joe Elliott's Union jack T-shirt, is a fine frontman, but for a long time their songs failed to make an impact on me until 'Heroes Live Forever' but I enjoyed their set more as it went on, the likes of 'Voodoo Woman', '21 till I Die' (complete with genre defining 'who-oah''s!) and 'Road to Babylon' meaning I ended with a favourable impression of them.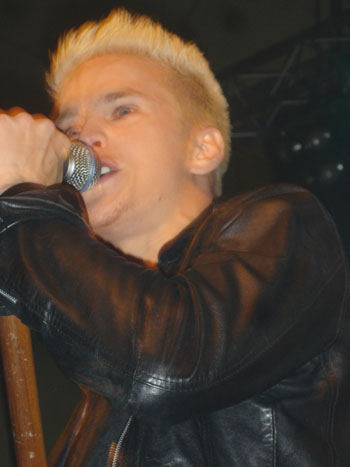 Youthful Swedes H.E.A.T. headlined, their third successive Firefest albeit with a different singer each time. They divide opinion on melodic rock messageboards, but judging from the crowd reaction and the number of HEAT T-shirts, have a fanatical following.
They have followed the eighties hair metal image to a tee, so it was a shock to see new singer Erik Gronwall come on stage, baby-faced and with a blonde quiff.
My first thought was Billy Idol meets Bros, but then it occurred to me that perhaps the Jedward Twins had gone their separate ways.

'Barnet' aside,he was more energetic than predecessor Kenny Lekremo, even doing somersaults across the stage, and though his strong voice perhaps lacked some character, it cannot have been easy to instantly make someone else's songs his own.
After opening with primarily new songs - the likes of 'Nobody Loves You Like I Do' and 'Everybody Wants to Be Someone' impressing with typical HEAT melodic flair - first album favourites like 'Straight to Your Heart' and 'Never Let Go' had large portions of the crowd punching the air.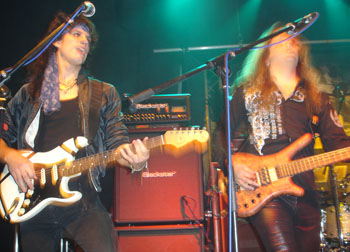 However something did not feel quite right - whether for sound problems or other reasons, the band felt somewhat disjointed and ragged at times. A drum solo was an unnecessary distraction and some songs like 'High on You' missed the mark, though Erik's best vocal performance of the set on 'Who Will Stop the Rain' ended the set on a high.

They also played 4 encores - first album opener 'There for You', just as I feared they wouldn't play it, was followed by an authentic version of '18 and Life', which Erik performed on his way to winning Swedish Idol, a fact which will amaze us Brits who have to suffer the anti-rock X Factor instead.
A largely acoustic version of 'We're Gonna Make it to the End', which leads off the new 'Freedom Rock' album, was a surprise twist before 'Keep on Dreaming' ended the set in rousing fashion. For me it was not HEAT's greatest performance by a long chalk, but with Erik embedded in the band hopefully they can pick up momentum again.

All in all, a very nice aperitif for the main event, and one which proved that melodic rock still ranks with flat pack furniture and safe cars as one of the great Scandinavian exports.
Review and photos by Andy Nathan