Just witnessed your best live gig?.. send us a review!

FIREFEST, Rock City, Nottingham
21-23 October 2011
Our Firefest stalwart Andy Nathan stayed - transfixed - a few rows from the stage for the three-day duration of the UK's premier melodic rock fest, taking in 18 bands along the way and 18 packs of industrial strength Tena Men ... stand by for our definitive coverage ...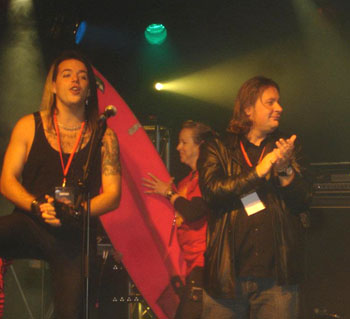 Over the last year or two, the masses may have discovered melodic rock with the Rock of Ages musical, Don't Stop Believin' now ubiquitous, and even Classic Rock magazine launching a dedicated AOR offshoot.
However , for those of us more obsessive fans who have kept the fire burning for considerably longer, the annual Firefest festival is something of a mecca for us and this year, the eighth festival, was the biggest yet, with 18 bands rocking the weekend.
Friday 21 October

---
Houston are still an enigma to me. Their album has deservedly won plaudits as a great slice of old school AOR, but though improved from the live debut in the Spring, they still fail to convince as a live act and in the world of rock - where we take pride in the ability of our bands to play live - that is a cardinal sin.

---
The Friday night warm up was moved from its traditional Nottingham Trent University venue to the main room at Rock City owing to public demand, and indeed helped by a cheaper ticket price there were actually more there than for the other two days.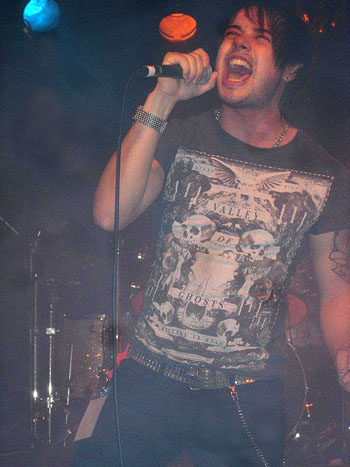 Serpentine opened proceedings about 5:30, and once again impressed me with their lush Journey meets Shy sound while singer Matt Black had impressive self-confidence to build a rapport with the crowd.
If I was being hypercritical it may be time to let the sampled backing vocals go, while they could do with some rhythm guitar to beef up the excellent work of lead guitarist Chris Gould.
However, alongside now familiar numbers like A Touch of Heaven and Whatever Heartache which bookended the set, the numbers from their new album stood up well with Heartbreak Town new to me but the pick of them.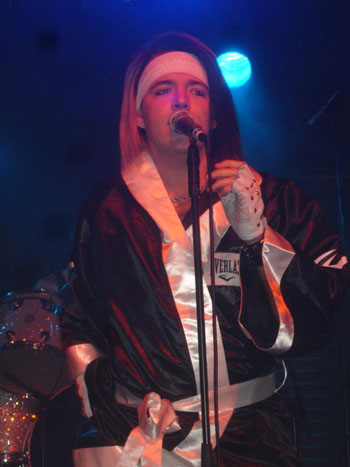 Houston are still an enigma to me. Their album has deservedly won plaudits as a great slice of old school AOR, but though improved from the live debut in the Spring, they still fail to convince as a live act and in the world of rock - where we take pride in the ability of our bands to play live - that is a cardinal sin.
After the odd ropey moment, singer Hank Erix impressed, but the guitar work was poor in places and there was a disjointed feel both to the music and to their stage craft.
However the set was not without highlights - the silky Under Your Skin and old favourites Hold On and Truth Slips- though the taped vocals to compensate for not having the female co-vocalist seemed rather blatant to me!
Best of all was a great cover of Touch's classic Don't You Know What Love Is, with producer Ricky Delin helping out on vocals and superior to Drive She Said's treatment of it at Firefest a couple of years back.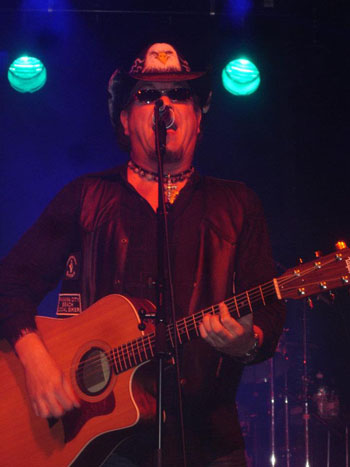 Terry Brock is always a welcome guest at any melodic rock festival, with one of the best voices in the business and a Southern gentleman's charm. However hi s set got off to a rather slow start with Face in the Crowd and Another Chance. He was well backed by members of Valentine, and they admirably carried off the musicianship on The Sign's Forever Again, ballad the Rain and the excellent title track from his last Diamond Blue album.
The other thing about Terry is that there is a rough-edged throatiness to his otherwise smooth voice as the occasion demands, as shown on heavier numbers like Broken and No More Mr Nice Guy. However these are also songs with a slow pace and I would have preferred some more up tempo material.
Nevertheless the set ended on an more satisfying note with the celtic-flavoured, anthemic ballad Coming Home and a lively version of Valentine's Soul Salvation.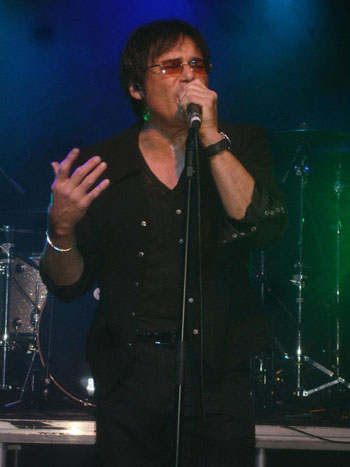 Last year ex Survivor singer Jimi Jamison delivered what many people, myself included, thought was one of Firefest's all-time great performances- DVD's of which were selling like the proverbial hot cakes over the weekend.
So it was no surprise that he was invited back to headline the Friday. Sometimes, when the initial surprise has worn off, return visits can be an anti climax but he again gave us a night to remember, based heavily around the Survivor catalogue, but with a few variations on last year's set.
Even if it was written by Jim Peterik, Jimi could not have made more of a statement with his opener - It's the Singer not the Song. Indeed the opening quintet, with an earlier than expected Burning Heart (the OTHER Rocky song, and the one he actually did sing on!) First Night, Desperate Dreams and High on You set the bar impossibly high.
There were no frills to his appearance or stage banter, but the quality of the material did the talking and much credit must go to his excellent band, including guitarist Tommy Denander an sundry members of HEAT, who really channelled the spirit of the originals.
He even dropped in an impressive sounding new song Chasing Euphoria, from the Kimball Jamison project and Blood on Your Money from his pre-Survivor Cobra days which is a classic though its hard rock riffing was perhaps a little out of place in the set.
Oceans also got a muted response, but the crowd were lapping up Survivor classics like the rarely played Rebel Son and Didn't Know it Was Love, while another classic from 'Vital Signs' in I see You in Everyone gave Tommy the opportunity for an extended solo while Jimi caught a break.
If anything, the climax, in which the Firefest crew paid tribute to his I'm Always Here by invading the stage dressed in red Baywatch T-shirts and with a surfboard, and Eye of the Tiger with Jimi the ringleader and sundry members of Houston and other people on stage, while fun, was less impressive what had gone before.
It was another memorable performance, and indeed the melodic rock club night in the former Rig (now the Black Cherry Lounge) downstairs, which I normally look forward to almost as much as Firefest itself, could only be a relative anti climax in comparison.


Saturday 22 October

---
Jeff Paris: ... in front of a supportive crowd, and having overcome some technical difficulties, he suddenly hit his stride with forgotten classics like Charmed Life and the party anthem Saturday Night. In addition I warmed to his slightly eccentric humour and he might have been a wisecracking bit part player in an American comedy like Friends or Curb Your Enthusiasm.

---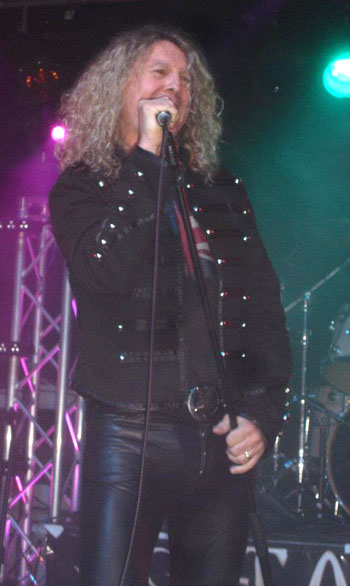 With no repeat of last year's sound problems, the weekend action actually kicked off early with Californians Talon. Original singer Michael O'Meara had been brought back into the fold and was a wild frontman for the time of the morning, knocking over a mike stand and diving into the photo pit.
While covering no new ground, their evident enthusiasm and hard-driving style on songs like Paradise and What About Me always impress, particularly energetic drummer John Parker, and Jim Kee shredding his guitar, held high up his beefy frame.
The set mixed new material from Talon 3 with a heavy song, Evil, that had been written some years ago but never recorded and some choice cuts from the debut that Michael sang on, notably closer Wrecking Ball.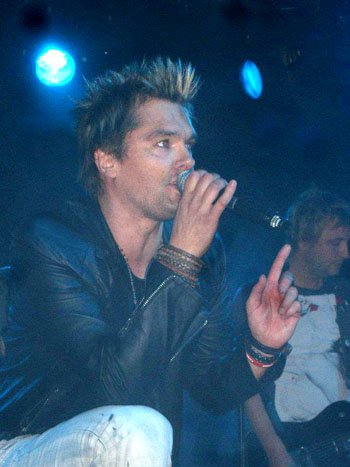 New British melodic rock sensations Vega –a partnership between the rising songwriting Martin brothers and spiky haired ex-Kick frontman Nick Workman - were next up. Some of my expectation had been dampened by already seeing them on tour this year, but they really took the venue by the scruff of its neck and considering they were only second band on, there was a huge audience response to songs like One of a Kind and Staring at the Sun, while guitarist Nick Horne particularly shone on Stay With Me.
The other Nick easily got the crowd participating at various stages, and indeed they were chanting the refrain even before their final song Kiss of Life started!
This was a superb performance, but with a clean cut, non-metal image, and songs that draw on the likes of U2 and Bon Jovi's more recent work, there is a part of me that thinks they should put to the test their potential to break into a wider market than the traditional melodic rock crowd.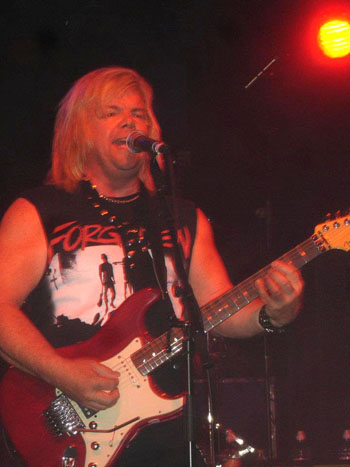 In contrast to Vega's freshly scrubbed look, as the curtain fell to reveal Silent Rage it was clear that time had not been kind to them since they last played the UK in 2002, with expanding foreheads and waistlines, other than ever cool bassist EJ Curse.
However after a slow start they rocked the place too with a punchier, more straight ahead guitar heavy, yet still melodic sound. Somehow they managed to whiz through 14 songs in well under an hour and having three front men all able to sing gave them greater variety.
Their first three albums - but particularly Don't touch Me There - were all well represented and even a more recent song, Four Letter Word, was surprisingly good.
Highlights included the slow burning Whisky Woman with guitarist Mark Hawkins singing in his best Gregg Allman-esque drawl, a cover of ELO's Can't Get You Out Of My Head and the catchy Rich Young and Pretty and closer Rebel with a Cause that both just had to be sung along to.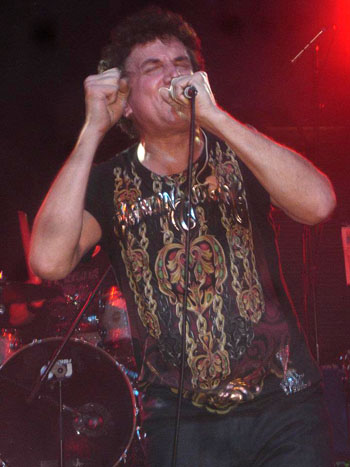 One of the biggest gambles the Firefest team took was inviting Jeff Paris, a cult figure in AOR circles, but a man who has spent a decade and a half away from melodic rock pursing other musical styles and who seemed ill at ease on stage when I saw him headline the first Gods (the forerunner of Firefest) some 18 years ago.
Indeed this time he had a furrowed look on his face and seemed to be singing from memory and on a different plane form the rest of the band (the same outfit that had supported Jimi Jamison) as he opened unconvincingly with Race to Paradise and Mystery Girl.
Yet in front of a supportive crowd, and having overcome some technical difficulties, he suddenly hit his stride with forgotten classics like Charmed Life and the party anthem Saturday Night. In addition I warmed to his slightly eccentric humour and he might have been a wisecracking bit part player in an American comedy like Friends or Curb Your Enthusiasm.
Indeed the set list was a nirvana for a long-time fan like me, with a dozen tracks from his three solo albums, plus a couple of acoustic tributes to Warrant's Jani Lane and Ronnie James Dio. The new songs he has been writing with Tommy Denander for a return to melodic rock were put to one side for a future time.
Instead we were treated to some of his songs that other people made famous, notably Mr Big's Lucky this Time and the power ballad Cryin', which Vixen turned into a hit. The likes of Stop Playing with my Heart and I Can't Let Go were blissfully melodic, whereas in contrast another party-style anthem in Wired Up ended the set , complete with the spectacular ending of the original. From an unpromising start, it was a triumphant return.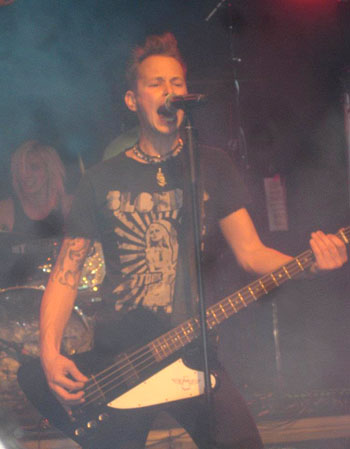 New supergroup W.E.T. were only added to the bill when Warrant withdrew six weeks before the festival , and yet I would say the crowd on the floor was at its thickest and most expectant for their live debut.
From the moment they opened with the powerful Brothers in Arms, with its feel switching from smooth to almost discordant and back again, you would never have known that it was their first show, but then again Jeff Scott Soto's singing and stage presence can transform most things.
The likes of Put Your Money Where Your Mouth Is and the irresistible lead off cut Invincible kept the momentum going, while after bassist Erik Martensson got to sing To Mend a Broken Heart from his own band Eclipse, who also contributed very impressive guitarist Magnus Henriksson to the line up.
They then conjured up a mammoth, widescreen sound for some of their ballads, One Day at a Time, If I fall, which reminded me of Journey as it rocked to a climax from slow beginnings, and Come Down Like Rain.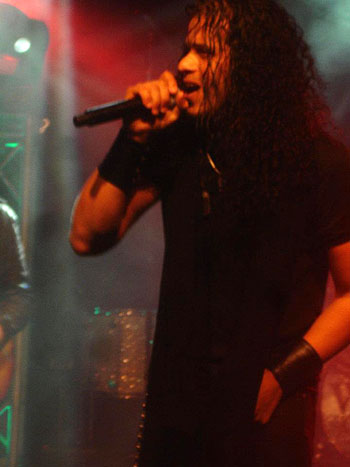 The pace then changed again as in an acoustic segment Jeff paid tribute to some of the figures we have lost in the past 18 months with a medley of songs by Dio, Y and T, Gary Moore, Warrant and, most movingly of all for me, Gotthard's Need to Believe.
With W.E.T. being an acronym of the three main protagonists' bands, Erik sang on the smoother melodies of The Great Fall from Robert Sall's Work of Art and Jeff dipped into the Talisman back catalogue with Mysterious, before another song that has rapidly become a fan favourite, One Love, ended the set.
While it was probably right not to gamble on them as headliners, there is no doubt that as and when they record a second album, with this level of musical proficiency they must be candidates to headline the festival in future.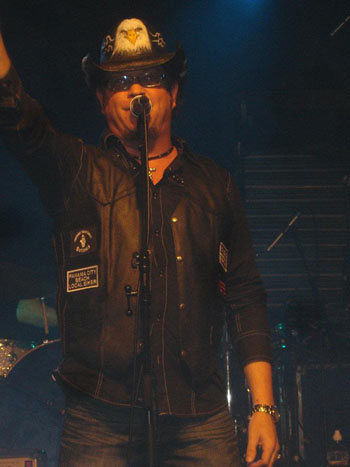 After a triumphant return at last years Firefest, Strangeways were back with a set with a difference, playing the whole of their Walk in the Fire album, which somehow failed to even get a UK release when it came out in 1989, but has since become a cult classic. Terry Brock was back on duty but unfortunately was struggling through a cold, which was most noticeable as he croaked his way through the between song chat.
However it was great to hear these underappreciated songs, with Everytime You Cry - dedicated to his sister who had flown out of the USA for the first time to be there - Love Lies Dying and Talk to Me, with a typically smooth and understated solo from main man Iain Stewart among the highlights.
Living in the Danger Zone rocked things up a notch, although the mid-paced feel of the album did mean that ten tracks in succession was probably too much and not quite what a tired and hungry crowd needed.
Consolation came however in an encore of a couple of Native Sons classics, the exquisite Only a Fool which Firefest co-promoter Kieran Dargan made them play, and the more up tempo Where Do We Go from Here.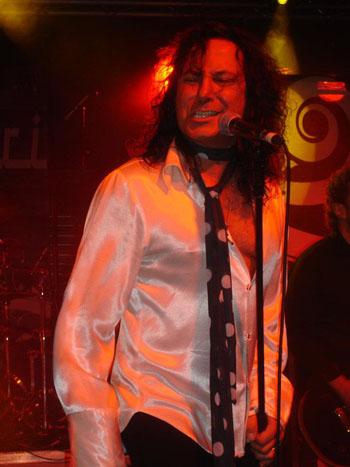 Warrant's withdrawal promoted Steve Augeri to headliner. He opened, huge Gretsch guitar strapped to him, with Jamie from his single album with Tyketto, but the unmistakable keyboard intro to Separate Ways, closely followed by Ask the Lonely, showed this was going to be a set heavy on classics from Journey, and why not as he fronted the band for eight years.
Although there were sometimes hints of the vocal frailties that led to his controversial departure from them , he was in good voice and comfortable in his surroundings, while he rearranged Stone in Love in an interesting, slowed and stripped down acoustic format before the band launched into the full version of a song that sums up the spirit of AOR.
I did hear a couple of gripes that a glorified Journey tribute was not a suitable Firefest headline but I would plead the defence on two counts. One was a generous helping of songs from Arrival, his debut with the band including Higher Place which rocked much harder than on record, ballad Kiss Me Softly, and the atmospheric Till We Meet Again.
The other is that his backing band Valentine - ironically given the similarities of their old singer Hugo to Steve Perry - carried off the classic Journey sound perfectly. In particular guitarist Adam Holland, as well as bearing a passing physical resemblance, stayed much truer to Neal Schon's original guitar solos than the man himself did with his distorted shredding on Journey's UK tour this year.
The middle of the set explored different directions with two as yet unreleased solo songs- Down by the Riverside uncomfortably close in style to Neil Young's near namesake song, and Rich Man's World which to me had a heavier, almost psychedelic feel, plus Tall Stories' Sister of Mercy.
But the majority of people were delighted by a closing string of Journey's best loved songs, all delivered fairly true to the original - Wheel in the Sky, Faithfully, Don't Stop Believing, Lovin Touchin Squeezin, with Adam stretching out on guitar, even with a snatch of Rocky Mountain Way, and the irresistible Anyway You Want it.
I am not sure what happened with the set pacing, but having established there was still time for an encore, Steve slipped Arrival's big ballad All The Way back into the set, and then they played Separate Ways a second time!
Always my favourite of the post-Perry singers, I thoroughly enjoyed seeing him again, and with Journey now playing arenas in the UK, it was a particular treat to share these songs with a smaller hall full of international melodic rock fanatics for whom they were the holy grail when the melodic rock scene was driven underground in the nineties.
That was the end of official proceedings, but the grapevine was that Coney Hatch mainman Carl Dixon was playing an acoustic show in the unlikely surroundings of the bar of the Premier Inn, so I headed down to join a good, though not unduly packed crowd, and catch up on the day's proceedings while he set up his own equipment.
He came on at 11 to do an hour's worth of material, ranging from covers such as Wild Night and Pinball Wizard to solo material, both old such as More than a Memory and Taste of Love, and from his new Lucky Dog CD. He also weakened on a promise to play no Coney Hatch with a taster of Hey Operator.
He was both humble and humorous, even about the near fatal car accident from which he still bears the scars, and those present enjoyed a night to remember, epitomised by big, joyous singalongs to Band On The Run, Can't Find My Way Home and More Than A Feeling, repaying Carl's bravery in tackling one of the genre's classics but hardly a song suited to one man and his acoustic guitar.

Sunday 23 October

---
Mitch Malloy to me is the prodigal son of melodic rock. From time to time he cuts his hair and dips into genres from country to modern rock, but always eventually comes home to his roots.

---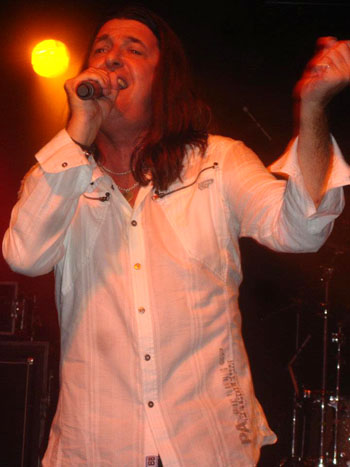 South Coast band Newman made a welcome reappearance to kick off the third day. Steve Newman has always been a confident frontman but at last seems to have the support of a relatively stable and talented band, notably hotshot guitarist Shaun Bessant.
His set took in all ages of his career and newer material such as Heaven Knows and Under Southern Skies, while still melodic, has a notably more adventurous feel than the pure Brit AOR of If Its Love, from his debut which appeared way back in 1997.
The relaxed tempo of Stay With Me went down very well, and in a nice gesture Pete Fry of Far Cry, whose place Newman had taken at the festival when the American band were unable to make it, was brought on to play guitar on their Over and Over Again, which was most impressive.
Ending with the usual audience participation to One Step Closer, with Steve showing he too can reel off tasty guitar solos, their 40 minute set left me hoping we now see more of Newman as a touring entity.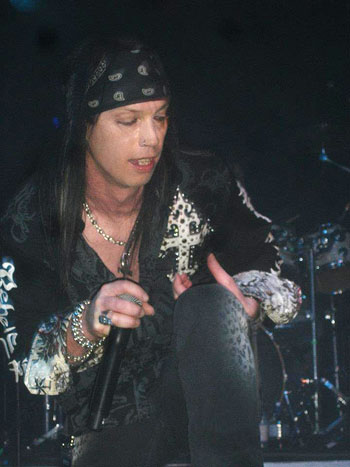 Traditionally, Australia prefers earthier forms of hard rock ,so it was a surprise that White Widdow should emerge from nowhere to release my favourite album of 2010.
An appearance at Firefest must have been a dream come true for glammy looking singer Jules Millis, who has paid his own way to England as a fan in the past, but whether because of adrenalin or too much partying over the whole weekend, he did seem to be straining a bit particularly on the high notes.
Nevertheless that was only a minor blip on a thoroughly enjoyable set of uptempo AOR reminiscent of the genre's mid eighties heyday, whether from songs from the debut like Tokyo Road, the massive hooks of Cross to Bare, and Change of Passion, or their new 'Serenade' album such as Strangers in the Night, with a great keyboard driven melody.
Indeed, while Enzo Almanzi is a fine, concise guitarist, the distinguishing feature of their sound was just how prominent the keyboards were (from Jules' brother Xavier whose image could not have been more different!), even by the standards of the genre.
Some might view the likes of Reckless Nights with its chorus 'Reckless Nights, Rockin' to the Radio' and Broken Hearts Won't Last Forever, with a 'who-oah' chant lifted from Tyketto's Wings , as clichés of AOR, but I see that as reassuring.
Firefest makes a speciality of bringing long broken acts back together, and this year Swedes Alien graced the festival with their original lineup back after 22 years. Time has not been kind to their hairlines, while singer Jim Jidhed looked a cross between a darts player and Jimmy Barnes.
Never though has there been such a contrast between someone's appearance and their precise, almost angelic vocal tones. After opening with Brave New World, Go Easy and Tears Don't Put Out the Fire were classics of the Scandinavian AOR genre, while their cover of the old sixties hit Only One Woman showed off Jim's remarkable voice.
Guitarist Tony Borg got his moment in the sun during I've Been Waiting and an eight song set was over too quickly, though they returned for a new song, Ready To Fly, which reminded me of one of those Rod Stewart scarf waving anthems that were invariably accompanied by the band of the Scots Dragoon Guards.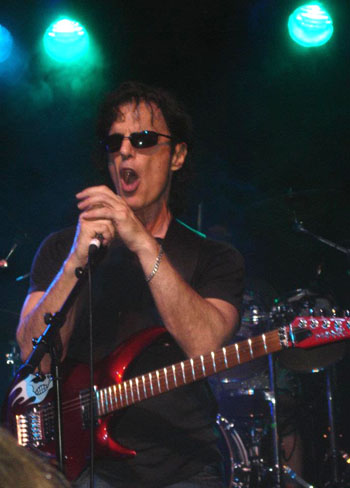 In a change of musical mood, there seemed to be a younger and more glammed up crowd down the front for ex Alice Cooper guitarist Kane Roberts, who looked gaunt and unrecognisable from the Rambo-esque figure of old.
Classics such as Wild Nights and Twisted from his excellent 1991 album Saints and Sinners had people punching the air, and he played a couple of period Alice Cooper songs, and the Desmond Child penned mega ballad Does Anybody Really Fall in Love Anymore.
However he was not a happy camper, having a rather miserable and distracted air, fiddling with his equipment, and heavily reliant on his fine backing band Talon, plus Tainted Nation's Pete Newdeck, for back-up vocals.
Two tarty tattooed 'dancers' joined him during Dance Little Sister and it felt as if we were being transported back to the Sunset Strip of the eighties, but the set was already flagging and after a lengthy Take it Off, which he co-wrote for Kiss, he called it a day 15 minutes short of his allotted playing time.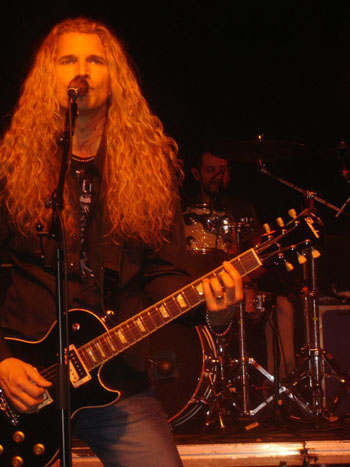 Mitch Malloy to me is the prodigal son of melodic rock. From time to time he cuts his hair and dips into genres from country to modern rock, but always eventually comes home to his roots.
Women were doubtless swooning and men envious of his luxuriant mane of hair and gleaming pearly whites as he came on stage to Mission of Love from his classic 1992 debut album.
Another great catchy uptempo rocker in Falling to Pieces followed but this was no oldie but a taster from his new album, Malloy 2, which sees him returning to his original sound.
The rest of the set continued to mix classics like Stranded in the Middle of Nowhere, on which his vocals did go a touch over the top, a beautiful stripped down Our Love Will Never Die, and Forever, with some really promising new material like Carry On, Love Song which was rockier than the title might suggest, and I'm the One.
His trademark song Anything At All had the crowd going crazy and I expected that to be the last song, but he played an anthemic new song, All My Friends, with vocals that had quite a country rock feel reminding me of the Jayhawks.
Mitch has been to the UK before but, supported by an excellent Italian band including an attractive girl bassist, and looking thoroughly at peace with himself, he has never sounded better. Shame on my friends who said they had seen him before and chose his set to pop out for a pint.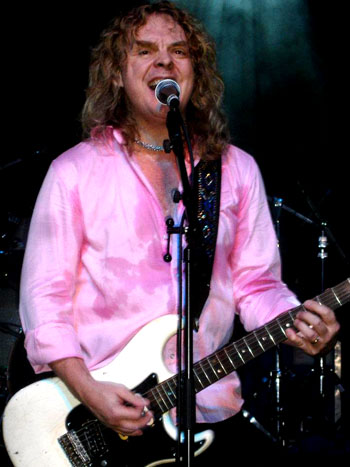 It's a tough call but if pressed to name my most anticipated moment of Firefest, it was to see Coney Hatch for the first time ever, over 25 years after first discovering them.
The Canadians lived up to expectations and delighted a crowd that from my vantage point near the front was noticeably thicker with older fans than for most of the other bands. With no frills they tore into an opening trio of We Got the Night, Don't Say Make Me and You aint Got Me, with Carl Dixon looking much the same as he did back in the day and his singing stronger than you might expect from a man who has had to battle back from his serious accident.
It was also immediately apparent that Steve Shelski's excellent, effortless guitar work had a more classic, even bluesy feel than many of the flashier guitarists over the weekend and that gave the sound extra solidity.
Coney Hatch always shared vocal duties and Andy Curran, rake thin and in pork pie hat and unrecognisable from his poodle permed days, delivered the likes of Stand Up and Love Poison with his harsher, punkier tones, while the more ,melodic First Time for Everything was a sheer delight to hear live.
I had expected them to major on their first two albums, but Carl mentioned that the organisers had recommended they play more from the more AOR flavoured third album Friction, so we were treated to the likes of the classic She's Gone, Girl from Last Night's Dream with its great lyrics and Fantasy.
To Feel the Feeling again momentarily took the pace down, but the likes of Hey Operator and Devils Deck had me and quite a few others casting away any inhibitions to shout along and punch the air to songs we never thought we'd hear live again. Personally, I would rather they ended with This aint Love than Andy's Monkey Bars, but that was a small gripe after a set that was worth the anticipation.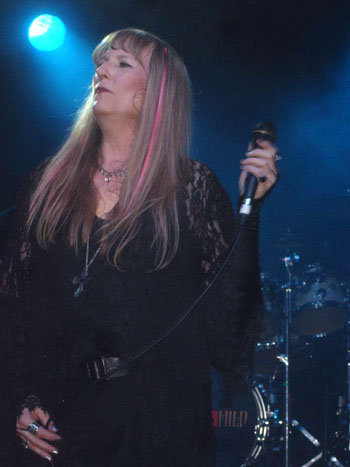 Firefest's Sunday night headliners were also special in their own way. Unruly Child released a superb debut album in 1992 that was swiftly buried by record company politics and the onset of grunge, then the year after singer Mark Free delivered a memorable display at the first ever Gods festival, but was plainly in the grip of deep personal traumas. The band have intermittently recorded since, but reunited last year with the now Marcie Free.
After the band took the stage, the roar of approval as Marcie came on to the stage, in a very Stevie Nicks- esque blonde fringe and floaty black dress, had a warmth that you could reach out and feel, and which transcended purely musical considerations.
Opening with the super melodic Love is Blind, after an unconvincing Show Me the Money the band generally concentrated on the more laid back moments from their excellent Worlds Collide album , rather than the harder rocking numbers. They are excellent musicians, but also had the grandest lights show, while Jay Schellen's drum kit and Guy Allison's suite of keyboards were certainly the largest of the weekend!
Highlights included the Beatles-esque Tell Another Lie, the laid back You Don't Understand with some great harmonies from all the band members, the progressive feel of the title track and Neverland with some great keyboards.
However the majority of the crowd wanted to hear more songs off the debut and the likes of Lay Down your Arms and Take Me Down Nasty had the likes of band members from Serpentine, who were standing near me, roaring out the lyrics.
Marcie was on good voice, even though its timbre has definitely changed, hearing her sing some of the first album songs.
Unfortunately her homilies on life, faith and love between songs, not to mention swigging from a thermos flask and occasionally checking a lyric book, increasingly broke up the momentum of the show and that was even before the bass and drum solos.
Nevertheless the set ended on a high with probably their best known song, Who Cries Now, and encores of the heavy pomp of On the Rise, and the happy sounds of When We Were Young from the current album.

Unruly Child were for me far from the best band of the weekend, and yet the circumstances still made for a memorable show to justify their billing.
Every year I keep thinking that Firefest cannot get any better, but for musical quality across the board, there seemed to be more highlights this year than ever before.
Attendance on the two full days may have been slightly down on last year but in a recession and with so many other bands on tour that is to be expected. Nevertheless all of us who were there felt we were part of a special weekend.
Maximum kudos to promoters Bruce Mee and Kieran Dargan and their team, not only for organising the festival so efficiently, but tracking down and persuading bands to play who many of us never expected to see again, or for the first time, in our wildest dreams.
And as if those memories aren't enough, the speculation is already starting who might delight us at next year's Firefest.



Review and photos by Andy Nathan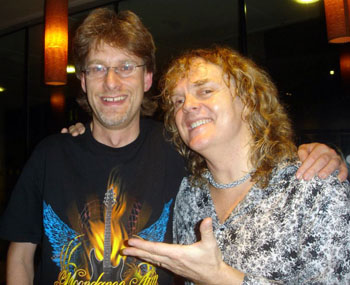 ---
Firefest archive
2008
---