Just witnessed your best live gig?.. send us a review!
FIREFEST 5
Nottingham, Rock City 25 and 26 October 2008
Now in its fifth and possibly final year, Firefest has established itself as the ultimate gathering of the clans for those who have kept the fire burning for melodic hard rock and AOR and flown in the face of changing musical fashions. As in previous years, fans from all over the world were present for the two day extravaganza at Rock City featuring 16 of the genre's top bands, many making their first live appearance for many years.

DAY 1
Americans Talon got the party started, and with new lead singer Chandler Mogen were doing a good job primarily showcasing songs from their new 'Fallen Angels' debut, until during Wrecking Ball from their debut album, the band fell apart somewhat and the taped backing vocals became painfully obvious, before they bravely soldiered on and closed with Ashes to Ashes.
Fellow Californians Loud and Clear belied heir lowly status on the bill to get the crowd going, singer Jess Harnell looking the 80's part with his mass of curls under a cowboy hat and proving a witty and animated frontman.
Majoring on their debut album, they hit their stride with party anthems like Make it Loud, Baby Likes to Rock, Waiting for the Roar, and Candle in the Window, while Time to let Go, from their follow-up Disc-Connected album, was truly superb. The crowd went wild for an ingenious mash up of Enter Sandman and Don't Stop Believin', the Journey comparisons continuing during encore Love Waits.
Ex Danger Danger frontman Paul Laine revisited much of his cult 1990 solo album Stick it in your Ear, plus the odd song from his Shugaazer project. Well backed by ex bandmates Bruno Ravel and Rob Marcello, he impressed with his vocal range on the likes of One Step over the Line and Is this Love. Fellow Canadian Brad Darrid joined him to add some tasty blues solos to Doin' Time and the Bon Jovi-esque Dorianna ended his set on a high.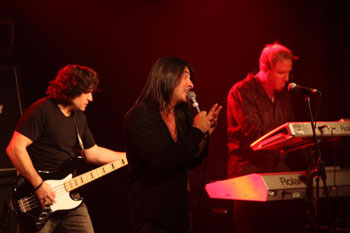 Valentine, photo Dave Harrison
Cult AORsters Valentine had been surprise returning heroes at last year's Firefest, but didn't quite make the same impact this time round, notably because Steve Perry-esque singer Hugo was struggling with a sore larynx. Compared to last year they focused more tightly on their 1989 debut with the likes of Tears in the Night, Never Said it was Gonna Be Easy and set closer No Way all delighting the crowd.
As well as a couple of Hugo solo numbers, they also aired a trio of songs from their new CD Soul Salvation which impressed, although the soul and gospel influenced title track saw a bizarre sight of four young choristers on stage!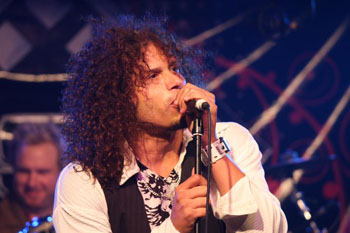 Jeff Scott Soto, photo Dave Harrison
Jeff Scott Soto brought something different to the party with his usual energetic hyperactive stage act, and a diverse series of songs that often strayed from the melodic rock path into heavy funk, including some tracks from his new album Beautiful Mess. But his cover of Crazy, a solo medley at his piano and Talisman's I'll be Waiting all made their familiar appearances to please his fans, though his disco medley which closes many of his shows felt a little out of place here.
I missed the first part of Pink Cream 69 who both visually and musically felt a little samey, but singer David Readman, whose broad Lancashire accent stood out among his German bandmates, worked the crowd and the likes of Livin my Life for You and No Way Out, plus their best-known song Shame, impressed, while So Lonely was an interesting choice of cover for the encore.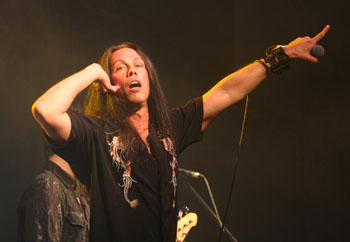 Danny Vaughn, photo Dave Harrison
Having supposedly played their last ever show last year at Firefest, Saturday headliners Tyketto were back after a change of heart, albeit minus original guitarist Brooke St James. However any reservations did not last long as Danny Vaughn led his troops with his usual strong voice and commanding stage presence, while guitarist PJ Zitarosa, once of his solo band, was surprisingly fiery on guitar (despite a disturbing likeness to Anthrax's Scott Ian) and the addition of rhythm guitarist Tony Marshall added to a thicker and heavier sound.
Although an old demo Big Wheels was unearthed from the vaults, Tyketto's set stuck closely to their 1991 Don't Come Easy debut album. With songs like Wings, Burning Down Inside and Danny's own lyrical and vocal tour de force, Standing Alone, they could do little wrong and it was fitting that they should close out the first day with Forever Young, one of the melodic rock world's best loved anthems.

DAY 2
Unfortunately the demands of finding a pub for brunch and slow service meant I missed the one all British band on view, Burn, but I heard favourable reports. They were followed by the busiest man of the weekend, Pink Cream 69 singer David Readman, with a well received solo set.
Next up were new Swedish sensations H.E.A.T, who made a striking contrast to most of the bands as they were mainly in their early 20's, though still modeling the 80's hair band look.
Fate had dealt them a cruel blow with their singer taken to hospital for heart surgery but guest vocalists from Eclipse and Brother Firetribe did them proud.
Of their own numbers Straight From your Heart and Never Let Go impressed but, possibly because of the circumstances, they relied heavily on covers by Europe, Whitesnake, Bon Jovi and Journey, all expertly delivered and getting the crowd going.
Rox Diamond took a different approach from many of the bands, doubling up on keyboards and having a more pomp rock style. The Kansas influences were everywhere, notably from vocalist Paul Daniels who had a 'magical' similarity to Steve Walsh, though Joanne was very Toto-esque. After a slow start, gradually the crowd warmed to them with some fine songs from their early 90's debut, with a smattering of people singing along to closer Heart of Mine.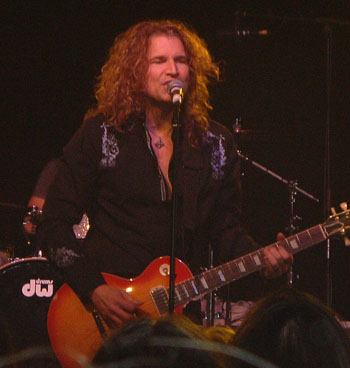 Mitch Malloy, photo Silver
The mercurial Mitch Malloy was back in rocking from and with hair to match as, supported by noted Swedish guitarist Tommy Denander, he revisited most of his classic 1992 debut album (with the exception of a song from his current Christian album which was too saccharine for my tastes).
As he opened with Mission of Love, he appeared to be trying too hard to impress but settled into his stride with a mixture of rousing up tempo rockers like Stranded in the Middle of Nowhere and Forever, and ballads Nobody Wins in this War and Our Love Will Never Die. Both were exquisite, backed by a crystal clear sound and I kept thinking that with the breaks he could and should have risen to Bon Jovi-esque stardom. His most famous song Anything at All ended a triumphant return, preceded by a snatch of Journey's Stone in Love.
For many the highlight of the weekend was the reformation of Californians White Sister, last in this country in 1987 with FM and whose two albums regularly feature highly in lists of classic obscure AOR albums.
Opening with perhaps their best-known number Promises, they did not disappoint. Singer and bassist Dennis Churchill-Dries now hides a bald head under cowboy hat and bandana but his vocals are as rich as ever, best showcased on Save Me Tonight.
In contrast returning original member Garri Brandon was quite the character in shades and turned round baseball cap- when not playing his 'keytar' to add to their already lush keyboard sounds, he stepped up to the mike and worked the crowd, albeit rather cheesily, to the likes of Straight from the Heart and Walk Away, while on Love Don't Make it Right he ventured into the crowd to start a singalong, while guitarist Rick Chadock produced a great solo. Other highlights included April and an unreleased song called Double Crossed, and for me and many others they were among the bands of the weekend.
They were certainly a hard act for Tall Stories to follow and despite the warmth towards singer Steve Augeri after his controversial departure from Journey, the crowd never really seemed to respond.
Their songs felt a lot drier and more stripped back compared to what had gone before and this was not helped by a rather static stage presence. It was still good to hear much of their 1991 debut album live for the first time- notably ballads Somewhere She Waits and Stay With Me and the rockier Sister of Mercy. Three new songs also sounded quite impressive, while Steve nodded to his past with a snatch of Stone in Love which segued into the encore of Close your Eyes.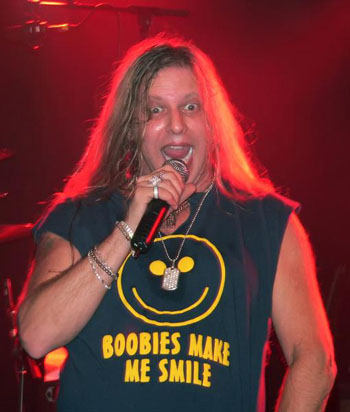 Ted Poley, photo TC
Danger Danger got the best response from the crowd all weekend. With singer Ted Poley's larger than life persona and a range of dumb but catchy cock rock anthems full of 'who-oahs', they proved the perfect band to lift any flagging spirits.
Opening with Horny S.O.B. and Boys will be Boys, the likes of Bang Bang, Crazy Nites, Naughty Naughty and Monkey Business had Rock City living up to its name. The Def Leppard-esque Afraid of Love and I Still Think about You showed their way with a ballad too, and guitarist Rob Marcello was in fine form but Ted stole the show, notably with two trips deep into the 1000 plus crowd mid set.
It was left to Firehouse to close out the show; humble and hard-working, they put on a solid show but lacked the charisma of White Sister and Danger Danger.
They opened with Rock You Tonight but it was their 1990 debut that formed 75% of the set- however for every strong song like All She Wrote, there were two or three average hair metal numbers with singer CJ Snare's voice beginning to grate on me.
With drummer Michael Foster sharing the vocals then jamming with guitarist Bill Leverty, the NASCAR tribute Door to Door was the one surprise of the set, then CJ added keyboards to their schmaltzy US hit ballad Love of a Lifetime. The set ended on a high though with a fiercely rocking Reach for the Sky and another of melodic rock's signature songs, Don't Treat me Bad.

Firefest co-promoter Kieran Dargan gave an emotional speech at the end and it is clear these events are a labour of love rather than a money spinner. But if this was the last Firefest, then what a showcase of the best in melodic rock to go out on.
Review by Andy Nathan

---
| | |
| --- | --- |
| | Print this page in printer-friendly format |
| | Tell a friend about this page |