Feel it...Todd in axe-throttling triumph...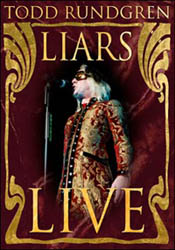 The first thing to say about this DVD is that it must have been a bit tricky filming around those LED pods. Secondly, this is a damn good concert.
There have been several Rundgren DVDs over the years and the most recent live concert was a San Francisco gig in 2002. 'Liars' updates this catalogue as well as being a great souvenir for those who attended any of the gigs last year.
This DVD was filmed in New York in June 2004 and includes the set-list that came to the UK a month later.
Naturally, it was a showcase for the highly-praised Liars album but in a two-hour set there is enough Classic Todd to satisfy the old-timers. And, my goodness, there were a few of those in the audience.
Highlights include 'Buffalo Grass' (from the 'One Long Year' album), this has a wonderful chorus and a superb coda when Todd throttles his guitar, 'While My Guitar Gently Weeps (more guitar throttling) and 'Feel It' (from 1989's Nearly Human album).
'Feel It' first appeared on a Tubes album which Rundgren produced: here it is a real showstopper. It's such a great song and demonstrates why Todd is such a clever songwriter and arranger, the bridge, chorus and harmonies are simply gorgeous. The urgency of the song builds until the red-hot band tees up another fine Rundgren guitar solo-coda. It simply doesn't get much better than this.
The one omission from the 'Liars' set, sadly, is 'Afterlife', but he didn't actually play it on the Liars tour. We had to wait for his brilliant acoustic rendition when he toured in 2005 with Joe Jackson and Ethel. Again that song is another classic in the 'Feel It/Love Is The Answer' tradition.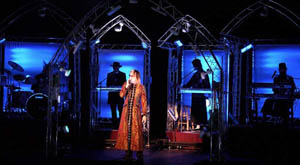 Todd Rundgren and the Liars © 2005 Robert W.Fritsch
Liars was, and is, a great album, and is brilliantly transformed to the stage, although those unique LED pods looked better live than on film. The band, featuring long-time collaborator Kasim Sulton on bass and Prairie Prince on drums, were fully up to the challenge of what is - musically - an incredibly demanding album. On 'Born To Synthesise', (a song Jamie Cullum would be proud of), the band are allowed to stretch out with great solos from guitarist Jesse Gress and keyboards player John Ferenzik, an interlude Todd jokes 'is a DVD all by itself'.
The extras on this DVD are the only disappointment. In the past we've had Todd pontificate about his musical style and approach, this time we get a pretty crappy photo gallery and a rather weird home video shoot of his Japanese trip. It's all good fun but the die-hards may have preferred their master's breakdown of the Liars album and how he approached the recording and songs.
However, dubious extras aside, this concert souvenir will whet the appetite for Todd's return to the UK stage. Hopefully, next time he will jettison the debatable collaborations (Joe Jackson/Ethel) and give his public more of what they want. A more rounded retrospective of his career and some more throttled guitar would certainly satiate the greybeards.
****½
Review by David Randall
Related>> CD review (Best Of Live)
Related>> CD review (Liars)
Related>> Gig review
Related>> DVD review