TODD RUNDGREN 'Liars '(Sanctuary SAN277)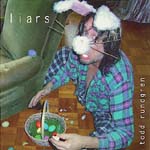 Todd Rundgren is one of rock's most innovative performers and a multimedia pioneer, but his recent album offerings have been rare and sometimes less than accessible.
'Liars' is a brand new studio album and it matches the best of his seventies and eighties work. Since this time Rundgren has busied himself in production and eclectic output such as his multimedia CD 'The Individualist' in 1994.
This CD is superb. The opener 'Truth' has an almost techno-flavoured beat, but the second cut 'Sweet' is a marvellous slice of blue-eyed soul: it is no coincidence that Rundgren has produced and backed Hall & Oates. This swing groove is repeated on 'Soul Brother' whilst 'Past' echoes both Darryl Hall and that other great soul voice, Marvin Gaye.
Elsewhere, 'Mammon' is a colossal, symphonic piece in the best prog-rock tradition with some great guitar cutting through and a marvellous lyrical twist about corporate 'religion', 'where the holiest book is a PDA'. 'Future' and 'Wondering' have dance beats and synth rhythm, the latter particularly is damned infectious.
Rundgren takes a topic like 'Afterlife' and makes it into the most irresistible confection, with his trade mark soulful groove and big chorus. Absolutely tremendous.
It seems that Rundgren defies time and place because the material on this album shows little sympathy for current idioms, it is very much an unashamed personal homage to the music he has loved through the years. He plays all the instruments too. The use of organic instruments like the Hammond B3 and flute lends a natural feel against the synths and programmed drums.
There is a theme running through the album; as Rundgren says "these songs are about a paucity of truth' and how we are hoodwinked by dishonesty in our daily lives, and each track is segued to provide continuity. The album is beautifully paced, it unfolds like a multilevel X-Box game, I guarantee when it's game over you will be totally and unreservedly hooked.
The CD works, in the best tradition of the 'concept' album. As Rundgren says about the album 'it's old fashioned, and I wanted it to resemble all my influences...' To some, Rundgren is a master plagiarist to others he is a genius. His loyal and faithful fans will eagerly anticipate the forthcoming US and European tour dates. Others, too, may find 'Liars' totally compulsive.
*****
Review by David Randall


We chatted to Todd Rundgren in late March 2005, ahead of his UK tour with Joe Jackson in June of that year. He talks about his influences, technology and the album 'Liars' whilst looking ahead to his November tour promoting the album 'Arena'.