Just witnessed your best live gig?..send us a review!
TODD RUNDGREN
Birmingham, Symphony Hall 14 July 2004
Todd Rundgren's first UK dates for 10 years have given UK audiences a rare chance to see an acknowledged master at work.
With his four-piece band and featuring many tracks from the critically acclaimed 'Liars' album Rundgren treated a partisan Birmingham audience to some superb stagecraft and showmanship. And the music was damn fine as well.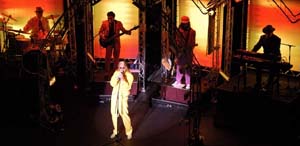 Todd Rundgren and The Liars
Photo Credit © 2004 Robert W.Fritsch
Rundgren has always remained something of a cult figure in the UK, and indeed elsewhere in Europe, but a Rock God to the faithful who admire his philosophy, humour, and craftsmanship.
The Birmingham show, in the hallowed cathedral-like structure that is Symphony Hall, featured a simple but effective stage set, using cutting edge LED lighting so that each band member was given their own "pod". With several costume changes, at times the style evoked the slick, sixties soul revues that no doubt inspired Rundgren from an early age.
Musically, the performance was faultless. The band, including long-time cohort Kasim Sulton on bass and vocals and the great Prairie Prince on drums, demonstrated their own prowess on a superb version of 'Green Onions' whilst recreating the new album with ease.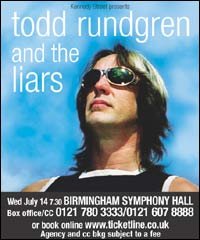 Rundgren himself switched from guitar to vocals, with a particularly effective semi-unplugged interlude. Whilst the new album does not feature much upfront guitar, in the live format Todd allows himself the indulgence of some superb extended solos. It's a reflection of 'Liars' consistency that he had to leave out almost as many songs as he included. However, 'Mammon', 'God Said' 'Past' and 'Flaw' sat well with "older" tunes like 'Buffalo Grass', the sublime 'Feel It'(originally written for The Tubes 'Love Bomb' album) and the inimitable encore 'Hello It's Me'.
Often referred to as the Renaissance man of rock, Rundgren is also one of its unsung heroes. A multimedia pioneer, ace producer and provider of some of rock's more attractive melodies, and covering many musical bases from soul to progressive jazz rock. The faithful would have been well pleased with their hero's rare performance, others will now be frantically catching up on back catalogue. A night, and an artist, to cherish for all.
Set List:
Truth - Buffalo Grass - Mammon - Fascist Christ - I Hate My Frickin' ISP - While My Guitar Gently Weeps - God Said - Liars - Beloved Infidel - Lunatic Fringe - Green Onions - Soul Brother - Flaw - Sweet - Past - Born To Synthesize - Feel It - For The Want Of A Nail - Hello It's Me - Just One Victory
Review: David Randall