Three rare performances from multimedia master...
Released on the back of Rundgren's first CD album release for 15 years, this trilogy of DVDs (available as a box set or separately) allows us to catch up with the performer in various guises: From an excellent 1990 concert in Japan to a more recent show in San Francisco, the Rundgren phenomenon is exposed. These DVDs have never before been available in Europe.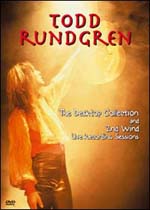 'The Desktop Collection and 2nd Wind Live Recording Sessions' provides an insight into how Rundgren puts together his albums. This really is only of interest to fans, indeed like those who actually made the sessions and who rightly relished this unique opportunity to witness Rundgren's creative process at first hand. Whilst it is a fascinating document, the songs themselves are edited down.
The DVD also includes 'The Desktop Collection', a selection of some of Rundgren's pioneering video animations. In the early 80s he was amongst the first to use Amiga 2000 computers, and the six video shorts combine live footage and 3D graphics. (BMG 74321 92947 9) ***
'Live In Japan', recorded November 7 1990, has the edge on the earlier Rundgren gig with Utopia(Live In Columbus, Ohio 1980), recorded when he was promoting his 'Nearly Human' album. The set-list includes many of Rundgren's melodic triumphs including 'Real Man','Mated' and 'Can We Still Be Friends'. With a large band Rundgren concentrates on his vocal performance and the strength of the songs comes shining through. If you like his soulful stylings, you will love this DVD. It's just a shame that it's missing one of the all-time great pop songs 'Love Is The Answer' but we can forgive him for that. (BMG 74321 94963 9) ****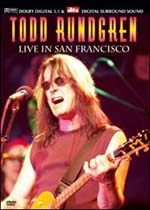 Recorded June 11 2000 'Live In San Francisco' offers a more pared-down 'power trio' format (featuring current band member Kasim Sulton, and Trey Sabatelli). It therefore differs from the Japan set in terms of set-list and provides the link to his current work on 'Liars'. In a more intimate venue, it's also the opportunity to witness Rundgren's fine guitar playing.
Fans will appreciate the inclusion of two Utopia tracks, 'Trapped' and 'Love In Action'. One word, though, about Rundgren's guitar technician who almost steals the show with his constant preening of guitars and general fidgeting about on stage. A mild distraction from an otherwise excellent performance. (BMG 74321 94380 9) ****
Related>> DVD review
Related>> CD review
Artist website
Review by David Randall