TODD RUNDGREN 'Best Of Live '
Sanctuary/Castle CMRCD1235 (2005)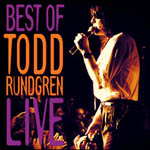 What? Another Todd Rundgren live CD? As Todd is at pains to point out in the informative self-edited sleeve notes, this is different from earlier 'official' live albums. The performances are taken from a variety of shows.
As such, Todd has been able to cherry pick the best versions in a variety of venues and with some surprises. The 13-track collection covers all major bases of the illustrious Rundgren career and the years 1979-2004 in terms of recordings.
Whilst Todd completists will want this for the 'new' live tracks from last year's 'Liars' tour, they might be best placed checking out the 'Liars' DVD and the live show from which they are taken.
When I interviewed Todd earlier this year I had to confess that I was 'new' to his music and it was 'Liars' that switched me on. Since then, as you do, I have investigated his back catalogue.
To be honest, it's an absolute nightmare because there are so many combinations of live recordings and reissues and a lot of duplication due to a large number of licensing deals and - it has to be said - reworkings of classic material. For those, like me, coming to Todd anew this 'best of' might be all you need - for starters.
As an introduction to his music it shows off his supreme writing skills as much as his musicianship and production values. Songs like 'Real Man', 'Love Of the Common Man' and 'It Wouldn't Have Made Any Difference' betray Todd's soul brother credentials and, indeed, 'Soul Brother' from 'Liars' is included.
In compiling this album, Todd hasn't been afraid to go for unusual takes. When you're casually listening to 'I Saw The Light' you might think you have a faulty CD. In fact, it's included because Todd likes 'the unique texture' of the orchestra accompaniment.
The emphasis in this set is on songs, but when Rundgren cranks up his guitar as on 'While My Guitar Gently Weeps' (from the Liars tour) the results are splendid.
The closing song 'Love Is The Answer' has always been a personal favourite of mine. It's a great way to finish and ranks as one of this artist's finest constructions.
Has anything appeared before? Well I dug out those albums I have purchased since 'getting into' Todd Rundgren and - in particular the 6-CD 'Can't Stop Running' set released by Castle in 2003. Six tracks are duplicated, although for this 'best of' CD they've been digitally remastered.
So, new entrants start here, converts be careful.
****
Review by David Randall
Track listing and sleeve notes