MAGNUM Remasters Castle (2005)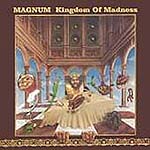 In the wake of Sanctuary's successful revamp of the classic Storyteller's Night album, the first five albums get similar treatment, all with a plethora of bonus tracks and liner notes that include band interviews.
The 1978 debut Kingdom Of Madness (Castle CMQDD1228 (39:33) (38:48)) is expanded as a double disc, featuring several early demos, the 1975 Sweets For My Sweet single, and the original and rare 'King' sleeve. ***
Magnum's music mixed hard rock with pomp and prog, and while Tony Clarkin's guitar and song writing led the show, the keyboards are very important to the sound.
The album itself is inconsistent, featuring some excellent and classic tracks including the In The Beginning and the title track, but Baby Rock Me is one of several that sound disjointed.
Magnum matured quickly for Magnum II (Castle CMQDD1229(57:15)), the album more consistent if experimental and with tracks like Changes, a little more commercial too. Great Adventure is another well known that became a live staple. ****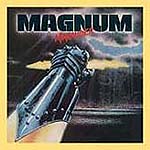 After only two studio albums some may consider a live album rather premature but Marauder (Castle CMQDD1230 (78:43)), recorded at London's Marquee, was heralded at the time. Magnum were a tight, powerful live band. An element of Yes in the music, the crowd are enthusiastic, and the sound benefiting from the remastering. ****
After a two year wait and with new pianist Mark Stanway onboard, Chase The Dragon (Castle CMQDD1231 (67:51)) saw Magnum continue to improve. It was also the first of a long line of albums to feature cover art by Rodney Matthews. Soldier Of The Line and the more acoustic The Spirit are two of Magnum classics and live staples. Bob Catley's vocals help define the album as much as Clarkin's guitar and Jeff Glixman's production. ****
1983's The Eleventh Hour (Castle CMQDD1232(70:07)) was to be their last release on Jet, the title hinting at the band's happiness with the label's treatment of them; financial pressure meant the album was self produced. The album is grandiose in true Magnum fashion, as The Price shows. Bonus cuts include 4 BBC Friday Rock Show sessions, completing the era well. ***
All these albums are excellently packaged, and the music as dated well. The remastering, extra tracks and Clarkin interviews mean they supersede previous reissues. Great, if you can afford it.
Review by Joe Geesin


£10.99
Related>> DVD review
Related>> Album review (Brand New Morning)
Related>> Album review (The River Sessions)
Related>> Album review (Storyteller's Night)