MAGNUM 'On A Storyteller's Night
20th Anniversary Expanded Edition
Castle CMQDD1115(45:54) (60:16)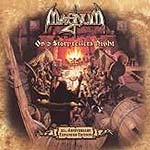 If there's one album that sticks out in Magnum's forever expanding back catalogue, itıs this album. On A Storytellerıs Night is the one every fan will talk about, and refer back to. And quite rightly too, for it's a true classic. Twenty years on and it has stood the test of time. This reissue reflects that in its packing, with band involvement in the liner notes and a second disc of eight demos and a 25 minute interview.
With much of the material played live on the previous tour, and signing to a new label, the material is not only polished but also a breath of fresh air. With the bandıs future uncertain, it also saved Magnum and cemented their place in history.
Moving away from the pomp end of rock, it keeps the big sound with a commercial edge and solid production, and not one turkey in sight. From the opener How Far Jerusalem and the classic atmospheric title track to The Last Dance, guitar and keyboards and Clarkinıs guitar and song writing mix well, with Catleyıs vocals as strong as ever. The Rodney Matthews artwork is now as legendary as this album and sums up the sound well.
After all the reissues, we have a definitive package thatıs well worth your money; no question.
*****
Review by Joe Geesin
Related>> Album review (The River Sessions)
Related>> Bob Catley interview
Related>> Al Barrow interview
Related>> DVD review
Related>> Album review (Brand New Morning)
Related>> DVD review