MAGNUM 'The River Sessions '
River Records RIVERCD007(2004)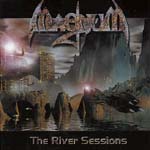 When I first grasped this CD at a Scottish record fair over the summer, I was faced with that enduring fan dilemma. The CD was shrink-wrapped and with only the track-listing visible this looked like yet another pre-Polydor catalogue reissue. Wrong. The packaging hides a little-known gem.
Rewind to an early Scottish summer in 1985, and Magnum were on stage at the Mayfair in Glasgow and, thankfully, the Radio Clyde mobile was parked round the corner. The set list may be familiar - it was immortalised on the "Live In London" Camden Palace video. But this recording has for twenty years lain in the vaults of a Scottish radio archive - a source that is fast yielding similar treasure from the 1970s and 1980s.

At the time, Magnum's classic 'Storyteller's Night' album had just been released and this gig featured on the promotional tour. A sort of last chance scenario, the band had come back from a 1983 hiatus at Reading Festival, and drummer Jim Simpson had recently split to join UFO. The new, self-financed album was a band landmark, although they arguably peaked a few years later with the release of "Wings Of Heaven".
"Storyteller's Night" marked the end of the band's 'dungeons and dragons' era and it was a portent of an increasing sophistication and sheen. Up until 1985, the band had built a loyal following based on the melodic songwriting and riffery of Tony Clarkin. The preceding albums were patchy, and tended to offer up gems, but a fair bit of filler too. This Scottish show cherry picks the gems, and it is unsurprising that tunes like 'Kingdom of Madness', 'Sacred Hour' and 'The Spirit' remained in the band's stage set for years to come.
There is perhaps a simple reason for this: Clarkin's finest work repays repeated listening. A good case in point is 'Vigilante' from their debut Polydor album. This is one of the finest band riffs of its kind, and never ceases to get your rocks off in concert.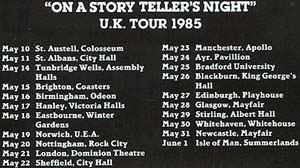 If you want to hear mid-period Magnum at their finest, 'The River Sessions' is an excellent mid-price introduction and is fully endorsed by the band. Eight songs are featured from 'Storyteller's' and are played with a power and confidence that belies their novelty at the time. 'Endless Love', 'How Far Jerusalem' and the superb 'Two Hearts' is classic rock at its finest, and one wonders why Magnum failed subsequently to break the US market. For many fans, 1990's 'Goodnight LA' was just too air-brushed. Their record label failed to get behind it, there were attendant management problems, but it still ranks as one of the great underrated melodic rock albums of that decade.
After a see-saw time in the nineties, which saw them treading increasingly smaller boards in the regions, the band reformed and are thankfully gigging again. However, fans will always remember, and have a special place for, the 'classic' line-up featuring Mickey Barker on drums and Wally Lowe on bass. This CD does that memory great service. And, my goodness, in the between-song banter Bob does sound young!
****
Review by David Randall

Before First Light
© 2004 River Records. All rights reserved.
Related>> Bob Catley interview
Related>> Al Barrow interview
Related>> DVD review
Related>> Album review (Brand New Morning)