MAGNUM 'Brand New Morning'
SPV (2004)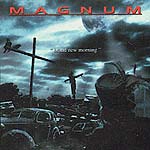 Magnum release their second album since reforming back in 2001 and this album marks the studio debut of Thunder drummer Harry James, who has been the band's live drummer since they reformed. The core of vocalist Bob Catley and guitarist/composer Tony Clarkin remain plus long-time keys player Mark Stanway and relative newboy Al Barrow on bass.
The title track opens the album with a long keyboard driven intro before launching into a mid-tempo rocker that finds Bob Catley still in fine voice. 'It's Time To Come Together' may have slightly twee lyrics (in that it's time we all came together as one regardless of race, religion, etc) but it's the sort of tune Magnum make their own. It has a catchy chorus, strong guitar rhythm backed by a strong rhythm section (Harry James has more clout than Mickey Barker in the percussion side of things) and layers of keys.
In fact Mark Stanway's keyboards are much higher in the mix than on 'Breath Of Life' and on here his piano playing is reminiscent of Bruce Hornsby! One of the band's best tunes since the 80's by far.
'We All Run' is a fairly standard mid-tempo number but the ballad 'The Blue and the Grey' gets the album back on track. This one has a touch of country music running in the background but fear not Bob Catley has not turned into Dolly Parton! 'Immigrant Son' is the heaviest tune on here with a heavy rhythm section and another radio friendly chorus - could easily have come of the 'Wings of Heaven' album.
The epic nine minutes plus of 'The Scarecrow' rounds the album of in style. In true Magnum form the song starts of as a melodic rocker and then veers of for a bit of jazz rock midway through, followed by a blistering guitar solo by Tony Clarkin and then coming full circle back to the start.
Magnum don't make bad albums (bar 'Marauder') and this new album can stand proudly amongst their past works. Magnum may not be filling the NEC's and Wembley Arena's like the late 80's but the band is still a creative force both in the studio and in the live arena. If you're a lapsed fan you should buy a copy of this album and longstanding fans won't need any reminding about buying this one.
****
Review by Jason Ritchie
Related>> Bob Catley interview
Related>> Al Barrow interview
Related>> DVD review
***** Out of this world | **** Pretty damn fine |
*** OK, approach with caution unless you are a fan |
** Instant bargain bin fodder | * Ugly. Just ugly