The pomp-rockers called it a day a few years after this recording...but for a brief moment in 1992 you can applaud one of British rock's finest...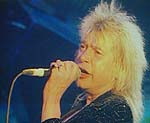 When Magnum announced they were quitting back in 1995 there was a low-key sulk amongst fans who had come to recognise their wonderful contribution to British rock music. For a brief period at the back-end of the eighties, Magnum were playing massive stadiums and were poised for greater success in the States. The ill-fated 'Goodnight LA' album changed all that and they ended up releasing low-profile, but competent, albums and touring smaller clubs.
It must have felt strange but Bob Catley, Tony and the boys battled on like the seasoned troopers they were. Small clubs somehow didn't do justice to what was essentially a stadium-sound. Only occasionally they ventured into larger venues and this recording is one of those. First shown on independent TV but only in the Midlands region and then in the small hours (when almost certainly the timed video would have failed to come on) it's a welcome release. Fans will be able to update their moth-eaten video collection, shot in the halycon days when Magnum had stage sets and a wardrobe mistress, and Tony Clarkin had hair. And in its own way this well filmed concert is as good as the classic 'Wings Of Heaven' live set released in 1988.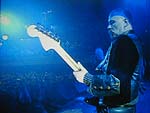 Your intrepid author was actually at this gig, so can vouch for its authenticity, but shame I was up in 'the Gods' and missed out on the floor-level atmosphere and an almost certain in-camera appearance. There is a seasonal feel but mostly this is a great band, on form, and in front of a partisan crowd.
Musically, it is worth the asking price for 'Vigilante' alone. This always got tighter every time they played it and must rank as one of the all-time great heads-down rock tunes. The band showed a mellower side on 'Stormy Weather' (strangely omitted from the track listing) - a fine showcase for charismatic Bob Catley's vocals and another example of Tony Clarkin's songs-created-like-shelling-peas talents and no-mean-riffer ability. On 'How Far Jerusalem' Clarkin also showed that he is a master of drama, and beautifully constructed pieces that never get dull or over-indulgent. Mark Stanway is thankfully gigging again with the reformed band and his keyboard fills add much to the overall sound, whilst his opening salvo on 'This Sacred Hour' is always memorable.
Things went downhill from here, a few year's later the band split. They reformed early in 2002 but sadly without 'Wally' Lowe who was sometimes seen turning up at the later gigs in bicycle clips. For the moment, this was the real deal: use this DVD to catch up on their superb back catalogue and then catch them on their next tour. Fans will simply build a shrine around their TV wearing their much-loved and seldom-washed 'Storyteller's Night' T-Shirt, and lap up the superb 5.1 surround sound.
***** (Classic Rock Productions CRP 1073).
Related>> Bob Catley interview

Stormy Weather
© 2003 Classic Rock Productions/Telegram Records. All rights reserved.
Review by David Randall
© 2003 All rights reserved.