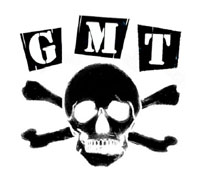 I've always loved Bernie's playing and writing with him again has surprised us both in the diversity of influences we're able to draw on, but it is really the same racket we've always made! (John McCoy)
GMT, or Guy McCoy Tormé, are ROBIN GUY, JOHN McCOY and BERNIE TORME.
John McCoy takes up the story...
"I was writing songs with Bernie and we were jamming occasionally and we were asked if we fancied helping out by playing at a charity gig for Clive Burr's M.S, we've both known Clive a long long time so of course we said yes...

Robin Guy was working with Bernie and Alex Kane (Antiproduct) and knew some of Bernie's stuff so seemed the obvious choice...we had a quick rehearsal and jammed our way through the gig, which went down very well and we were asked if we would play at a festival in Cambridgeshire the next month, we had another rehearsal and played to a few thousand bikers between Wishbone Ash and Saxon, it went really well again and we collectively realised we had something very special..." More...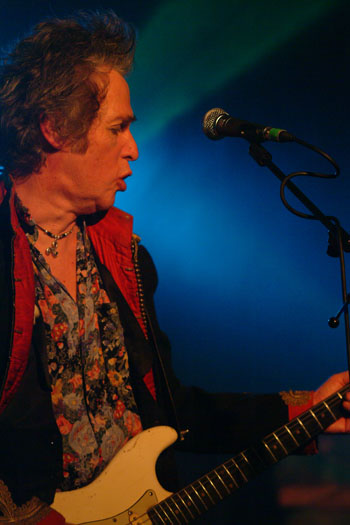 BERNIE TORME - Guitar God/Psychedelic Shredmeister/ Glam Punk/ Sleaze Rock Frontman.
Universally known for heroically stepping in and saving the day for OZZY OSBOURNE and BLIZZARD OF OZZ, when RANDY RHOADS tragically died, also for world tours, hits and international fame as IAN GILLAN'S axe-man in GILLAN, and forming DESPERADO with TWISTED SISTER frontman DEE SNIDER & ex IRON MAIDEN drummer CLIVE BURR, ATOMIC ROOSTER, TORME with LA GUNS singer PHILIP LEWIS, SILVER and much much more...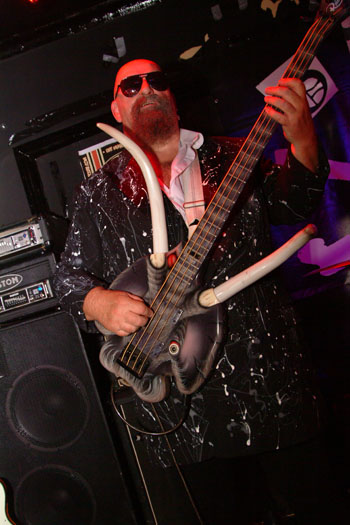 JOHN McCOY - Lead Bass/Living Legend/Larger Than Life.
Quite frankly who John hasn't played with, written for, or produced over the years isn't worth writing about!
A small few include GILLAN, MAMMOTH, SAMSON, JOEY BELLADONNA (ANTHRAX), U.K. SUBS, ATOMIC ROOSTER, SUN RED SUN etc etc. A man mountain with a huger sound, it should also be known that JOHN McCOY has played on over 50 albums..!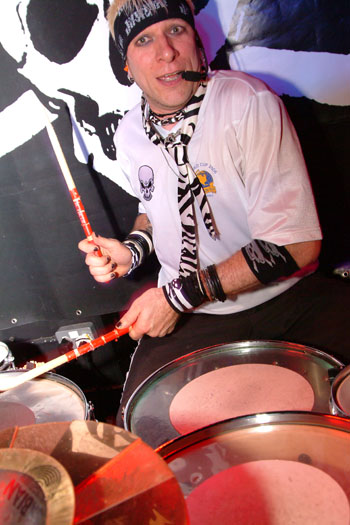 ROBIN GUY - Powerhouse tribal drum wh*re, Robin has already slammed drums with BRUCE DICKINSON (IRON MAIDEN), FAITH NO MORE, LARS FREDERIKSEN (RANCID), CASEY CHAOS (AMEN), THE BUSINESS, RACHEL STAMP, ALL ABOUT EVE, ADAM ANT, & many others.
ROBIN'S loud, obnoxious style helps him fit perfectly between Bernie's wit, and John's charm, in fact you could say (of GMT) it's a three-way marriage gone horribly right!
GMT have released two albums, BITTER & TWISTED in 2006 and more recently EVIL TWIN in late November 2008 (which featured TWISTED SISTER singer DEE SNIDER guesting on the opening track): both albums have received much critical acclaim, as have the bands live shows including the Rock and Blues Custom Show 2007, Hard Rock Hell, Guitarfest, Fleetwoodstock and many others.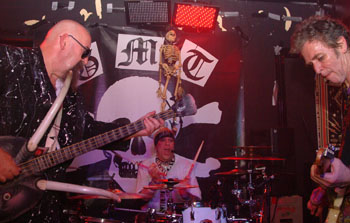 GMT have also recently headlined "The Viking's Ball" at Hard Rock Hell III to an ecstatic reaction from the rockers and metallers of all ages who were present. GMT's version of "Mr Crowley", which Bernie played with Ozzy at Madison Square Gardens in 1982 and is GMT's tribute to Randy Rhoads and Ozzy, was also subsequently voted best cover of the entire four day festival.
GMT are currently working on a new album for release in 2010.
I had heard of Robin, and he did a session at my studio - I was really impressed. John and I had a blow with him, and the chemistry was instant.

John and I had done a few things since Gillan, he'd produced Torme's 'Back to Babylon', which I felt didn't really work at all as well as the live band did. We still insult each other about that! (Bernie Torme)
"Sometimes when there's mischief to be made, you need to bring in the experts. GMT are old but dextrous hands...There's something about a tough and destructive three-piece that never fails to hit the spot..."
(Dom Lawson, Geoff Barton and Scott Rowley HRHIII review in Classic Rock magazine Feb 2010)
"Their time has come...Evil Twin is so raw, it makes sushi taste like seven-month-old haddock..." (Geoff Barton)
Classic Rock magazine Feb 2009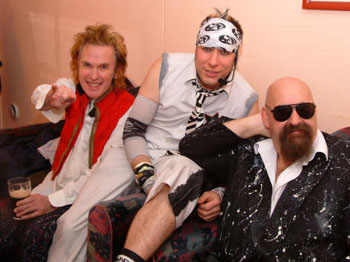 "It's been a long time since I've seen a band that has excited me this much. GMT might take its cue from such powerhouse trios of the ilk of Cream and Mountain, but if you can imagine the latter with enough performance enhancing anabolic steroids to run the Olympics, you have some idea of the power of GMT. If there is a better three-piece than GMT currently doing the rounds then my
name is Lord Lucan."
Jerry Bloom More Black Than Purple, August 2007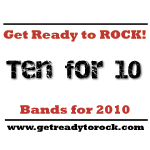 Photos by Noel Buckley
---
---