GMT (John McCoy and Bernie Torme)
GMT, or Guy McCoy Tormé, are ROBIN GUY, JOHN McCOY and BERNIE TORME and formed in 2006. Individually the band represent a wealth of experience. John McCoy and Bernie Torme were members of Ian Gillan's Band in the late seventies/early eighties whilst Bernie deputised for Randy Rhoads in 1982 after the tragic death of the Ozzy guitarist. Robin Guy has sessioned for a number of well known artists, including Adam Ant!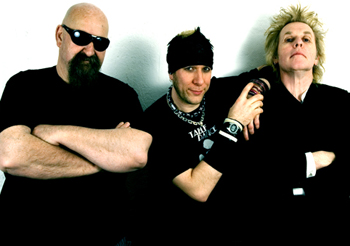 Bernie Torme and John McCoy answered our questions...
Could you tell us please what are you currently up to?

JM: We just returned from playing a great club ,The Diamond in Ballymena. Great Gig, and swimming in Guinness.
We have a string of dates in the the next few weeks and then hopefully we can get our third album finished.
We have lots of tracks recorded but just keep coming up with more that we'd like to include, but it won't be long before it's finished.
May 3rd we have a download only single "Do you remember how to Rock?" coming out Itunes etc
In the Summer we are playing Hard Rock Hell Roadtrip Festival in Ibiza. Should be a hot one. Apart from that just enjoying life and being in a great band!
We all have to juggle various other commitments so when we do get together to play its always fresh and exciting. Musically and personally. A rare thing in bands which is why we're in no rush, GMT are a long term project which has grown almost organically from day one...

BT: Yes we probably need a bit of discipline to be honest, but our attitude is pretty much it happens when it happens, and that keeps it fun. I'm looking forward to the tour and recording more stuff for the next album.

Have you been pleased with the reaction from fans and reviewers to 'Evil Twin'?


BT: Personally knocked out. Punko Rocco, Perfumed Garden, Wheel Of Fortune and Bullet In the Brain became instant rocktastic GMT live classics, they seemed to be part of the audiences DNA! We just played them!


JM: Yes absolutely fantastic. We thought that the first album "Bitter and Twisted" got great reviews but the second "Evil Twin" has surpassed it. It has given the passion and inspiration to stretch our musical muscles to the full whilst working on the third album.

The download single, 'Do You Remember How To Rock?' is out on May 3rd. Is the CD single a thing of the past and how do you go about getting a single known about in today's market?


JM: CD singles are now almost solely used by major labels for radio promo kits and and for reviews. We are just trying the download only path for this single, to see what happens although we appreciate a lot of fans like to have the physical product in their sweaty hands.
It's the way of the world it seems, e.g. HMV have announced that only 13% of their shop floor space will be for C.Ds! Getting the single known about in today's market is easy! We just tell you.

BT: Yes speaking as the the guy who does the record label stuff really CD's no longer make much economic sense anyway, which I suppose is unfortunate, but it's just about giving money to some pressing plant in eastern Europe or Asia for a piece of plastic that doesn't sound all that great compared to the original recording anyway.
I must admit to not being particularly attached to CD's anyway, I preferred vinyl. And I quite like the musicality of mp3's and aac's though everybody slags them off, they have a musicality factor to me.
And as a musician who is vastly more obsessed with the music rather than what its carried on, hey that's the way it goes, listen to the music, the carriers have always been and will continue to be shit!
The only real plus about CD's for me was the booklet. So while people, especially my and Mr McCoy's generation, like some object rather than a download, it's not something that you can do any more in terms of a single, not unless you are a very rich and egotistical person. And we're just not that rich! But nothing is as good as live anyway.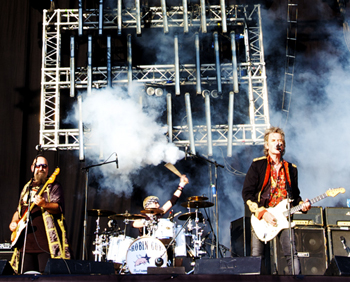 Will GMT release a live album and/or DVD anytime soon? As a band GMT are made for the live arena.

JM: Almost certainly, but our priority at the moment is to finish the third album recording and mixing sessions.

BT: well maybe we will, but it would be better to go to a gig.....

What have been the most memorable live shows for you and why?

BT: Every GMT show is special and incomparable. Its all magic, really. HRH was good.

JM: Every GMT is a unique event. Headlining Hard Rock Hell (The Vikings Ball) last year was suitably bizzare, most of the audience were dressed as Vikings or Bananas. Really.

BT: Yes I'm still trying to work out what bananas have to do with Vikings, worrying stuff...

How did you hook-up with Colin Towns again for his guest spot on the 'Evil Twin' album? Could you see the band working with him again in the future?

BT: Colin's a good friend and he comes around to my place or I go round to his and we try to avoid talking about the past! But we always end up doing it anyway and agree on most things! He was the only option, no better man!

JM: We have kept in touch with Colin Towns since the Gillan days and coincidentally he lives near Bernie, when he heard we were finally recording together (after threatening for years) he was happy to help us out on the admittedly minimal keyboard parts we needed. It was great to work with him again and schedules allowing we will do more in the future. The man's a genius.

Are there any other newer bands out there who have impressed you lately?

BT: Well I hear a lot of stuff from my kids, they are not really new but I like Kasabian, Cage The Elephant, of newer things I like Kitty Daisy and Lewis, that 50's feel is cool, I like some Johnny Flynn too but then I'm a sucker for folk.
Metalwise I liked Beholder live, they rocked. Bandwagon just supported us in Northern Ireland, they were great. Ben Poole, great new guitar player in a beautiful old style. And my son's band The Wolf Gang, watch out for them!

JM: Beholder are brilliant. American band A Good Rogering, Bandwagon ,there's a lot of interesting new bands which is healthy and we do what we can to help and encourage.

Have you seen an upswing in the interest in metal and rock over the past couple of years? Has the internet helped get your music out there or in some ways e.g. illegal downloads has it made matters worse?

JM: Yes there does seem to be an upsurge but maybe it was always there except now its much easier to see? We are everywhere in the world getting played and downloaded which is great but without income from sales how do bands survive?

BT: Yes I don't know if its an upsurge exactly, I think it's more of a level playing field, but people know the songs, that's good for us. It's more viral, the diminishing royalties are difficult, but life is change, and let's face it, there's no way back.
It's never going to go back to what it was, the horse bolted many years ago now, no point in trying to close the door, the majors should have stopped taking the stupid pills before it was far too late. it's gone back to the early days of records when the records were of little commercial value to the performer, just promotional really unless you have a major lasting hit. That's how it is.
It's obviously going to have an impact on the amount and type of new music long term, and in respect of that I was really delighted to hear FM's new album, good stuff chaps.

Has the upsurge in online and digital rock radio stations helped get GMT's music out there or are some of them too formulated i.e. they will only play the classics by any particular band and not anything new.

BT: Well yes, that formatting thing is an issue: people want to hear what makes them feel cosy and safe. The lucky thing is that GMT is there to make EVERYONE feel cosy and safe..... and to smash it up too! GMT cures ALL ILLS and tucks you in at night!

JM: We get played by a wide range of shows and stations which supposedly highlights the diversity of our music.

Message for your fans...

JM: Thanks for the ever growing and continued support. KEEP ROCKIN!


BT Pint of Guinness please........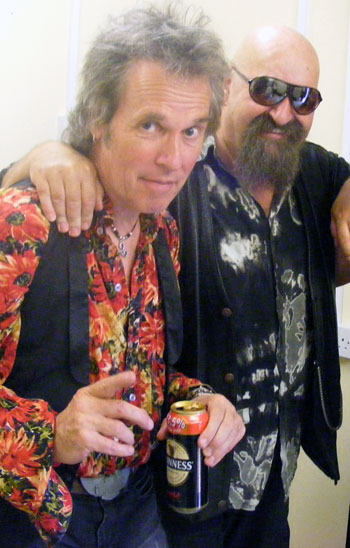 Photo: Noel Buckley
---
Interview © April 2010 Jason Ritchie. All rights reserved.