VAN DER GRAAF GENERATOR The Quiet Zone/The Pleasure Dome Charisma/Virgin 2005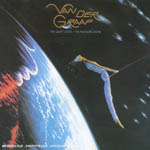 1977 was an annus horribilis for progressive rock. Punk raged through the streets with a public declaration to 'Kill All Hippies', a discomforting prospect for anyone still in a greatcoat. Many rock acts were to fall in the cull.
A notable exception was Van Der Graaf Generator, whose mainman Peter Hammill observes in the notes accompanying this re-mastered, extended reissue of their 20th century swansong: "I was a member of a mad, adrenalin-fuelled aggressive group … we'd always been that way and made a scary noise."
John 'Rotten' Lydon cites these 70s' pioneers as an influence and the passion and confidence inherent in their work still shines through today.
'The Quiet Zone/The Pleasure Dome' differs from predecessors from the decade. Personnel changes saw exits from Hugh Banton and David Jackson, the return of bassist Nic Potter, the introduction of String Driven thing violinist Graham Smith (both of whom had guested on Hammill's 6th solo album, 'Over', the preceding year), and Hammill on guitar duties.
With 9 original tracks here, this line-up delivered tauter, shorter punches than previous VdGG albums (famed for their sprawling content) with more conventional structures on offer.
This was not to detriment the creativity nor reach of Hammill as a song-writer.
Yet the loss of Banton and Jackson changed the dynamics of the sound, notwithstanding Smith's gallant efforts to fill. The band changed its name, as if to mark the moment, to Van Der Graaf - the Generator switched off.
Expanded with feisty rock out, 'Door', a rare B-side in 'Ship of Fools' and a demo version of the album's, 'The Wave', this remains class entertainment from an original act which kept content 'king'.
***
Review by Peter Muir
Related>> Album review (The Least We Can Do)
Related>> Album review (H To He)
Related>> Album review (Pawn Hearts)
Related>> Album review (Godbluff)
Related>> Album review (Still Life)