VAN DER GRAAF GENERATOR Still Life
Charisma/Virgin 2005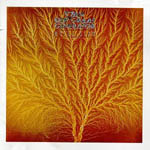 If absence makes the heart grow fonder then it clearly can do something for revitalising creativity, too. Witness the rebirth of Van Der Graaf Generator after a three year split from one another's company.
Where the last album of Mk1 VdGG was a triumph in successfully delivering enormously ambitious material of epic construct, 1975's return was by way of a scaling down and a perhaps more judicial packaging of their writing capabilities into a format that would be easier to replicate live.
So fertile were the sessions for the acclaimed 'Godbluff' that pretty much half of a further album was in the can by their end. After another European tour, financially upended in Italy by political tension tipping into loss of van and gear and an early return home, the band forged on into the studio in the New Year and got to work on this, quite simply the most satisfactory of this period's VdGG.
'Still Life' has five tracks and each is a perfect turn in revealing writing capabilities (of Peter Hammill in particular who had been honing his skills with solo ouput) and their conversion into faultless ensemble playing.
'Pilgrims' (a return to an early Hammill interest) and 'La Rossa' arrive perfectly formed from the Godbluff sessions to be joined by the title track and 'My Room (Waiting for Wonderland)' and 'Childlike Faith in Childhood's End'.
A confidence and self-knowing pervade these carefully assembled pieces that though darkly observational are startlingly diverse in tone, one moment cooed, the next screamed into our ears and then hammered home. Mixed reviews at the time reflect perhaps how demanding and unnerving this music was (for elves were still to be found peeking from the cover art of some of VdGG's progressive contemporaries' efforts).
Well, this album plays just fine today: freshly re-mastered, and with a 10 minute unreleased live bonus track - 'Gog' - shot through with passion and energy, it shines on as an original and memorable showcase of a creative collective at the height of its powers.
*****
Review by Peter Muir
Related>> Album review (The Least We Can Do)
Related>> Album review (H To He)
Related>> Album review (Pawn Hearts)
Related>> Album review (Godbluff)