VAN DER GRAAF GENERATOR Godbluff
Charisma/Virgin 2005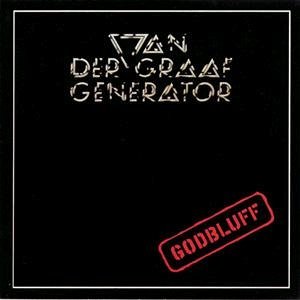 A welcome reissue here of a fine work by one of rock music's true innovators.
Intense music, intense gigging and no money usually escalate into intense anxiety, and – in the case of Van der Graaf Generator – implosion, in 1972.
That said and done, front man and key writer Peter Hammill embarked on a successful solo career, the new freedom afforded by his band's demise seemingly enabling this to develop quickly to levels that mirrored VdGG's illustrious output. That Hammill secured the services of his former colleagues in making and performing these releases posited his new songs in familiar context and added to their reach.
A reconvention of the band in 1975 brought in a new stylistic leaning away from the studio-focus of previous output to songs that could be worked more readily in live performance terms.
The band road-tested its material at UK dates and tours of France and Belgium before committing to the studio in June with sessions that were to see the shaping of "Godbluff" and some of its successor, "Still Life".
That every moment of these recordings garner and retain the listener's attention measures the creative backlog that had amassed during the band's 'down-time'.
"The Undercover Man" sets the agenda and tone for the album, Hammill gently opening the door to the song, creeping in and the band following him, one by one, engaging the listener in the trademark melange of calm and anger, melody and dissonance but as always, disciplined, structured and shot through with originality, vitality and sly, intelligent humour.
The four songs that make up the original release are bolstered by live performances of two songs from Hammill's excellent "The Silent Corner and the Empty Stage" that, albeit a tad rough and ready in sound quality terms, add a generous 22 minutes more to this recommended reissue.
****
Review by Peter Muir
Related>> Album review (The Least We Can Do)
Related>> Album review (H To He)
Related>> Album review (Pawn Hearts)
Related>> Album review (Still Life)