VAN DER GRAAF GENERATOR
The Least We Can Do Is Wave To Each Other
Charisma/Virgin 2005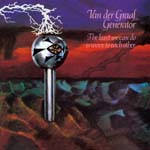 Van Der Graaf Generator – The Least We Can Do Is Wave To Each Other (Charisma/Virgin)
Charisma Records was the love-child of the late sports writer, racehorse owner and all-round bon viveur, Tony Stratton-Smith and this band. Once introduced, he took on their management, resolved previous and unhappy contractual issues - and when they couldn't get a label deal, started his own.
Whilst he nurtured the careers of an eclectic and talented roster of acts (many of whom went a long way to pay for the lifestyle – step forward Genesis), Van Der Graaf Generator were always 'the ones' for Strat.
Progressive rock was the new kid on the block, but whilst there was no shortage of labels and acts loaded onto its bandwagon, few were actually 'progressing' for long. VdGG were amongst few that were truly progressive in that they innovated, and by so doing, paved the way.
This is the first release in an exhumation of the VdGG catalogue. EMI has formed an ace team for the reissue programme of the Harvest and Charisma catalogues and this album bears their hallmark.
Issued to critical acclaim in 1970, The Least We Can Do Is Wave To Each Other - 35 years later - delivers the goods again in an informative and entertaining package, re-mastered with extra tracks, and original artwork enhanced with intelligent and informed booklet notes, previously unpublished publicity photography and period memorabilia.
One incarnation of the band had supported mainman Peter Hammill on his debut solo Aerosol Grey Machine in 1969 (later credited to VdGG).
But it was the line-up of song-writer Peter Hammill (guitar/vocals), drummer Guy Evans, classically-trained church organist, Hugh Banton, jazz-fusion horn player David Jackson, and bassist Nic Potter that formed the nucleus of this creative, wayward act.
In his original sleeve notes, Hammill warned: "Don't listen when you're bustling, because it won't get inside your head. Don't listen when you're angry because you'll smash something. Don't listen when you're depressed, because you'll get more so. Don't listen with any preoccupations, because you'll blow it. "
Melancholy, melody and mayhem co-function successfully in this imaginative and assured set.
Strikingly original then and a dramatic turn still today, it intersperses observational songs (Refugees, Out Of My Book) with epic statement (After the Flood, Darkness (11/11)) in a organ and sax-fuelled melee, powered by the hyperactive Evans, and preceded by the free-ranging Hammill vocal: British, educated, reasonable until prompted by some unseen force to unreason bordering on hysterical.
This release is bolstered with two extra tracks in the beautiful, orchestrated single version of 'Refugees' and its B-side, the atmospheric 'Boat of Millions Of Years'.
The former is sweet, melancholic, lavish, naive - and a counterpoint to moments elsewhere in the proceedings that signpost the next horizon to be swept across by this band's restless, raging force.
At the time of writing, VdGG have reformed, recorded a new album and are playing sell-out dates at major venues. Begin at the beginning, and find out how this came to be …
*****
Review by Peter Muir
Related>> Album review (H To He)
Related>> Album review (Pawn Hearts)
Related>> Album review (Godbluff)
Related>> Album review (Still Life)