VAN DER GRAAF GENERATOR Pawn Hearts
Charisma/Virgin 2005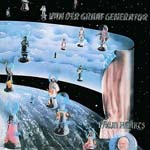 Back in January 1971, Charisma Records boss Tony Stratton-Smith decided to tour his top three acts across a rainy, cold Britain for only 30 pence a ticket, in a collective showcase of their diverse talents.
The chosen three were Genesis, Lindisfarne and Van der Graaf Generator.
Former Manchester University Liberal Studies student and VdGG mainman, Peter Hammill recalls in the booklet notes of this sumptuous reissue of his band's tour-de force third album:
"In a way both Lindisfarne and Genesis were potentially more crowd-pleasing than we were, even though we were in a 'senior' position, being the 'school prefects' of Charisma."
Despite this hallowed position, VdGG was a band you loved or loathed.
Pawn Hearts was released in October that year to a mixed reception. Yet today it is lauded as the band's crowning achievement: a work of enormous experimentation that no matter how close it veered to madness at moment, was never with out construct and intent.
Drummer Guy Evans, keyboard player Hugh Banton, sax giant David Jackson, augmented by major fan, Bob Fripp, took the sonic architecture of writer Hammill and emerged from the eerie 'H To He – Who Am The Only One' from the previous year to plunge into three extraordinary, sprawling epic compositions: 'Lemmings', 'Man Erg' and the 23 minute-plus 'A Plague of Lighthouse Keepers'.
Produced by John Anthony, these hugely entertaining works record a band firing on all cylinders, close-forged as a musical entity, one moment tender in Hammill's choirboy vocal, the next, driven forward in assault by his raging screams. This was a battery of sound, flexing yet cohesive, folding diverse musical themes and imagery over and into one another.
It was giddying stuff. Nobody had made anything quite like it – and that was part of the problem. Some people just didn't get the Generator.
They toured consistently, spreading the word, but just as the moment came for them to officially 'get big', the band bust, exhausted, in 1972.
Peter Hammill had released a solo album that year - 'Fool's Mate' - and decided that a solo career in studios appealed more than constant touring.
Lindisfarne's Rod Clements guested on the album and in a conversation earlier this year, I had asked him about the Charisma Six Bob Tour and about VdGG in particular.
"Ah, great fun," he smiled, pausing for a moment, to add: "they were the clever ones. They'd been to University. Sat at the back of the bus."
This re-mastered edition of 'Pawn Hearts' demonstrates why Van Der Graaf Generator is regarded today as one of the most important bands to emerge from the 1970s.
The original three tracks are augmented by some great, previously-unreleased bonuses in a version of the band's beserk cover of George Martin's 'Theme One' and 'W', final takes of which appeared on a single release in 1972.
Also here are 'Angle of Incidents', 'Ponker's Theme, and 'Diminutions', inventive, experimental solo efforts by band members that were to appear with the original three Pawn Hearts on the double album set the concept was first slated to be, but dismissed in favour of the final one LP.
Van Der Graaf Generator was to re-group in 1975 to make yet another fine album in 'Godbluff'. The times had changed; people were looking for something different.
While storm clouds gathered over the Kingdom of Prog, John 'Rotten' Lydon was getting out an umbrella to open over Peter Hammill …
*****
Review by Peter Muir
Related>> Album review (The Least We Can Do)
Related>> Album review (H To He)
Related>> Album review (Godbluff)
Related>> Album review (Still Life)