Just witnessed your best live gig?.. send us a review!
Latest review! (20.11.12)
MAGNUM
Tivoli, Buckley, 12 April 2011
Live photos by Steve Goudie
At the start of the band's UK tour, GRTR!'s Managing Editor David Randall reveals a darker past ... and nothing to do with the Tivoli's interior lighting either...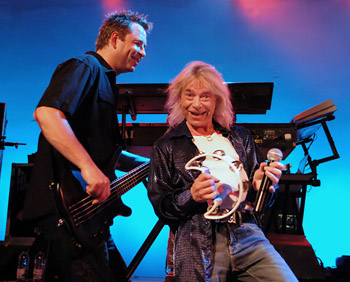 I have to admit in the 1990s I was obsessed with Magnum. A second generation fan, there was something about their music and perhaps their grunge decade plight that appealed. It saw them playing in venues like the Tivoli an old picturehouse in Buckley, North Wales but I followed them further, to festivals and to Birmingham Town Hall where they filmed a gig for Central TV.
Now 20 years later the band returned to the "Tiv" at the start of the UK leg of their European tour. And bizarrely it was almost as if time, and Tony Clarkin's hair loss, had stood still. Whilst I am smug that I saw the classic line-up in the early 1990s before they imploded, the fact is the current band has being going almost as long with bassist Al Barrow part of the Magnum-lite Hard Rain configuration and Harry James on drums joining them soon after.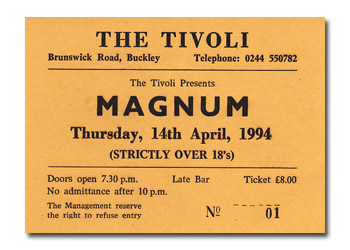 During the 1990s, GRTR!'s Managing Editor mercilessly stalked Magnum, but in a nice way (at least that's what he tells us).
Almost 17 years to the day the band return to the Tivoli.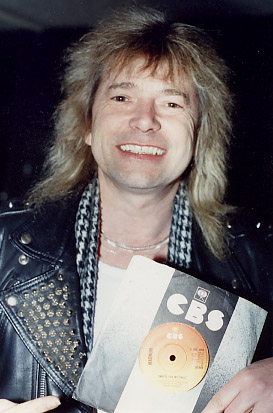 A fresh-faced Bob Catley in the Tiv; Randall forced him to hold a recently-acquired copy of the band's debut single.
Hopefully 2012 will be a bit special for the band and they'll celebrate their 40th anniversary in style but for now there's a new album to promote, the generally well-received 'The Visitation'.
I'm not sure if my repeated Magnum gigs, two decades ago, were as much about the song 'Vigilante' as anything else. Here it is the lynchpin of a fine setlist and still stands proud as one of the finest heavy rock wig-outs…ever.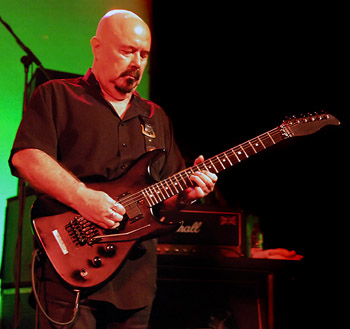 But Vigilante's ascendancy should not obscure a fair number of more recent tracks tonight showing that the band - and Tony Clarkin in particular - has never lost a way with a good melody and infectious riff. From "Into the Valley of the Moon King' we got 'All My Bridges' and 'The Moon King'. And 'Brand New Morning' from the band's 2004 album of that name was simply superb.
Going back to the sense of history theme, I probably like Magnum for all the wrong reasons; well at least different ones than the Storyteller's Night-shirted hardcore.
So I actually like albums like 'Goodnight LA' when they flirted with American AOR sheen and its successor the excellent 'Sleepwalking' which included the wonderful 'Stormy Weather'. Sadly, although perhaps unsurprisingly, both these albums were missed out tonight along with the excellent 'Rock Art' (1994). In truth, a few curveballs in this direction wouldn't have gone amiss.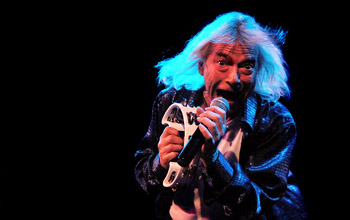 And then there's Bob Catley, as ever the genial frontman whose voice is in fine fettle and whose gesticulations provide a visual foil to Clarkin's lyrics which frequently touch on injustice or war. "'Freedom Day' from the new album was particularly impressive tonight.
With a final salvo of 'Kingdom of Madness' and 'Storyteller's Night' (both highlighting Mark Stanway's consistently excellent keys), Magnum are sounding more majestic, and magnificent, than ever.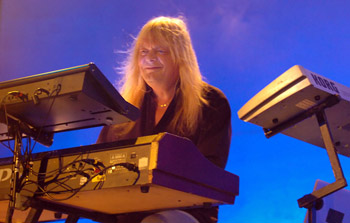 Setlist: Back to Earth/ When We Were Younger/ Wild Angels/ Brand New Morning/ Mother Nature's Final Dance/
How Far Jerusalem/ Spin Like a Wheel/ The Moonking/ Freedom Day/ Les Morts Dansant/ Black Skies/ All My Bridges/ All England's Eyes/ Vigilante/ Kingdom Of Madness/ Encore: Midnight Kings/ On A Storyteller's Night
Review by David Randall
Photos by Steve Goudie
Check out an edited interview with Tony Clarkin (2009) in our radio podcast section