MAGNUM The Visitation SPV (2011)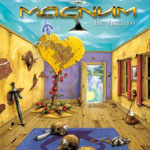 This new album marks the band's 16th studio alum in total and their 5th since returning back in 2002. Harry James is also firmly sat on the drum stool as Thunder are sadly no more, so he doesn't have to juggle the two bands' schedules. With Tony Clarkin you know the songs will be of a high standard and vocalist Bob Catley is on fine form as ever (I always find it strange though that he never writes any songs although he'd have to be damn good to match Clarkin!).
I have only one grumble with this album and it has carried over from the past few albums, in that the band have never really done a hard rocking, four minute crowd pleaser like 'Just Like An Arrow' or 'Back To Earth'. Fair play to them though as 'Wild Angels' goes someway to this and has a massively catchy chorus. This song will sleep seamlessly into their live set I am sure.
For fans of the band who think they may have hit a comfort zone think again as 'Tonight's The Night' is a real departure. The opening bars sound like George Harrison before the song builds into a big musical number complete with a Yes-approved acappela midsection. Add in Mark Stanway's grand keyboard runs and you're onto a winner.
'Freedom Day' features a gentle start featuring Tony Clarkin, a neat Al Barrow bass motif and Mark Stanway's piano before Mr Catley comes in along with a big drum sound from Harry James. The band all work so well together with no one member trying to dominate the song at the expense of the melody. Harry James isn't all about big drum sounds as he provides a gentle cymbal intro to 'Black Skies', another album highlight. Again the guitar, keys and drums connect well throughout this song.
'Midnight Kings' begins gently before a crashing guitar riff and the added strings make this song sound like it could have been lifted from the band's late 80's albums 'Vigilante' and 'Wings Of Heaven'. High praise indeed as those are amongst the best albums from the band in my book.
Magnum have done it again producing another album set to delight their fans and I really hope this one gets them some new fans. They may not have the instant appeal of some melodic rock based bands but the joy of Magnum songs is that they grow better after each listen. Oh and Mark Stanway has quite possibly laid down some of his best keyboard work in many a year.
****
Review by Jason Ritchie
---
| | |
| --- | --- |
| | Print this page in printer-friendly format |
| | |