Just witnessed your best live gig?.. send us a review!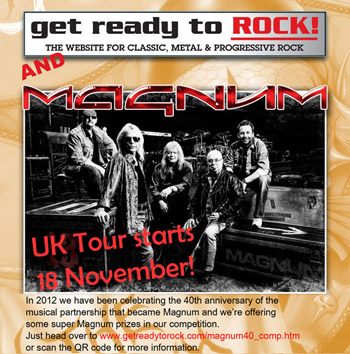 Remember to pick up a GRTR! Flyer from the merchandise stall on the UK tour for a chance to win MAGNUM prizes! More information
MAGNUM
O2 Academy, Liverpool 20 November 2012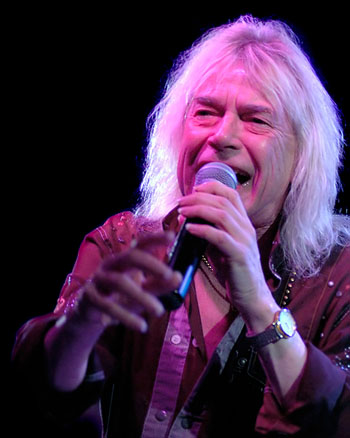 With their latest album making a highly respectable 43 position in the UK album chart. Magnum - 40 years on - are riding the crest of a wave in 2012. It's just a pity that their durability wasn't recognised in the latest Classic Rock magazine 'Roll Of Honour' awards, at least to compensate for a somewhat puerile review of that latest album.
On the second date of their UK tour, Magnum did not seem tour bus-lagged. In fact this was one of my best gigs of the year and, in terms of Magnum, perhaps one of their finest. A seemingly faultless and never lagging trip through a pretty damn perfect setlist. Who could ask for more?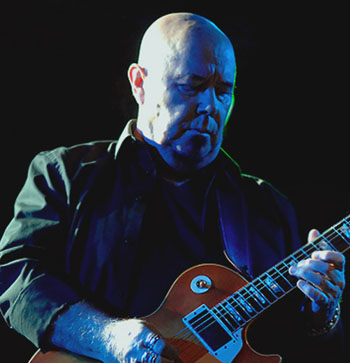 Of course, the selected tracks from the new album sat proud amongst the old faithfuls and if there were no real surprises in the setlist, perhaps the biggest revelation is the band's energy and commitment, some 20 dates into a European Tour.
There was enough variety in the setlist to reflect that 40 year anniversary even if the band played safe with the hardy perennials 'How Far Jerusalem', 'All England's Eyes' and 'Les Morts Dansant' although 'The Spirit' made a welcome return.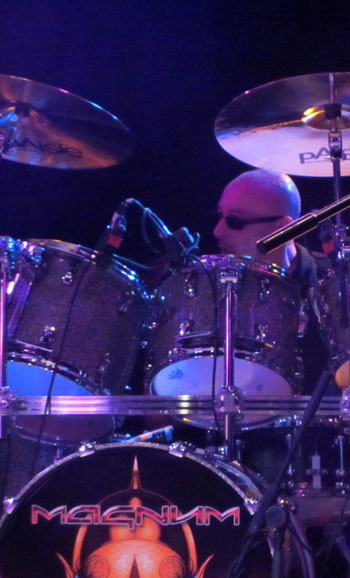 Photo: David Randall
But 'Brand New Morning', almost a signature tune to their last decade renaissance, is a true classic in its own right and is the sort of song that can mark a turning point of any gig. Wonderful.
In all cases Harry James' drumming was a highlight with Mark Stanway's sometimes understated keys coming to the fore on the 'Les Morts'.
The sadly neglected album 'Sleepwalking' was remembered with the excellent 'The Flood', perhaps the band will now revisit 'Rock Art' before that album's 20th anniversary in 2014. There's still time, guys!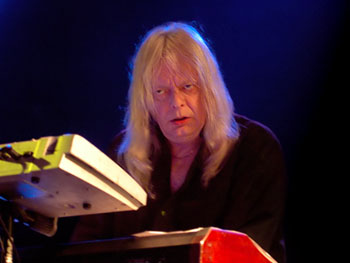 And as the band headed for the home-straight, and you thought it couldn't really get much better, along comes 'Rockin Chair' which - rather than the classic rocker it is - now becomes a more poignant paean to their survival. My guess is they won't need that chair for a few years yet.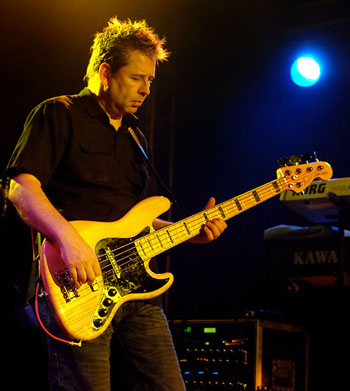 Earlier, Trillium gave us a taste of their melodic metal fronted by Amanda Somerville who has worked previously with Bob Catley (on 'Avantasia'). She has a powerful voice and presence and if the songs lack some immediacy for the uninitiated I am sure the band would repay further investigation starting with current album 'Alloy'.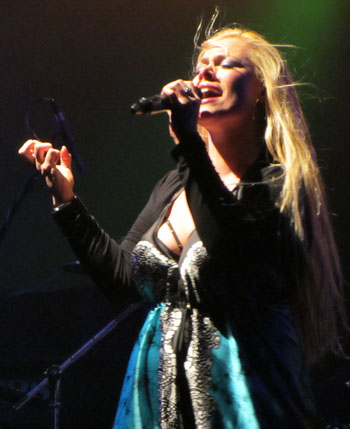 Photo: David Randall
Magnum setlist:

1. All The Dreamers 2. When We Were Younger 3. Blood Red Laughter 4. Wild Angels 5. Brand New Morning 6. How Far Jerusalem 7. The Flood 8. Les Morts Dansant 9. The Spirit 10. Dance Of The Black Tattoo 11. All My Bridges 12. All England's Eyes 13. Vigilante 14. Kingdom of Madness
Encore: 16. See How They Fall 17. Rockin' Chair 18. Days Of No Trust
Review by David Randall
Jason Ritchie writes:
(Photos by Noel Buckley)
Islington Academy, London, 29 November 2012

A packed out Islington Academy were here to see Magnum on the band's 40th year, although Bob Catley and Tony Clarkin can trace their musical roots back to the late 60's Brumbeat era.
First up we had Trillium fronted by Amanda Sommerville, who has worked with Kamelot, Avantasia and Michael Kiske (ex-Helloween) amongst others.
I have only heard the Kiske/Somerville album and a few songs of the Trillium debut album before tonight and was impressed by the set. They used backing tapes for the keyboards following the passing of their keyboard player Simon Oberender (who also worked with Avantasia and Beyond The Bridge).
Amanda Somerville certainly has an impressive and powerful voice with the Kiske/Somerville tune 'Set A Fire' a stand out. A good support although I'd like to have seen mainland Europe support Neonfly on the bill as well (a few of the band were in the audience though).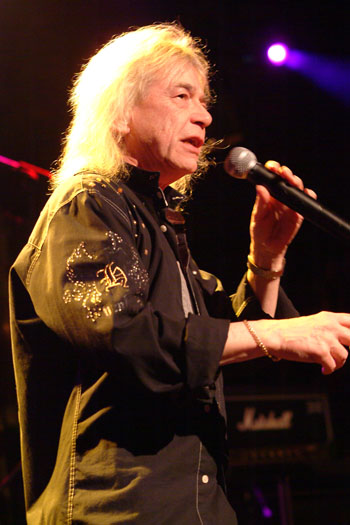 Magnum I haven't seen for around three years and I think this was the twelfth time I was seeing them, and like the previous times they never disappoint.
The set list featured a lot of songs from their albums since they returned back in 2001, showing how good these albums have been. They even featured a handful of songs of their excellent new album 'On the 13th Day' including 'Dance of the Black Tattoo', a song which I am sure will remain in their set lists for years to come as it is already a firm fan favourite.
A few surprises too including the return of 'The Spirit', albeit in acoustic mode and 'The Flood' of their 'Sleepwalking' album.

The good thing with Magnum is they do mix their set lists up more (something a band like Motorhead never do) with 'All England's Eyes' back in all its pomp finery yet there was no 'Just Like An Arrow'.
Mark Stanway's keys for me are an integral part of the Magnum sound, as much as Bob Catley's voice and Tony Clarkin's guitar/songwriting talents and they were nicely to the fore in the live mix. Bob Catley gets a chance to shine on 'Les Morts Dansant' whilst Tony Clarkin gets to riff away on one of my favourite Magnum tunes 'Vigilante'.

For encores we had another new song 'See How They Fall' and two more classics in 'Rockin' Chair' and 'Days Of No Trust'. The band seemed to have had as much fun as the audience!

With the rock solid rhythm section of Al Barrow and Harry James, this is the strongest Magnum line-up for me and live they are one of the most consistent acts out there today.
You can use the direction keys on your keyboard to navigate easily through the photo gallery. In Windows you can use the mouse wheel to flick from one photo to another.
Photos by Steve Goudie & Noel Buckley
---