WIN MAGNUM STUFF!
SIGNED POSTER, LIMITED EDITION VINYL ALBUM & T-SHIRTS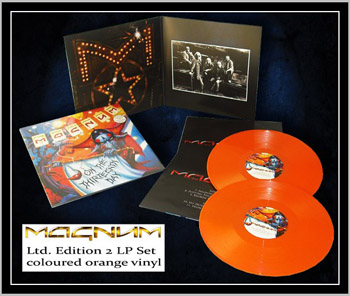 MAGNUM have been Get Ready to ROCK! Ambassadors in 2012 celebrating 40 years of the band and 10 years of our website.
Here's a chance to win a signed poster, collectible vinyl version of 'On The 13th Day' (fully signed) and T-Shirt.
The runner up will receive the vinyl version of the new album (fully signed) and T-Shirt.
Two further winners will receive a copy each of the single 'So Let It Rain'.
To enter the competition, just enter the code from our Magnum Flyer available at UK gigs. All participants will be entered in a prize draw with the three winners picked at random before 15.12.12
You'll find the flyer at the Magnum merchandise stall.
Closing date 12.12.12. Winners will be notified by 20 December.
Please enter the Flyer code below.
Magnum special feature and access to GRTR! Magnum Archive
Magnum gig review (20.11.12)
Magnum website
Now complete the form below: