CAMBRIDGE ROCK FESTIVAL 5-8 August 2010
Andrew Lock on some of the second stage highlights...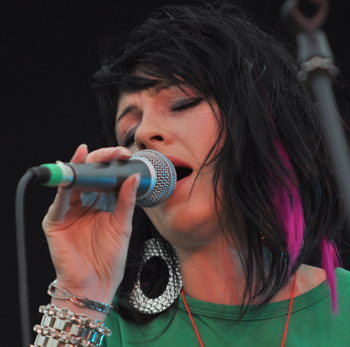 Crimson Sky

I saw this band at this years Winters End Festival and I was again impressed by their stylish progressive, slightly gothic rock. The set included plenty of material from their impressive debut album Misunderstood including the bouncy rocker Turn it Up the epic A Sleep that Burns and the atmospheric The Sea.
The band also gave us a taste of the next album with the promising Trust and Only Love.
The band have a great front woman in Holly Thody, she has powerful vocals, moves on well on stage and always looks like she is enjoying performing, the band also includes a red hot lead guitarist in Martin Leamon.
Very much looking forward to the next album and catching this impressive live act again soon.

Emerald Sky

Emerald Sky are a rock band consisting of three sisters Aislinn bass/vocals/keyboards, Ceara guitar/backing vocals and Siobhan drums/backing vocals, they play melodic rock with pop touches.
Their set consisted mainly of self penned numbers from their two albums, the debut release Rock & Roll Icon and the even more impressive Shadows of Darkness released in 2008.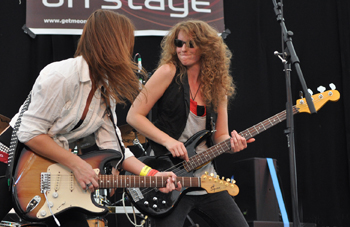 First two numbers set the tone with the catchy Madness, strong vocals, rocking guitar and tight drum work, and the delicate Dark Angel showcasing a different softer side to the bands music with some fabulous lead guitar by Ceara.
My other favourites from an impressive collection of original material were the punchy Insurrection from the 2nd album and the all out rock of Hellraiser from their debut, a real cloud pleaser.
We also had a few well chosen and well played covers including Enter Sandman and Back in Black.
A promising band for the future all three very talented musicians with the vocal harmonies particularly outstanding, they look good and as are sisters interact very well on stage, to me they have a little bit of Rock Goddess and the softer side of Girlschool in their sound and I don't think there are many bands around like that at the moment.
Taildragger

A band I really like as I have a soft spot for well played blues, I have seen Taildragger at the previous two Cambridge Rock Festivals and always enjoy their set of traditional blues rock.
They have two outstanding guitarists in the band with front man Mike Smith who also handles the vocals and the extremely talented TJ with his classy lead guitar breaks.
Just add a rocking and tight as a drum rhythm section and you have a well oiled blues machine.
Loved the whole set but special mention to their classy versions of Buddy Guy's Mary Had a Little Lamb the classic Money (that's what I want) and rocking covers of ZZ Tops Tush and La Grange.
Same again next year please boys.

Cherry Lee Mewis

Having a name that could be the ultimate Jerry Lee Lewis tribute act, Cherry is in fact a very classy blues singer from Wales with a powerful voice and engaging stage presence.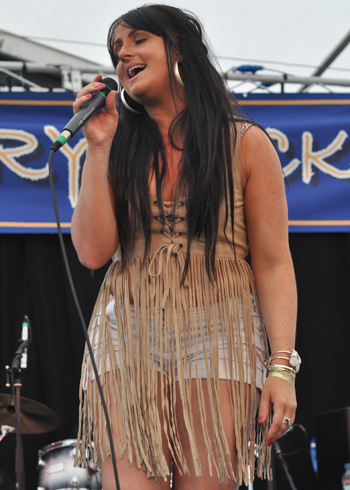 We are at the moment privileged in this country to have a wealth of strong female blues artists including Joanne Shaw Taylor and the lady who wowed the main stage at this years festival Chantel McGregor, Cherry is another name for the list.
To me she adds a touch of country and Jazz to her style of the blues and it really works, she also has a red hot band playing with her and the overall sound was superb.
She opened with the fun, foot tapping Kissing in the Dark from the excellent Southbound Train album, most of the set would be taken from this release and other gems included the almost rock-a-billy sounding Western Star, the catchy Midnight in Memphis and another foot tapper in Southbound Train itself.
A superb performance and so looking forward to seeing her perform in my home town of Leamington Spa where she is on the bill (along with Chantel McGregor) for what promises to be a fantastic line up for The Blues Assembly 2 show at the Leamington Assembly in November.

---
Review and photos by Andrew Lock
Additional view (Mostly Autumn)
Additional view (Panic Room)
---