CAMBRIDGE ROCK FESTIVAL 5-8 August 2010
Photos by Noel Buckley
Saturday 7 August
Review by Jim Rowland
After three consecutive Festival weekends, could I possibly contemplate going for number 4 when I get a last minute invite to the great Cambridge Rock Festival? Ah, go on then.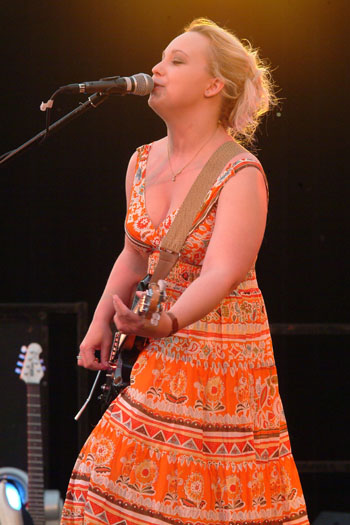 Sadly for me, I don't get to the site in time for Chantel McGregor's early set today, which sounds like it's my loss because the performance was on everyone's lips during the course of the day and she received a five minute ovation at the end of the show. Luckily I did get to see her play a short acoustic set at the end very end of the night on the smaller stage and she was a delight.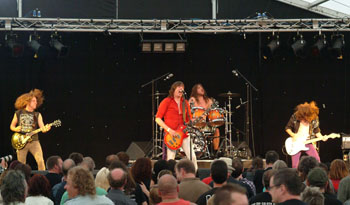 Four Wheel Drive's brand of ballsy, high voltage rock'n'roll is as tight as their trousers. This is a young band with a no frills, old school rock'n'roll attitude. Full on rockers like Six Foot Poster and High Roller get the crowd going and the beer flowing, Big Fat and Ugly throws a bit of funk into the mix in the vein of Aerosmith, and Take A Drag gives it some old school boogie rock in a big way. Currently plugging their debut album, 'High Roller', Four Wheel Drive are a good, unpretentious, full on rock'n'roll band with some strong songs. They get a good reception here today.

Free tribute Freeway are up next, and although I wouldn't normally be too keen to waste much time on tribute bands, this band were exceptional.
Honouring the 40th anniversary of the Isle Of Wight Festival, Freeway replicate the entire Free set from that festival. Paul Rodgers is a tough vocalist to copy, but Geordie vocalist Paul Smith pulls it off superbly. If you like Free, which I do, check this lot out.

The Cambridge Rock Festival would not be the Cambridge Rock Festival without Del Bromham and Stray. Del has survived in this game now for over 40 years for one reason. He's good. A master craftsman on the guitar, this man knows how to give a rock crowd what they want.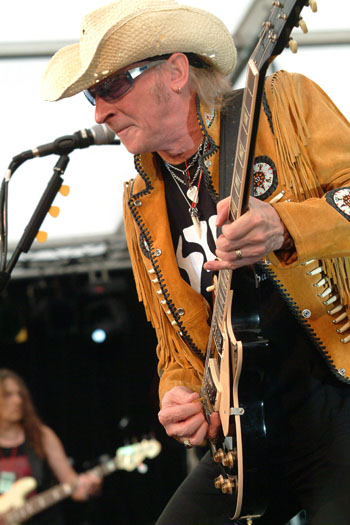 It's great to hear old stray classics like Jericho in the set, but this isn't a band that relies on past glories. With the new album Valhalla about to get an official release on Angel Air Records, today's set features several strong tracks from that album. Move A Mountain, Free At Last and Harry Farr prove Bromham can still pen a classy rock tune.
The Stray classic All In Your Mind finishes the set in fine style, with Del, resplendent in Stetson hat, lassoing his guitar as it hangs from the rafters.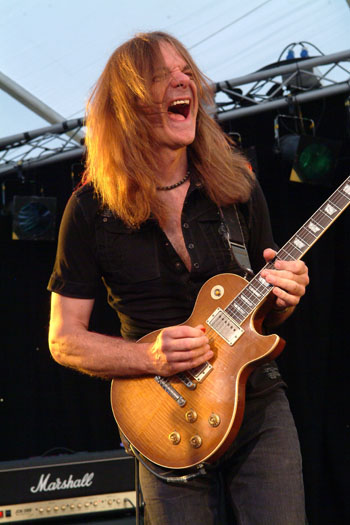 I cant confess to knowing too much about Larry Miller before today's performance. I found out afterwards that he had performed here last year in the Blues tent, benefiting from a huge crowd caused by the technical hiccups on the main stage, and blew the place apart.
Today, he's on the main stage early Saturday evening, and guess what? He blows the place apart again. Larry Miller is an exploding ball of heavy blues energy very much in the vein of Rory Gallagher. He's a showman, an exceptional guitar player, and has the songs and band to go with it.
I didn't know any of the songs, and didn't really care what they were called, as this was a barnstorming performance from start to finish. Perhaps the void left by Rory Gallagher can now be partially filled. Joe Bonamassa watch out, there's another new blues hero snapping at your heels. The crowd reaction here to his performance was ecstatic and this had to go down as best set of the day.

As founding members of Saxon, one of Britain's great Heavy Metal bands, and having been part of that band during it's glory years in the 80's, Graham Oliver and Steve Dawson have a wealth of the finest Saxon songs to choose from in today's Oliver Dawson Saxon set.
They kick off with a couple of more obscure ones though, with Rock'n'Roll Gypsy and Red Line setting the tone. Real Saxon classics like 747, Princess Of the Night, Wheels Of Steel, Motorcycle Man and Bands Played On all feature tonight, but it's not just about reeling off all of Saxon's old hits. Dallas 1pm and The Eagle Has Landed, two epics not performed that often by the current Saxon, are the highlight of the set for me.
But it's not just about old Saxon songs either. New ODS tracks such as Whipping Boy, Victim You and Motorbiker prove that this band come come up with some rifftastic, quality HM songs of their own.
Singer John Ward is no Biff clone by any means. Looking like an 80's glam version of Iggy Pop, he stamps his own style and personality on the new songs and the old ones too. I was particularly impressed with how he handled the vocals on mega-Saxon hit 747, giving it a whole new flavour. Like catching up with old friends, it was great to see Oliver and Dawson still giving it some good old Heavy Metal thunder after all these years.

Micky Moody and Neil Murray are, of course, original members of the classic early, and by far still the best, version of Whitesnake. They wanted to be billed as Moody Murray Whitesnake tonight, but thanks to some kindly legal action from Mr. Coverdale, they have to resort to Monsters Of British Rock instead.
Featuring Thunder's Harry James on drums, Laurie Wisefield (formerly Wishbone Ash) and Chris Ousey (Heartland) on vocals, this is a pretty heavyweight line up. None of your post 1987 Poodlesnake nonsense here, this is pure old school Whitesnake.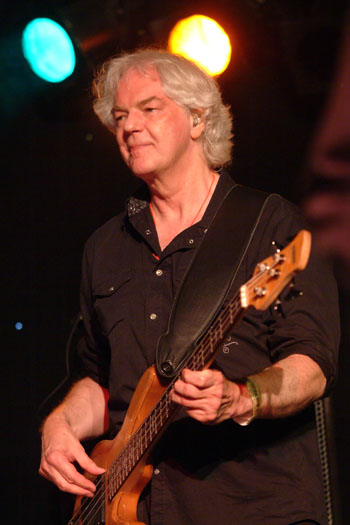 Opening with Come On and Walking In The Shadow of The Blues, memories of 'Live In The Heart Of The City' come flooding back. Whitesnake connoisseurs get a treat with the grossly underrated Hit'n'Run and Belgian Tom's Hat Trick, and all the hits are there too - Ready and Willing, Don't Break My Heart Again, Crying In The Rain. Thunder's On My Radio also features.
Moody's guitar playing is still great, and Murray is as rock solid as ever. Vocalist Chris Ousey's vocals have a cleaner, almost AOR feel to them in places, and he manages to stamp his identity on the songs.

Obviously, Coverdale, Lord and Paice being up there with Moody, Murray & Marsden would be a whole different prospect, but this is as close as you're going to get for now at least, and any fan of old school Whitesnake would enjoy this.
Inevitably, it's Aint No Love In The Heart Of The City and Fool For Your Loving for the encores, and everyone's happy. This was a really enjoyable set, although they don't quite seem to be firing on all cylinders yet. This is pretty early days for this project and I think the best is yet to come.

---
Review by Jim Rowland
Photos by Noel Buckley/GRTR! All rights reserved.
Additional view (Mostly Autumn)
Additional view (Panic Room)
---