Just witnessed your best live gig?.. send us a review!
POWER QUEST, The Vic, Derby 17 October 2009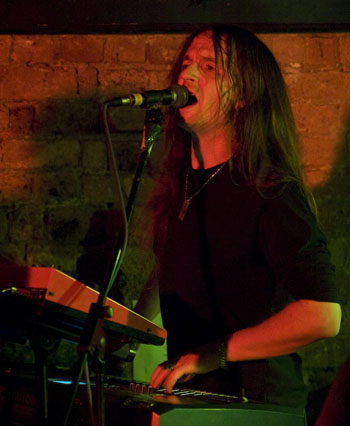 The cosy surroundings of the back room of a pub in Derby hosts the rebirth of (now all) British melodic power metal band Power Quest. A tumultuous year has seen the departure of all previous members except founder Steve Williams - the pressures of maintaining an international line-up in these tough economic times just proved too much.

Rather than let the band fade away, Steve has recruited a completely new line-up, and tonight is their first gig together - a warm-up for a high profile guest slot with Tarja (of Nightwish fame) in Islington on Monday night. The attendance is not great, but tonight is all about transferring from the rehearsal room to stage. As some of the new members have very little live experience, or even none... it is the ideal setting really.
Joining Steve are long time friend and former PQ stage manager, Paul Finnie, on bass. Ex-Cruel Humanity stick man, Rich Smith, brings the requisite experience to the rhythm section, and he is joined by fellow Thunder Force member Pete Morten on vocals - better known as one of Threshold's guitarists. The 6-string duties are handled by Andrew Midgley from Liquid Sky, and one of the country's most promising young guitarists, Ben Randall, who is making his live debut.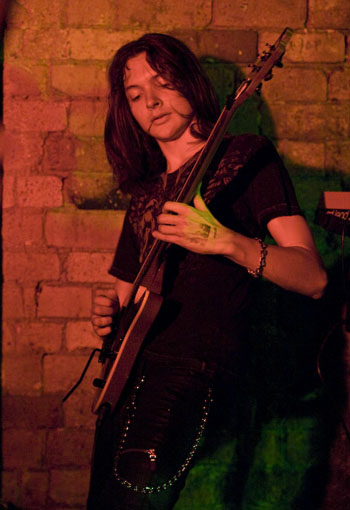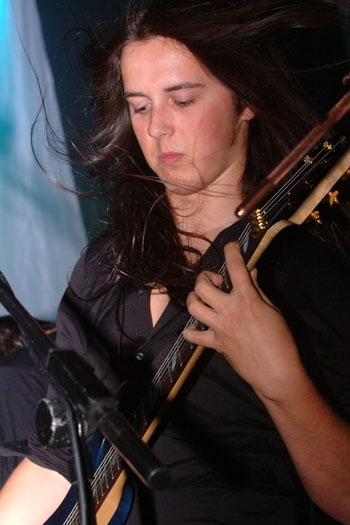 Photo by Noel Buckley
Opening with what is probably the best song from last year's 'Master of Illusion' album - "Cemetary Gates", the set is a good balance of songs from all 4 PQ albums to date - they have clearly been working hard in the rehearsal room. Their trademark songs "Wings Of Forever", "Far Away", and "Power Quest" are greeted enthusiastically by those present, and it is good to see the band continue to include these great songs in the set.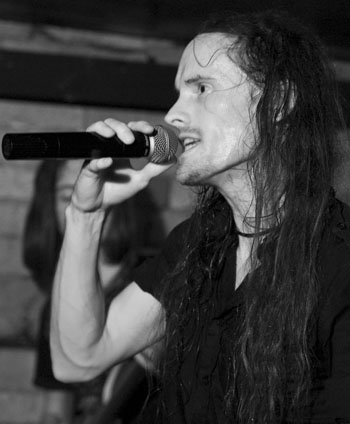 The small stage does not allow for much movement for a 6-piece band, but Pete makes full use of what is available and also takes a few excursions off stage. He is proving to be a very energetic front man, and handles the vocals admirably. A few of the higher notes are missed, possibly caused by monitor problems, but more likely because previous singer Alessio sang in such a high register, that Pete just can't get there without doing himself some permanent damage.

Photo by Noel Buckley
The rhythm section are tight, despite some technical issues with Paul's bass. I'm sure Rich must have lost a few pounds during the set, as it was clearly very hot in the confined space. Andrew and Ben gel really well together, exchanging solos throughout. Ben's confidence noticeably grows as the gig progresses. As for Steve, well it is clear that he is just happy to be playing with a band again. The interplay between members on stage is very good considering this is a first outing, and does not look to be forced - probably a result of the existing friendships between many of them.

All in all, this is a good start that bodes well for the future of the band. With plans to head into the studio next year, we will have to wait and see what the new line-up sounds like on CD. Hopefully there will be more chances to catch a live performance along the way too.

Set list:

Cemetary Gates / Find My Heaven / Human Machine /
Wings Of Forever / Power Quest / Edge Of Time / Magic Never Dies / Hold On To Love / Civilised / Far Away
Neverworld

Review by Ian Pollard
Photos by Ian Pollard and Noel Buckley (where indicated from the London show, 19 October)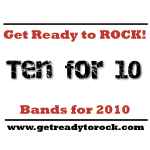 ---
Gig review (London 19 October)
---