Just witnessed your best live gig?.. send us a review!
TARJA TURUNEN/Power Quest
O2 Academy, London 19 October 2009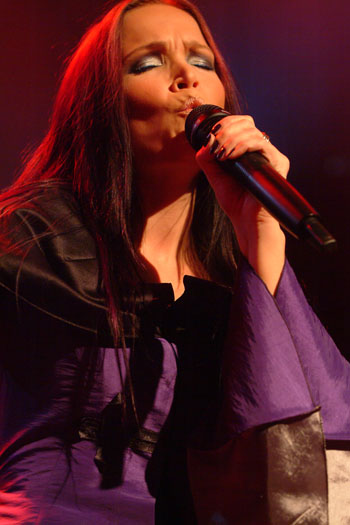 A packed out O2 Academy eagerly awaiting the performance of former Nightwish vocalist Tarja. Well all except me perhaps as I don't like Nightwish with all their high operatic tones - give me Epica any day of the week!
Of more interest to me were Power Quest unveiling their new line-up after a couple of warm-up gigs but first up were Apparition who were okay but being brutally honest Nightwish clones. Fine if you like that sort of music, which many do.

Power Quest were up next with Steve Williams the only remaining member since I last saw them a couple of years ago.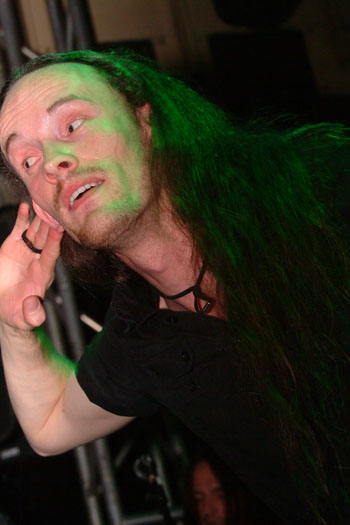 The big change was having a new vocalist as previous vocalist Alessio had a mighty set of pipes on him! Step up Pete Morten, who despite sometimes being lost in the mix, did a fine job and still hit those high notes like on the opener 'Cemetary Gates'. Can't be easy singing songs from albums you have never appeared on.
Three songs in particular - 'Neverworld', 'Power Quest' and 'Find My Heaven' - went down a treat with the new guitar duo of Ben Randall and Andrew Midgley slotted in seamlessly. Both looking and sounding like they had been in the band for years, not weeks.
A fine big stage debut by this new line-up and one that certainly lives up to the high standards of Power Quest's musical legacy so far. Roll on the new album and the Quest must go on...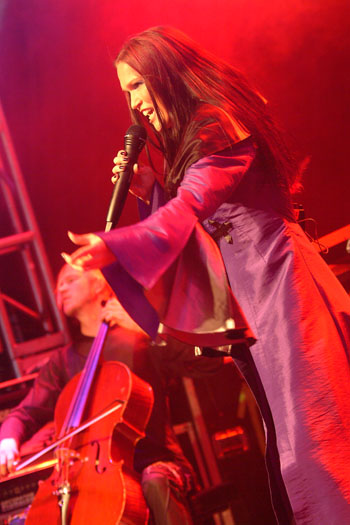 Tarja has a big name backing band including two giants flanking either side of the stage - drummer Mike Terrana (Masterplan/Rage/Malmsteen) and cellist Max Lilja (ex-Apocalyptica). The latter did some onstage dancing with Tarja during one number.
After a sound problem early on during 'She Is My Sin' (of the six gigs I have seen to date at this venue everyone has had some sort of sound gremlin) Tarja played a fan friendly set including some Nightwish songs.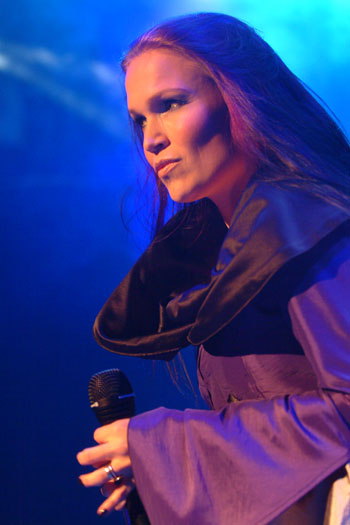 The guy standing next to me really went into air guitar/keyboard overdrive each time a Nightwish song was played. 'I Walk Alone' off her solo album was very good though (recently covered by Jorn Lande on his latest solo album). In fact she has slightly won me over as her solo material sees her take a more melodic route vocally.

The crowd loved her and she certainly seemed to be having a good time! Hopefully next time she will play a few dates outside of London and even a bigger venue in London as she has the following to easily fill, say, Shepherd's Bush Empire.


Tarja setlist:
Enough/My Little Phoenix/She Is My Sin/I Walk Alone/
The Seer/Tired Of Being Alone/Poison/Medley: Wisdom of Wind/Boy and The Ghost/Our Great Divide/Calling Grace
Nemo/If you Believe/Lost Northern Star/Oasis/Sing For Me/Minor Heaven/Ciarans Well/Deep Silent Complete Die Alive
Review by Jason Ritchie
Photos by Noel Buckley
---