TODD RUNDGREN Arena Hi Fi Recordings(2008)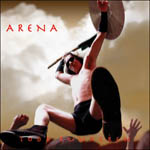 Rundgren's last offering - 'Liars' in 2004 - reasserted his claim to be one of rock's true talents, if somewhat of acquired taste status.
With album content unpredictable, he has boldly gone where artists fear to tread, sometimes out of kilter with prevailing musical tastes or reviving old genres. This confuses some but his fans love him for it.
And, with a couple of UK tours since, and now one planned for November to promote this album, his faithful can understandably be rubbing their hands with glee. The rest of us should quickly draw breath.
Hearing that 'Arena' is a return to guitar rock was intriguing as I always felt in previous years his musical focus has been elsewhere - Bossa Nova, soul, even acappella. Conceived as a tribute (and antidote) to those arena rock albums (and bands) and with a lyrical theme that explores the vulnerability, paranoia and aggression of men, 'Arena' is a natural successor to 'Liars' which was somewhat more philosophical in content.
'Arena' is an album that may be aimed fair and square at the greybeards who predominately make up Rundgren's target demographic but, hey, they can bring their kids to this party...
Musically, there is enough of a nod to Rundgren's past to connect with the faithful whilst for the rest of us it is all highly accessible - more so than 'Liars'.
Rundgren's trademark multi-layered harmonies and the deft way he works a song with exquisite time changes and hooks are gloriously evident.
'Afraid' in particular is a gem, with a resonant sixties thriller motif that hooks you into a trademark killer chorus underpinned with wonderful phased guitar riff, and there's a quirky synth-led bridge section. Cue guitar solo. And if you need further confirmation, 'Courage' admirably evokes past glories and will have the faithful in raptures.
'Mercenary', 'Panic' and 'Manup' is excellent riff-rock and there's a bluesy feel to 'Gun'. 'Strike' is out and out stadium rock and will go down well live - as Rundgren says, he wanted to create an album you could punch the air to. And AC/DC fans will be doing just that. 'Mountaintop' would have graced a glam rock album - sort of The Sweet via The Darkness.
'Bardo' is - perhaps surprisingly - right out of the Robin Trower songbook and could be Bridge Of Sighs Part 2, lovely arpeggiated guitar and a moody vibe throughout. And a link to the spirit of 'Liars' is provided in the tracks 'Weakness' and 'Today'.
Like on 'Liars' Rundgren has played all instruments and his underrated guitar playing is exemplary throughout. Although touted as a return to guitar rock, unfortunately there is little solo guitar and what exists is perhaps a little too restrained. The solo on 'Afraid' being a case in point. This might all be corrected in the live context.
But overall this really is a return to the straight-ahead style displayed on 'One Long Year' (2000) that spawned the superb 'Buffalo Grass', updated here with the lead track 'Mad'. Coincidentally that album also featured current tour band members Jesse Green and Prairie Prince.
Todd has recently turned 60, 'Arena' should therefore mark a permanent Rundgren Renaissance in the UK. For too long the preserve of those in the know - at least this side of the pond - he has bounced back with an album that doffs a baseball cap to classic guitar rock and provides another springboard to investigate sumptuous back catalogue. A true wizard indeed.
****½
Review by David Randall
Related>> Interview


---
| | |
| --- | --- |
| | Print this page in printer-friendly format |
| | Tell a friend about this page |