MAGNUM Wings Of Heaven Live (2-CD) SPV (2008)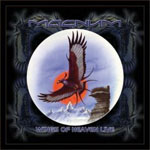 Things really do not get any better than this. Really.
Following the seminal 'On A Story Tellers Night' set, when the band were in limbo record deal wise, they signed to Polydor for what was to be some of their best work. One of those albums, 'Wings Of Heaven', was to become their biggest seller, making the top ten and spawning 3 hit singles. Not bad for a Brummie prog/melodic/pomp rock group.
On this tour, moving away from "OASTN" (classic though it is, over reliance has been a regular criticism by many), and onto this Polydor material, we now get 'Wings Of Heaven' in its entirely and the final result is magical. No Question!
Disc one opens with "When We Were Younger" and "Back Street Kid", both going down well. Mixing tracks new and old, from "Kingdom Of Madness" to tracks from the latest 'Princess Alice And The Broken Arrow' set, we get two tracks from the 1985 set in "All England's Eyes" and "How Far Jerusalem", which do stand out next to the classic "Vigilante". Vocalist Bob Catley talks to the crowd and sings well, you can almost hear him weaving his magic. Tony Clarkin's guitar is superb, and often heavier than previous live outings I've witnessed.
Disc two, the 'second set', gives us the 'Wings Of Heaven' in full, celebrating the album 20 years on. Crowd love this, and so do I. Mark Stanway's piano is prominent on "Days Of No Trust", and brings back many happy memories of when I saw them on the original 1988 tour. Really makes you wonder why the band haven't played more of this era material in recent years. "Start Talking Love" is another single and another classic. Loud (a touch over bright if anything) but full on fun.
"Don't Wake The Lion", 11 minutes of magnum Magnum, closes the album and the set, with the encore of "Sacred Hour" completing a marvellous livealbum.
Have I just heard a contender for album of the year? Not bad, considering it's still January.
Hopefully a wake-up call to Universal, for whom I interviewed Tony 2 years ago for a 2CD hits and B-sides etc set; with any luck they'll actually release it now.
*****
Review by Joe Geesin
Bob Catley and Tony Clarkin interviews

---
| | |
| --- | --- |
| | Print this page in printer-friendly format |
| | Tell a friend about this page |