Just witnessed your best live gig?..send us a review!
MAGNUM
London, Astoria, 18 November 2007
The last time I saw Magnum playing and promoting the 'Wings Of Heaven' they played the NEC in Birmingham in 1988 and now for the (early) 20th anniversary gig they are at the more 'intimate' surroundings of the LA2.
What I often wonder with bands like Magnum, Uriah Heep and UFO is where all their fans went! Wherever you are come back quick as Magnum, UFO and Uriah Heep are playing at their best for years. Tonight it was a near full LA2 and Magnum kicked off their first set at 8.15pm with 'When We Were Younger' and like their gigs earlier this year good to see so many songs from their new album make the set list, including a personal favourite 'Dragons Are Real' - classic Magnum this one.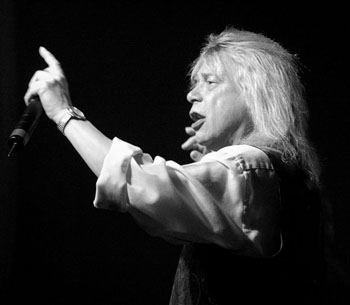 Bob Catley, photo: Lee Millward
The crowd went wild when 'All England's Eyes' started and Bob Catley, complete with his hand motifs, was working the crowd well and he is still in good voice. A rip roaring 'Vigilante' and 'Kingdom Of Madness' closed the first set nicely. All the band seemed to be enjoying the night with Al Barrow grinning throughout and enjoying the crowd's reaction to the music.
What a treat to hear the whole of the classic 'Wings Of Heaven' album performed live and 'Days Of No Trust' starts the second set of in rocking style.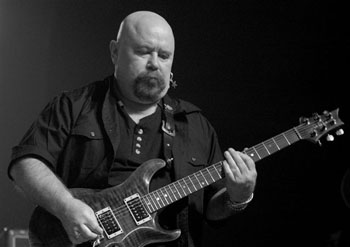 Tony Clarkin, photo: Lee Millward
'Wild Swan' was superb - so good to hear this song played live again. But the highlight had to be the epic 'Don't Wake the Lion (Too Old to Die Young)', which the band played with gusto and the crowd were happy to join in and then some!
I had to leave before the encore due to Sunday night transport but I am reliably informed 'Sacred Hour' was the encore.
Magnum are really on form currently - a great studio album released earlier this year and live wise they are as good as their late 80's days. Go see them live if you get a chance as they really do impress in the live arena.
Review by Jason Ritchie
Set-list
When We Were Younger
Back Street Kid
Out of the Shadows
Like Brothers We Stand
How Far Jerusalem
Dragons Are Real
Les Mort Dansant
All England's Eyes
Vigilante
Kingdom of Madness
(Interval)
Days of No Trust
Wild Swan
Start Talking Love
One Step Away
It Must Have Been Love
Different Worlds
Pray for the Day
Don't Wake the Lion (Too Old to Die Young)
(Encore)
Sacred Hour
---
| | |
| --- | --- |
| | Print this page in printer-friendly format |
| | Tell a friend about this page |