JUDIE TZUKE Songs/Songs 2 Big Moon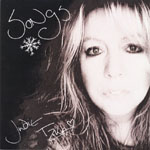 You have to admire Judie Tzuke. 30 years in the business, and while no longer a headline act (although you suspect that is more by design than fortune) she continues to generate a prolific amount of quality singer songwriter material available primarily via her own cottage industry site www.tzuke.com.
With her theatre filling days it would seem (unfortunately) behind her Judie prefers a more low key profile these days concentrating on her own writing and recording career and in particular working with up and comers, including daughter Bailey.
The late 90s and the turn of the decade saw Judie quietly (self) release a clutch of excellent albums - Secret Agent and Queen Secret Keeper - as good as anything in her career, as well as her 2003 covers album The Beauty Of Hindsight, and the last album of her 'own material' The End Of The Beginning (2004). And the last couple of years have seen her busier that ever.
2007 saw the release of Songs (Big Moon JTS001), a collection of quieter songs written for or with other artists. Early 2008 saw her wonderful contribution as lead vocalist and co-writer on 2 tracks on the Morcheeba Dive Deep album (including the superb single Enjoy The Ride), and now we have Songs 2, with Songs 3 already rumoured to be 'in the bag' - at least in the sense of the songs being written, if not yet recorded.
So what of Songs? Well, volumes 1 and 2 are compatible but very different records. 1 is a collection of 10/11 stripped back songs written with friends and recorded very much as they were conceived - that is acoustically and primarily with piano and / or acoustic guitar. In itself, it's an album of two halves - the first side being by far the most accessible with the basic instrumentation being supplemented by strings, cello, some minor percussion and wind instruments.
It opens with the catchy Cup Of Tea Song, some beautifully wistful vocals and mournful cello on All At Sea, the simply lovely Oh My Dayz, the breathy lament and Spanish guitar of Dark Days and ends with the folky Spin and Jewel.
The second 'side' features 5 tracks on which there is pretty much just Judie's unfettered vocals (recorded throughout without any effects) which without any additional instrumentation sound en masse a little low key and melancholy. It won't be everyone's cup of tea, in particular the out of character jazz of the final two tracks - That Kinda Love and Last Bus. ***
By contrast Songs 2 (Big Moon JTS002) sees a return to the more 'band' orientated and familiar ground of Judie's mainstream career - compared with some of her more recent experimental work with dance based artists and the demo / unplugged feel of Songs 1.
For a kick off, for those who enjoyed Judie's contribution to Morcheeba, there's two terrific tracks that have the same rhythmic qualities - Break Your Skin and Modified.
There is no question this a quality album. But you have to ask yourself, why is it that nobody else is stepping up to the mark set by this very special artist? In Olympic terms, it's like holding the world record and after 30 years there's still no one getting close. Let's hope Judie Tzuke remains at the top of her game for many more years to come. ****
Review by Pete Whalley
Related>> Album review (Morcheeba)


---
| | |
| --- | --- |
| | Print this page in printer-friendly format |
| | Tell a friend about this page |