MORCHEEBA Dive Deep Echo (2008)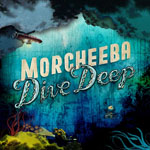 Morcheeba? Really, and on a classic rock website as well. The rock genre is not always easy to define anyway although an easy maxim has always been "Is a guitar played in anger?...then it's rock". The Morcheeba promo was teasing me in the stack of new releases, surely not of interest to a general rock audience? Well, yes and no.
Doesn't that sound like veteran rock goddess Judie Tzuke on the opening track? Cripes, it is! And it's a good 'un. A cool folksy vibe with Tzuke's fragile and distinctive vocal. And she's back for 'Blue Chair' another excellent groove that is probably closest to an earlier band incarnation with Judie's vocal against a hip-hop backbeat. No, it's not half as bad as you think.
Now I have to confess to owning an earlier Morcheeba album, probably when I was going through one of those phases as you do, and it has never been played since. Morcheeba 2008 is a substantially different vibe. But I wonder if the surprise and novelty of this new offering will wear as thin.

Would you say that - of all your albums - this is the most honest in terms of exposing your musical influences?
I think all of our albums have worn their influences on their sleeve, this one is leaning more toward the late 60's English folk sound of Fairport and John Martyn mixed up a bit with modern electronica production techniques. We were also listening to a lot of Bright Black Morning Light, they are a really special band, hippie voodoo oblivion in slow motion.

What influenced your choice of vocalists - on the one hand a well-established rock 'chick' and on the other, two unknowns? Are there any other vocalists you'd like to work with in the future?
We generally just got people who we could write with and whose voices would compliment the music, working with singers is a nightmare normally but we were very lucky on this record to find gentle talented people. Bradley Burgess and Manda will be singing with us live too.

With hindsight might you regret including a rap track on the album as it doesn't seem to sit easily with the rest of the album and may not appeal to the wider rock audience that the album as a whole might appeal to? (and thereby opening up a wider market for the band...)
Cool Calm Pete is a star and I think the track we did with him is georgous, we don't really see too many divisions in music, if it feels good we let it happen, I am sure there will always be a track on an album some people don't like, you would drive yourself insane to try to please everybody all the time.

Are you doing any live dates to promote the album?
We are heading to the States mid March and touring coast to coast before doing Europe, S. America, Australia and New Zealand. Check www.myspace.com/morcheeba for details. The band tend to rock a bit harder live, we have great musicians and after a few tequilas anything could happen.

Core members Paul and Ross Godfrey have dug deep into their influences to fashion an album that draws in different vocalists and moods, whilst retaining only a small element of their trade mark trip-hop groove.
Norwegian Thomas Dybdahl sings on several tracks and they are all good although on 'Sleep On It Tonight' he sounds like Sir Cliff. So points docked for that. Bradley Burgess fronts a remake of John Martyn's 'Run Honey Run'. An obscure choice but it works. Believe me Morcheeba will be playing Cropredy soon.
French singer Manda contacted the band via MySpace and her phrasing on 'Gained The World' reminds me of Alyth McCormack, whilst she sings in native tongue on the attractive 'Au-Dela'.
With two instrumental tracks (wonderful grooves, all too short) evoking a mini Afro Celt Sound System , the only blemish on this band remodel is the inclusion of rapper Cool Calm Pete on 'One Love Karma' - the problem is that the song doesn't sit well with the rest of the album especially for a wider rock audience who the band surely want to win over.
Morcheeba's latest offering owes quite a lot to Air and fellow chill merchants and you can't help thinking that boats have been missed. But, hey, wait for it, some bluesy guitar appears on the final track 'Washed Away'. But, alas, it is not played in anger.
***½
Review by David Randall

---
© 2008 The Echo Label Ltd. All rights reserved.

---