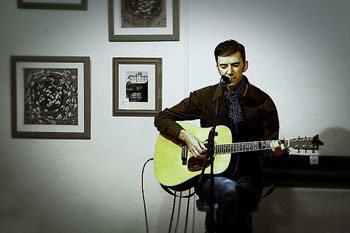 Top 5 favourite albums of 2008?

Don't think I bought five albums..!

Love the Fleet Foxes, the close harmonies evoke Buffalo Springfield, CSNY, irresistable for old hippies everywhere.

Ditto, the Robert Plant/Allison Krauss record. Its not what anyone expected and that much is evident from the first four bars - the best sounding record I've heard in years.

T- Bone Burnett's production is supernal, love the drums and I love Marc Ribots guitar playing, he played on all my favourite Tom Waits albums...

The guitar solo on The Hold Steadys' Lord I Am Discouraged is a cool thing...

Top gigs

Tom Waits at the Playhouse in Edinburgh - you are witnessing one of the great performers in the history of music - elements of Beefheart/Charlie Chaplin/James Brown - visually astonishing.

The Radiohead show really took me by surprise - the best sound I've ever heard at an outdoor concert and the band were unbelievably tight and funky and a lovely bunch of geezers to boot...

Any good discoveries this year that you'd like to share?

The Story Of Edgar Sawtelle was probably the best book I read this year - Hamlet meets The Call Of The Wild (sic).

What sort of year have you had?

I've had a good year in that I've been finishing my album and we are just mixing it now. Its very difficult given the state of the music business to expect too much from anything but that said, I'm very happy with it.

Who knows?

I think the beauty of being a musician is that it is by its very nature a dreamers' profession - we all think that maybe some day our ship might come in...I do realise that in my case its more likely to be a rowing boat..

Immediate plans for the future/2009?

I'd love to tour the record with a band, but we shall have to wait and see, I have a full band show at the ABC in Glasgow in January to launch Strange Flowers and I hope? to pick up a couple of festivals during the summer.

World domination or obscurity...

---
Related>>
Interview and gig review (September 2007)
More information:
Online Store
James Grant was Featured Artist on GRTR! Radio in September 2008 and is a regular inclusion in the afternoon sequence, (14.00 - 16.00 GMT Mon-Fri)
---
| | |
| --- | --- |
| | Print this page in printer-friendly format |
| | Tell a friend about this page |