Being a huge fan of 10cc, and even more so, a fan of Godley & Creme, I was beside myself when I heard that the legendary Kevin Godley and Graham Gouldman have reunited after 3 decades to record new music! For us dedicated followers of these two music icons, it's a dream come true. I was even more elated when I was asked to review their five download-only (at present) brand spanking new tunes. But before my review, a little history…
Comprising of Kevin Godley (drums, percussion, vocals), Graham Gouldman (bass, guitar, mandolin, zither, vocals), Lol Creme (guitar, keyboards, vocals), and Eric Stewart (guitar, keyboards and vocals), 10cc would become one of the most popular, critically acclaimed rock groups of the 1970s. Coined 'art rock' at the time, their music comprised of skillfully crafted pop songs with clever lyrics, virtuosic performing and singing, productions that would make George Martin smile and a dose of sardonic wit thrown in for good measure.
Hailing from Manchester, England, 3/4ths of 10cc, Kevin Godley, Graham Gouldman and Lol Creme, first met in the early 1960s. Interacting in such bands as The Sabres, The Whirlwinds, and The Mockingbirds, the three musicians would eventually team up with former Mindbenders guitarist and vocalist Eric Stewart in late 1968. On a side note, in 1964 Graham Gouldman would pen the classic Yarbirds hit "For Your Love", eventually propelling him into songwriting aristocracy. Along with "Heart Full Of Soul" and "Evil Hearted You" for The Yardbirds, he would go on to compose songs for the likes of The Hollies ("Look Through Any Window" and "Bus Stop"), and Herman's Hermits ("No Milk Today").
In 1968 Eric Stewart became involved with Inner City Studios, which eventually became Strawberry Studios. Around the same time Graham Gouldman accepted a job writing songs for noted 'American bubblegum pop writer-producers' Jerry Kasenetz and Jeff Katz of Super K Productions – New York's 'bubblegum' hit factory. Eventually, the publisher drafted Godley, Creme and Stewart (along with Gouldman) to record 'bubblegum' singles at Strawberry Studios under the guise of the Ohio Express, Crazy Elephant, Fighter Squadron and other Kasenetz-Katz owned names.
In mid-1970, Godley, Creme and Stewart would record and score a hit with the song "Neanderthal Man" released by Fontana Records under the group name Hotlegs.
"Neanderthal Man was an accident of sorts and nothing to do with Kasenetz-Katz", Kevin Godley recently stated. "Eric asked myself and Lol in to play drums and guitar to test the new 4-track Ampex that Strawberry Studios, Mark 1, had just acquired. We were just testing drum sounds. Lol started singing this tune he sang when we were in a London cab, his acoustic and vocals leaking onto my drum tracks. We overdubbed this same combo four times. That was 'Neanderthal Man.' Someone, unfortunately, erased the recording after a visiting music publisher heard the track and said 'It's a smash!' A fine example of bad timing."
Although the single hit #2 in the U.K. charts and sold over a million units, Hotlegs were deemed a one-hit wonder. The trio did however record and release an LP entitled Thinks: School Stinks, and recruited Gouldman for a tour supporting the Moody Blues. Regardless of the fate of Hotlegs, "Neanderthal Man" was an impetus for Godley, Creme, Stewart and Gouldman to continue writing and recording together. As a point of interest, in 1979 the pop tune was referenced in Godley and Creme's classic song "Freeze Frame" – "Goin' down like 'Neanderthal Man' in the charts."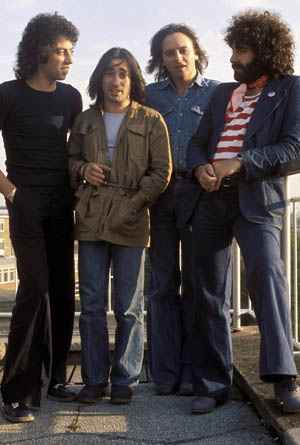 By 1972 the quartet would obtain a record deal through music mogul Jonathan King with U.K. Records and take on the name 10cc (a name King dreamed one evening). A string of top hit albums would follow beginning with their self-titled debut LP and the massive smash singles "Donna" and "Rubber Bullets". The band would go on to release three more successful albums Sheet Music (Kevin Godley's favourite), Original Soundtrack (which included the mega-hit "I'm Not In Love", and reached #2 in the U.S. charts and #1 in the U.K. charts in May 1975. The song reportedly featured 256 vocal tracks!) and How Dare You (featuring more hits and an unforgettable Hipgnosis cover), as well as tour the world several times over.
By 1976, at the height of the band's success, a shocking announcement was made - Kevin Godley and Lol Creme were leaving 10cc to form a new group. The duo had previously invented an unusual instrument called the Gizmotron, a device developed to simulate a string section. As Kevin Godley described in a recent interview with Ulli Heiser of Rocktimes, "A string section was costly and time consuming. We wanted to play things as we thought of them with a sound that was unique. Our first attempt was an electric drill with an eraser taped to one end held against Lol's Strat. It kind of worked so we spent time with the engineering dept of Manchester University to develop a working prototype. This lash up prototype was used on all 10cc recording (w/Godley and Creme) and subsequently Consequences (the duo's ambitious first solo offering)."
Godley and Creme would release several pioneering, esoteric albums throughout the '70s and '80s, culminating in a huge hit in 1986 with "Cry" (a big DJ hit in the U.S. at the time, reaching #16 on the Billboard charts) along with the innovative video counterpart. Likewise, Godley and Creme would pursue a successful career (which Godley still enjoys today) in the music video field producing innovative videos for rock superstars such as Peter Gabriel, The Police, U2 and Duran Duran to name a few.
During the 1970s and '80s, Eric Stewart and Graham Gouldman would continue to retain the moniker 10cc and release some outstanding pop albums, yielding a few solid U.S. hits like "Things We Do For Love" and "Dreadlock Holiday." Although Eric Stewart retired from the band in the late 1990s, Graham Gouldman continues to tour with his version of the group, "10cc Featuring Graham Gouldman and Friends". Which brings us up to date with the historic reunion and new collaborative efforts from Kevin Godley and Graham Gouldman.
And why a reunion now? "In a nutshell, unfinished business," Kevin Godley recently explained in a German interview. "I recently felt the need to make music again. The Godley and Creme partnership burned out years ago and I didn't want to waste time finding new collaborators. Graham and I wrote maybe three songs during our tenure in 10cc so we both felt it would be interesting to see what we could do together after so long. So far it's been really productive. Slow but productive. The moods are darker, the subject matter more adult, but that's who we are now and that's how the world is."
Special thanks: Kevin Godley, Ulli Heiser - Rocktimes.de, John Bruinsma
Review
Kevin Godley interview
---
| | |
| --- | --- |
| | Print this page in printer-friendly format |
| | Tell a friend about this page |