A lack of new talent but loud anyway...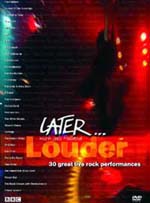 I guess that most of you are aware of Jools Holland's show. Here we have a collection of live performances from a variety of Rock N' Roll bands which appeared in Holland's show from 1993 till the present day. Even though this DVD contains thirty live performances, I found myself enjoying not more than six songs. Of course liking or not a band is something totally subjective so I believe that if you are a fan of this kind of music you will find this DVD quite appealing.
Still I don't understand how any person who loves music and works in this industry as a scout for young talents, decided to sign a band like "At The Drive-In" (this guy must have been on something heavy at the time and unfortunately they were not the only ones!)
OK, now that we established what I didn't like, let's talk about the bands that I really enjoyed starting with the first band that appears in this DVD - Foo Fighters. I had no idea what this band was about but they gave me the impression that they are an honest band who knows how to have fun on stage.
After a short break (three songs which somehow managed to bore me to death) I came across the living Legends Metallica who performed "Wasting My Hate", one of the best songs of their "Load" album. I had to wait for one more short break (one song) before Courtney Love and her band "Hole" came on stage and performed "Celebrity Skin". I have heard many different opinions about Courtney love and I know that a lot of people who are not quite fond of her (myself included) but I have to admit that her performance was one of the best in this DVD.
I also enjoyed the live performances from Rollins Band, New Order and the Black Crowes with Stereophonics, where you can see Jools Holland playing the Piano!
This DVD also contains an exclusive interview and footage with the Foo Fighters, interviews with Metallica, Henry Rollins, Garbage, The Hives, Courtney Love, P J Harvey and New Order.
A special section where you can program your favourite six tracks and create your own show.
I think that Holland is doing a good job, the main thing that upsets me is that all the bands presented in this DVD are commercial bands who do not need to be promoted anyway! I think that this kind of show should focus on all those young bands out there with no contracts who have much more to offer than what "At The Drive-In" ever will.
Track List:
Foo Fighters - "All My Life" Queens Of The Stone Age - "No One Knows" Screaming Trees - "All I Know" The Hives - "Main Offender" Metallica - "Wasting My Hate" Ash - "Burn Baby Burn" Hole - "Celebrity Skin" Sonic Youth - "Sugar Kane" At The Drive-In - "One Armed Scissor" The Datsuns - "Harmonic Generator" Stereophonics - "Vegas Two Times" The Von Bondies - "Lack Of Communication" P J Harvey - "Big Exit" The Jesus & Mary Chain - "Snakedriver" B.R.M.C - "Spread Your Love" The Cardigans - "My Favourite Game" Rollins Band - "On My Way To The Cage" Mercury Rev - "Goddes On A Hiway" The White Stripes - "Hotel Yorba" Alice In Chains - "Them Bones" Garbage - "I Think I'm Paranoid" The Afghan Wings - "Somethin' Hot" Dick Dale - "Misirlou" The Vines - "Get Free" Porno For Pyros - "Orgasm" New Order - "Crystal" The Soundtrack Of Our Lives - "Sister Surround" Mazzy Star - "Blue Flower" The Black Crowes with Stereophonics - "Twice As Hard" Primal Scream - "Accelerator"
***
Review by John Stefanis
© 2003 All rights reserved.
Related>> 10 Years Later...
Related>> Later...Hootenanny
Related>> Later...Giants