LATER...with JOOLS HOLLAND - HOOTENANNY
(Warner Music Vision 2003)
Ringing in the new with the old...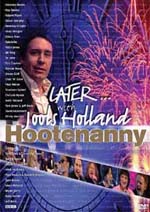 I think you can either like or loathe Jools Holland. Some squirm at his sometimes laddish approach, others admire his musicianship and empathy with his guests. What is indisputable is the fact that he hosts the last bastion of Great British Music TV. 'Later' is often seen as carrying the mantle of that other bastion 'The Old Grey Whistle Test' but it is essentially a very different show. No videos, the interviews are mostly throwaway and I don't remember Whispering Bob ever promoting his new album.
I digress. 'Hootenanny' commemorates the now annual ritual of Holland seeing in the New Year with a glittering cast of guests. This 2 hour DVD takes in some of the best selections from the last few years, demonstrating the broad brush approach typical of the show and cutting through several genres.
We also get unusual, and unusually successful, pairings as well as priceless cameos because the material (and sometimes the artist) is not otherwise available in any other form. So hello again to Kirsty MacColl and Edwin Starr. The pairing of Tom Jones and Jeff Beck on 'Be Bop A Lula' may seem bizarre but then 'Later' is all about 'the eclectic mix'.
Can this DVD be enjoyed at any other time other than the period of roasting nuts by the open fire? Maybe. I think it will be sought out either by collectors of Holland memorabilia (there must be some?) or their particular on-disc favourites. It would make a nice stocking filler, either for the muso who will appreciate the wide variety of fayre on offer or the masochist who would actually prefer to roast Holland's nuts by an open fire.
Track List:
Solomon Burke - Everybody Needs Somebody - Ray Davies - You Really Got Me - Jimmy Cliff - You Can Get It - Huey - Fly Me To The Moon - Roisin Murphy - The Time Is Now - Dr.John - Such A Night - Beverly Knight - A Change Is Gonna Come - Kirsty MacColl - Miss Otis Regrets - Tom Jones & Jeff Beck - Be Bop A Lula - Eric Clapton - Reconsider Baby - Ronnie Wood - Oooh La La - Chas 'n Dave - Ain't No Pleasing You - Paul Weller - Will It Go Round? - Sharleen Spiteri - Surrender - Chrissie Hynde - Surrender - Jools Holland - I'm In A Dancing Mood - Gabrielle - Give Me A Little More Time - BB King - Eyesight To The Blind - John Cale - I Wanna Be Around - Tom Jones/Cerys Matthews - Baby It's Cold Outside - Gary Brooker - Whiter Shade Of Pale - Steve Winwood - I'm A Man - Mick Hucknall - T-Bone Shuffle - Paul Heaton - Rotterdam - Solomon Burke - Drown In My Own Tears - Marc Almond - Say Hello - Bryan Ferry - Let's Stick Together - Ruby Turner - That's All - David McAlmont - Misty - Kelly Jones - Handbags And Gladrags - Edwin Starr - War - Jeff Beck/Jimmy Cliff/Chrissie Hynde - Hi Ho Silver Lining
***
Review by David Randall
© 2003 All rights reserved.
Related>> 10 Years Later...
Related>> Later...Louder
Related>> Later...Giants
Related>> Later...Cool Britannia
***** Out of this world | **** Pretty damn fine |
*** OK, approach with caution unless you are a fan |
** Instant bargain bin fodder | * Ugly. Just ugly