Giant gathering of rock glitterati...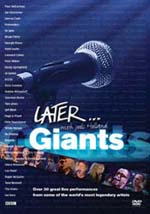 The main purpose of Jools Holland's show "Later" is to introduce new talents to the music world, but occasionally he invited artists with a significant contribution to music.
This DVD is justifiably called "Giants", simply because it contains a great compilation of live performances of artists such as Paul McCartney, Bryan Ferry, Leonard Cohen, Jeff Beck, Lou Reed and Page & Plant.
After the "nightmare" of the "Louder" DVD (and especially the performance of "At The Drive-In" which I plan on using as a negative reference for the days to come) I was happy to watch Paul McCartney perform "Brown Eyed Handsome Man". Even though I was never a Beatles fan (The Stones were much better as far as I'm concerned) I hold a great respect for McCartney.
There are many other great performances in this DVD but my second preference was Jeff Beck's "Brush with the Blues"! Jeff Beck is a great guitarist and I really believe that the title "Giant" is not enough to describe his talent. I am really happy that I don't play the guitar though cause I can't see how I could ever touch the instrument after Jeff's performance!
I was still trying to catch my breath when Page & Plant appeared on stage and performed "Gallow's Pole". I grew up listening to the sounds of Led Zeppelin and again this performance was amazing.
Next came Pete Townshend with "Magic Bus", another great performance from another great artist! Eric Clapton is one of my favourite artists and his performance of "Bell Bottom Blues" along with Bobby Whitlock was breathtaking!
The last great performance came from REM with "The One I Love". As with "Louder", Jools is jamming with most of his guests (always playing the piano).
In total this DVD contains :
32 live performances, Interviews with Paul McCartney, Johnny Cash, Patti Smith, Leonard Cohen, Al Green, Ronnie Spector, Willie Nelson, Dusty Springfield, Pete Townshend and Tony Bennet.
A special section where you can program your favourite six tracks and create your own show DVD booklet containing exclusive liner notes about each performance
This is a great collection that all music fans should have in their collection. If you need to learn about the history of music, you may as well learn from the best!
Track List:
Paul McCartney - "Brown Eyed Handsome Man"- Joe Strummer - "London Calling"- Johnny Cash - "Folsom Prison Blues"- Pretenders - "Kid"- Dr John - "Creole Moon"- Bryan Ferry - "Will You Still Love Me Tomorrow?"- Georgie Fame - "Yeh Yeh"- Patti Smith - "Because The Night"- Leonard Cohen - "Dance Me To The End Of Love"- Paul Weller - "A Town Called Malice"- Al Green - "How Can You Mend A Broken Heart?"- Ronnie Spector & Divine Comedy - "Don't Worry Baby"- Willie Nelson - "She Is Gone"- Elvis Costello - "(I Don't Want To Go To) Chelsea- Dusty Springfield - "Where Is A Woman To Go"- Robbie Williams - "Suspicious Minds"- Solomon Burke - "Cry To Me"- Tom Jones - "Crazy Arms"- Jeff Beck - "Brush With The Blues"- Page & Plant - "Gallows Pole"- Pete Townshend - "Magic Bus"- Bo Diddley - "Bo Diddley Is Crazy"- Blondie - "Heart Of Glass"- George Benson - "On Broadway"- Bobby Whitlock & Eric Clapton - "Bell Bottom Blues"- R.E.M - "The One I Love"- Steve Winwood - "Gimme Some Loving"- Lou Reed - "Sweet Jane"- Roger McGuinn - "Eight Miles High"- Tony Bennett - "All Of Me"- The Kinks - "Til The End Of The Day"- Ian Dury - "Sex And Drugs And Rock N Roll"
****
Review by John Stefanis
© 2003 All rights reserved.
Related>> 10 Years Later...
Related>> Later...Hootenanny
Related>> Later...Louder