Safe selection for 10 year Jools celebration...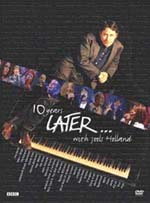 "10 Years Later" is one more Warner Music release which contains thirty live performances of well known artists throughout the world. Needless to say that for one more time the representatives of the hard sound "shined" with their absence. And on top of anything else I had to tolerate bands like The Hives and Oasis!!! I am pretty sure that if bands like Queensryche, Pain of Salvation and Dream Theater had the chance to attend a show like later, they would put to shame many of these so called "popular" and "successful" bands
Anyway, The Hives is not the only band presented in this DVD (Thank God for that). As I mentioned earlier there are many different styles of music which are represented in this DVD and being quite open minded (as far as music is concerned) I enjoyed many of them.
The first artist which managed to impress me was Mary J.Blige. She performed a song called "No More Drama" with so much passion that the crowd had no other option but accompany her every time they were given the chance. What made me respect her the most though is that when interviewed by Jools, she made a statement saying "people wanna feel artist as real human beings and not as artificial people" - I really think that the music world is lucky to be represented by artists such as Mary J.Blige, artist with a capital A!
Another performance I really enjoyed was that from Portishead. The band performed their hit single "Glory Box" a really nice song. I've never before heard of David Gray so "Babylon" was a really good surprise.
Jools Holland also participates in this DVD with his Rhythm & Blues Orchestra. He sings and plays the piano in a song called "Bloodsucker Blues". It took many artists to reach to my last favourite performance on this DVD which came from R.E.M. I really respect this band and having to listen to a live version of "Country Feedback" was quite a pleasant experience.
Once again I feel the need to say that shows like Jools are really important to music - I only hope that one day we will get to see more representatives of the heavy sound in a similar DVD collection.
In total this DVD contains 30 live performances from various artists, an introduction to most of the artists by Jools Holland, a look behind-the-scenes and interviews with a selection of artists.
A special section where you can program your favourite six tracks and create your own show
Track List:
The Verve - "Bitter Sweet Symphony" Mary J.Blige - "No More Drama" Portishead - "Glory Box" Ladysmith Black Mambazo - "The Star and the Wiseman" Bjork - "The Hunter" David Gray - "Babylon" Pulp - "I Spy" Norma Waterson - "There Ain't No Sweet Man" Paul Weller - "Woodcutter's Son" The Hives - "Hate To Say I Told You So" Jools Holland with his Rhythm & Blues Orchestra - "Bloodsucker Blues" Massive Attack - "Karmacoma" Blur - "Parklife" Ibrahim Ferrer & Cachaito - "Wahira" Oasis - "Whatever" Nick Cave & The Bad Seeds - "God Is In The House" PJ Harvey - "Down By The Water" Robbie Williams - "Angels" Mariza - "O Gente Da Minha Terra" Coldplay - "Yellow" Baaba Maal - "Jamma Jengii" Orbital - "Satan" D'Angelo - "Brown Sugar" Diana Krall - "Peel Me A Grape" Morrissey - "Suedehead" Moby - "Porcelain" Blind Boys Of Alabama - "Run On" Primal Scream - "Swastika Eyes" R.E.M - "Country Feedback" Radiohead - "Paranoid Android"
***
Review by John Stefanis
© 2003 All rights reserved.
Related>> Later...Louder
Related>> Later...Hootenanny
Related>> Later...Giants