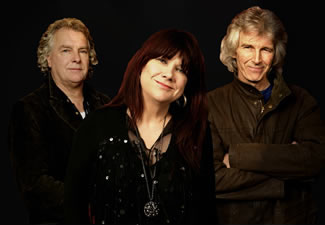 You have a band with Marvin Ayres called MASK?


The new MASK cd is called Technopia. It will be released later in the year on Mandalic Records after Marvin has spent time promoting his latest recording Eccentric Deliquescence which is also a Mandalic Records release. ( www.myspace.com/marvinayres)


As part of the promotion for MASK I am also playing some concerts with Curved Air in the summer, to celebrate that band's legend and legacy and bring the focus of old and new Curved Air audiences to my current creative and exciting project.


The plan in the build up to the release is to release individual MASK tracks as singles throughout the year and perform small concerts around the Curved Air tour in the summer and then perform nationally when we release Technopia in September/October 2008.


Any concept behind the album - any message you are trying to convey?

Collectively the songs and instrumentals are darkly fatalistic reflections on romance and existentialism.

How did you meet Marvin - how was the first Mask album received by fans and music press.


Marvin and I met once briefly when as a young teenager he came with a friend to Advision Studios where Curved Air were recording Aircut. He reminded me of this event when we met again in 2001.
I did not know his name but his friend Hazel was a fan of the band over many years. She wore her hair like Ziggy Stardust and I think they were both about fourteen then.
Years later I was intrigued by an installation at the ICA with gorgeous warm vibrational music by Marvin Ayres. He had already achieved recognition for his unique compositional style and released a CD Cellosphere on the prestigious Mille Plateaux label.
I discovered he is an excellent cellist, violinist and keyboard player and composes music by recording these instruments and then adding subtle harmonic frequencies and spatial manipulation (psycho acoustics) to create ethereal and emotive melodies and soundscapes....

I asked Marvin if he would create an interesting sonic backdrop for some jazz tracks I was recording. He was enthused by the project and we co-produced Cri de Coeur as an ambient Jazz album. I was inspired by Marvin and his abundant creativity and we both enjoyed our contact and collaboration.

Marvin wanted us to continue recording together so we commenced devising the pieces that became the first Mask album 'Heavy Petal, the Tenebrous Odyssey of Jack and Virginia '.

This album was very well received, as were our concerts. We played Festivals and ambient/electronica clubs through summer and autumn 2005.

We were excited to get very positive reviews:
( http://www.mask.uk.net/mask-reviews.htm)

Any plans to tour the album once released?

Yes we are setting up ambitious performance multimedia events as well as talking to curators of galleries to set up installations with our music and the work of filmmakers and artists.

When Curved Air was first formed the band received considerable backing from WB , which resulted in a very elaborate LP (graphics printed on the vinyl). How did the band get such a large budget for a debut release? How was the band and LP received by the press.


When I joined Curved Air in January 1970 they had a strong set of unfinished songs, which they asked me to contribute lyrics for. We rehearsed intensively in the bass player Rob Martin's family home in Gloucestershire before nine months of intensive touring through the UK, Germany and Holland in a 22 seater coach in which we travelled with our equipment and slept on the floor or in local communes.

The music was dramatic and the band were young virtuoso players and showmen. Darryl was a fiery exciting violinist pushing the parameters of what sounds could be achieved from an electric violin, and Francis Monkman was a brilliant keyboard player and guitarist who also created extraordinary sounds from the new synthesisers . Florian Pilkington Miksa had a very individual approach to rock drumming and I was the only female rock singer fronting a progressive art-rock band.

Audiences were very enthusiastic and gave us standing ovations. The press perceived that we were creating waves and followed our progress and before long we were on the front pages of the music papers.

Our publishing company formed a production company with our manager and put us in the enormous Island studio in Basing street where we recorded Air Conditioning.

Several major Record Companies were keen to sign us and the bidding began. After a sellout concert at the Legendary Roundhouse in Chalk Farm London we were signed for £99000 for a five-album deal with Warner Brothers. This was a huge amount of money at the time.
Do you have a favorite Curved Air album and why?

My Favourites are Air Conditioning and Aircut. These were both first albums by the players involved and there was a freshness and excitement about them as can only happen when a project is very new and innovative.

The band had a revolving door of musicians throughout its life - tell us a bit about Darryl Way, Eddie Jobson and Stewart Copeland.

Darryl is a brilliant violinist, composer and arranger. Since Curved Air he has written, recorded and performed Operas, Rock Albums and Classical Albums and orchestrated for other Artists.

We have worked together several times over the decades. 1974-1976 we toured as Curved Air and recorded two further albums Midnight Wire and Airborne.

In 1984 we recorded a few tracks together, some released as Curved Air 84 and others, including a great version of Carl Orff's Carmina Burana released on a single with a version of the classic song Walk on By produced by William Orbit.

Eddie Jobson was only 17 when he was invited to join the new line-up of Curved Air that were to record the Aircut Album in 1973. He replaced both Darryl on violin and Francis on keyboards. After writing the Metamorphosis opus and proving to be a notable talent he was soon very much in demand, working with a series of luminaries including Roxy Music (taking over from Brian Eno) and Frank Zappa.

Drummer Stewart Copeland was fresh from Berkley university in when his brother Miles brought him over to the UK to play in a band with Darryl, who Miles was managing.
This band became Curved Air when I joined after the re-union tour in 1974. Stewart was tour manger for the Curved Air reunion and we became inseparable after our eyes met across the rehearsal room when Curved Air were preparing for their tour.
The other Copeland brother Ian, lived downstairs from where I was staying in Hampstead and before long Stewart and I moved into the flat with him. Stewart and I spent 16 years together. He formed The Police with Sting and Andy Summers and achieved superstardom. I then became a Rock Wife and Polo Widow and had two sons before resuming my career and separating from Stewart

In the '90s you released two solo CDs - can you discuss them.

In 1989 I went out exploring the clubs and musical nightlife in London. I was writing new songs and looking for places to play and musicians to work with. I wanted to start with voice and guitar as I had when I had started playing in the folk clubs as a teenager.
I was excited to find a fertile environment in The Troubadour club in Earl's Court where I had played when I first came to London. Here there were interesting singer songwriters and instrumentalists and I visited and played floorspots and made new friends.
The curator of this scene was Roddie Harris whose band Miro played every week there amongst the cream of the acts that arrived to perform. Roddie invited me to play a concert there and he and Julia Palmer, the Cellist in Miro were amongst the musicians who played with me that night.

I also found support and friendship in the psychedelic clubs that housed stages for quirky and colourful bands. I invited exciting players to join my acoustic band of gypsies and we toured the UK for the next five years with great success. We played folk clubs and small rooms often without any amplification which was a new experience for many audiences.
In clubs, bars and festivals we went to the opposite extreme, playing wild psychedelic electronic rock versions of our songs.
I encouraged an improvisatory approach to performance and those five years encompassed very happy and successful bohemian adventures, travelling in our customised Renault traffic tour bus and staying with new friends all around the U.K. We recorded two albums 'Songs from the Acid Folk' and 'Harmonics of Love'.
The names of the bands reflected the players involved. The line-up evolved from the dynamic acoustic nucleus of brothers 'Ty-lor' and friends to 'Cloud Ten' with the addition of the keyboards and over-toning of the cosmic Robert Norton and ex Ozric Tentacles percussionist Paul Hankin .
A constant throughout was the fiery elemental violin of Paul Sax and 16-year-old cellist Ali McKenzie took over from Julia Palmer to develop the interweaving cello on 'Songs from the Acid Folk'.

Any plans on a Curved Air reunion of sorts?

Yes, Curved Air are re-uniting for a limited number of international concerts. As I write, original members Darryl Way, Florian Pilkington Miksa and myself are preparing to play our first dates in June.

We will be joined by excellent guest players Andy Christie on guitar and Chris Harris on bass. An album has been recorded 'Reborn – Classic Curved Air revisited' with new versions of some of our most popular songs plus two new Darryl Way compositions all produced with a full dramatic symphonic/rock sound by Darryl.

Elfin Boy from the Aircut Album and my teenage composition 'Melinda More or Less' from Phantasmagoria have been revisited here with production and arrangement by Marvin Ayres, who also plays cello, violin and other parts to provide a gorgeous environment for my vocal and guitar on these two songs.

This album will only be available directly from CurvedAir.com and will be available from June 7th.

All concert dates will be advertised on CurvedAir.com and links for our mailing lists for Mask, Curved Air and Sonja Kristina news are there also.

Curved Air are supported by another online marketing tool "The Bizmo" (www.thebizmo.com/curvedair)You download tracks can be purchased from here and anyone can profit by opening their own Bizmo store and selling Curved Air and other music from their sites.
Curved Air play UK dates this summer:
Sat Jun 7th 7:30pm
Marlborough Village Hall, Marlborough,
Kingsbridge, DEVON, TQ7 3RL, UK

Wed 11 June 2008
8:30pm Concorde 2, Brighton, UK
Fri 13 June 2008
8.00pm Isle of Wight Festival
Newport, UK -- Sold Out
Sat 23 Aug 2008
8.00pm Rock and Roots Festival
Ross-on-Wye, UK

Fri 31st October 2008 Milton Keynes - Stables


---
Interview © May 2008 Billy James
---