MASK 'Heavy Petal' Mandalic Records MDC001 (2005)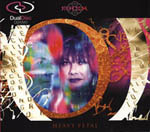 For those of you too young to remember, or maybe those of a certain age with a little more decorum, Sonja Kristina adorned the walls of pubescent males everywhere in 1971. She was the goddess who fronted the prog-rock Curved Air, in her own way setting the rock chick standard that others had to follow. Even in 1980, when I was a student in Birmingham, she caused quite a stir when she appeared in the play 'Curriculee Curricula' filmed on campus.
Fast forward to the late-eighties and Kristina came out of artistic semi-hibernation, she recorded an interesting album called 'Songs From The Acid Folk' and then a decade or so later her own very personal take on some jazz standards, 'Cri de Coeur'.
That album has a link to this one, in the form of talented arranger and instrumentalist Marvin Ayres. 'Heavy Petal' is as far from Curved Air as you're likely to get, there's no 'Back Street Luv' here. This CD/DVD dual disc is ambient, new-agey, with Sonja's vocals drifting rather than dominating.
If you look at the three videos, you'll get a better idea of the pitch. In 1971 Sonja would have been centre stage, a unique selling point. But now she only appears in silhouette, and then only on one vid. The others are pretty, mood pieces with visuals to match that reflect the essentially tactile nature of this album.
Sonja might recall a less throaty Marianne Faithfull in places and at times the vocals blend seamlessly with Ayres' rich orchestration. When you do get a song, like 'Fall So Hard', 'Beloved' and, moreover, 'Free', the results are quite exquisite.
And it seems that Sonja and Marvin have been in a dug-out somewhere grooving to 'Moon Safari', because a track like 'Waking The Dream' recalls those Gallic Gods of Chill. A sense of modern hippie-ism pervades throughout, the whole effect very satisfying: a gem for the Pomegranate generation, and a CD to keep snug next to the nut-roast cookbook.
OK, alright, I had a centre-fold of Ms K. prised from the pages of Sounds music weekly all those years ago, and I'm not going to give up on my childhood fantasies now. Like that pull-out, this is an album that repays repeated scrutiny.
****
Review by David Randall
Free
© 2005 Mask. All rights reserved.