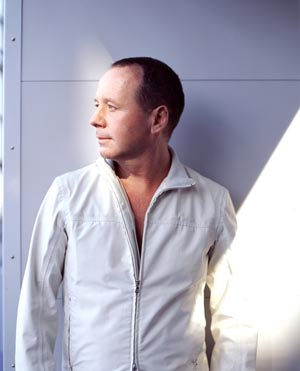 © 2005 Arjan van der Berg
Simple Minds are back with a splendid new album 'Black And White 050505'. The band have influenced others like Bloc Party and Stereophonics and with a renewed interest in eighties acts like Duran Duran and Depeche Mode, their time may have come …again.
Jim Kerr is the band's vocalist and writes the lyrics...
'Stay Visible' could be a watchword for Simple Minds?
We toured for a time in 2003 so we have never really been away. 'Black & White' is the germ of that more recent activity…
What was the impetus for the new album?
We wanted to make a contemporary sounding album which was recognizably Simple Minds. And I think the album's timing is better for us now, than several years ago.
How did the songs come about?
Often Charlie will send me a riff or be working on the piano and develop a vibe, and this often inspires the lyrics.
This is how Kiss The Ground came about – we were on tour and Charlie developed a riff in the next room, it just seemed to come together.
The beauty of technology is that you can get down ideas quite easily, you don't have to be in the studio.
What about the album title, it seems to echo the classic 'New Gold Dream (81-82-83-84)'
Yes, that actually came about because the engineer suggested 050505, as the last day we finished recording. The track Black And White reflects those who are in denial, taking its prompt from the stories of the Holocaust. The Black And White of the title also reflects the different moods and depths of the album. There's a darker and lighter side.
Dolphins reflects a darker side?
I used the subject of dolphins as they are objects of affection. Only recently I saw a little girl with a dolphin charm, they represent something friendly. The subject of this song is a man who is so low that even dolphins can't lift his spirits. I think it is one of the album's best songs.
Home is the first single?
Home is inspired by my time in Sicily (Jim has lived there for several years) and the feeling of stability. But anyone can relate to that.
Jeweller started life on the 'lost' legendary album 'Our Secrets Are The Same'(2003)?
Yes, when we first recorded it we thought it was missing something, so we reworked it. The album was originally turned down by EMI and was reissued by Virgin as part of a boxed set.

© 2005 Arjan van der Berg
Looking back over 20 plus years, if you were to recommend a Simple Minds album which one would it be?
I think 'New Gold Dream' (1982) is the most creative but 'Once Upon A Time' (1985) is more commercial.
Do you think Simple Minds inspired Scottish bands, like Texas and Love And Money in the late eighties?
I think that's true – if only that we opened doors that others walked through. There was nothing much coming out of Glasgow in our early period and it must have helped.
Are you touring the new album?
We are planning some showcase dates in the autumn and probably a tour in 2006.
I heard you were planning to play smaller venues? This will be in contrast to the big stadiums but will be more satisfying for fans?
I agree that the larger venues are impersonal. But in a sense, it is like when we started playing pubs in Glasgow in the late seventies. It's important for a band to have a sense of perspective and be able to perform in different situations and with different challenges.
I feel quite confident about playing the new album next to some of the old 'classics'. Sometimes it's not that easy to integrate the old and the new but I think we can do it more easily with this album. I think it's important to play the new material live.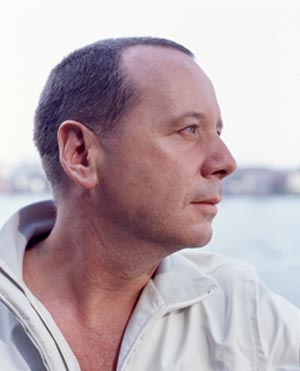 © 2005 Arjan van der Berg
What are the highlights in the past 20 or so years?
I think having the hit singles and albums, but there are always new challenges. Even when you're playing massive stadiums…
'Black And White' is yet another chapter, and a new challenge?
Yes I am quite excited. I think it represents the best of the band without being too nostalgic.
Anything on your i-POD that you'd like to tell us about?
I've been listening to Anthony and the Johnsons (I Am A Bird Now, Rough Trade) He's a very powerful singer with quite a unique sound.
---
Interview © 2005 David Randall