SIMPLE MINDS 'Black & White 050505 '
Sanctuary (2005) Release date 12.09.05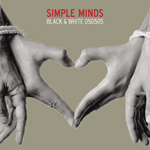 It is indicative, if somewhat horrifying, to discover that in my local city centre music chainstores, Simple Minds barely have a browser rack to themselves.
In one store, there's no sign of anything by the band, in the other just their 'Silver' box set and a couple of copies of the 'Best Of'.
Simple Minds, in truth, have slipped off the radar, arguably since 1985's 'Once Upon A Time'. By their own admission, things have been a bit rubbish in the past decade with a slurry of patchy albums and one of cover versions.
Will 'Black And White 050505' put them back in circulation? Damn right it will.
If you can tolerate the U2 vibe (on the opening track 'Stay Visible', and it has to be said throughout the album) you also have to pinch yourself to remember that Simple Minds were stadium fillers in the eighties in their own right. U2 have also had their fair share of iffy albums but managed to maintain their profile, and I suggest that 'B&W' may be Simple Minds' 'Atom Bomb'.
If Duran Duran and Depeche Mode can still hack it, there must be a market for Simple Minds. Jim Kerr and Charlie Burchill form the core of the current band, with long-time drummer Mel Gaynor and Eddy Duffy on bass.
The first single 'Home' has a wonderful rolling rhythm, Kerr's distinctive burr,and Burchill's always tasteful guitar. Ditto 'Jeweller' which first appeared on 2003's legendary 'lost' 'Our Secrets Are The Same' CD. One hopes that on this track, Burchill is permitted to let rip with an extended solo in the live context.
'Kiss The Ground' is yet another classic, a 'Come Together' bass riff, and keyboards augment the wonderful hook. One might have hoped for some Burchill power chords to underpin matters but, hey ho, we're talking economy and taste here, with everything in its perfect place.
'Stranger' actually reminds me of 'Beautiful Stranger', the Madonna track, but has a catchier chorus, whilst 'Different World' segues into 'Underneath The Ice' which perhaps best offers up the band's blend of atmospheric electro-pop rock.
If there is a formula on this album, it is economy. Although a short album, at a mere 41 minutes, on this comeback Simple Minds never overstay their welcome, maintaining the consistency and quality of the songwriting and each track worming its way into your consciousness with successive plays.
The band propose to tour this in smaller venues in the autumn, this could be a shock to their system but a wonderful opportunity for the punters to show their respects without watching a big screen.
Empty browser racks? They'll be filling up with back catalogue after the release of 'Black And White'.
****
Review by David Randall