Whitesnake's UK tour starts at Manchester Apollo on 27 May. For full dates - www.getlive.co.uk / 0870 400 0688.
The DVD 'Live In The Still Of The Night..' is out now. EMI release remastered editions of Lovehunter, Trouble and Ready and Willing on 8 May
How has the recent tour gone down with fans (the one from which the DVD was taken)?
If you're referring to last year...it was just fine...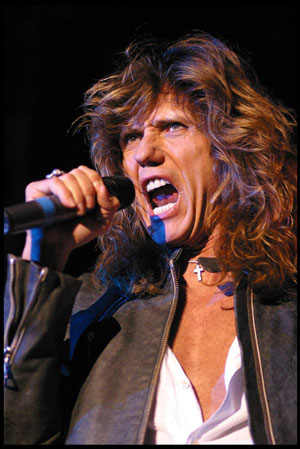 Photo © Roger Hornbeck
Whitesnake have always been a top live draw. Why has it taken so long for a Live DVD?
The time wasn't right...the offers weren't right...I feel it was worth holding out for the right deal...and the right time...and everything unfolded as it was supposed to...
The DVD shows the band in fine form, are you pleased with it?
Yes...absolutely...It is doing grand and not only pleasing the people who have always supported our endeavours...it is also attracting some of the 'ol guard' back to Whitesnake...
The setlist is pretty varied. How did you decide which songs to play? Do you got the balance about right?
It is always about balance and pacing...If we blow thro' too many uptempo, aggressive songs too early, we, as well as the crowd will be out of gas too quick!...The band asked me to play 'Burn'...and Doug and I threw in 'Stormbringer'...Much fun!...The show was only arranged for the actual tour...We never changed it to accomodate the DVD...
How involved were you with the project and final compilation?
I mixed the audio with the fabulous John X...and only asked for a few video edits...I left that to Hamish...the director...he's excellent at what he does...
What are your next projects, solo and for Whitesnake?
We are hoping to finalize a deal for a live double CD with 4 new studio songs...and a new Whitesnake studio album for next year...
When you record solo, or even with the Coverdale/Page project, do you feel the Whitesnake tag is unfairly applied?
Not at all...Whitesnake is how I am best known...I'm absolutely fine with that...
What did you make of the recent DVD issue of California Jam?
I bought it...along with everyone else!...I've only watched it a little...Man...30 years ago!
If you believe the reports, Ritchie Blackmore is prepared to play a one off gig with a reformed Deep Purple. Would you be interested too?
I'm not sure...I would have to discuss it with Ritchie...My feeling is it is an idea that the former management is floating around...I am very happy with Whitesnake right now...as I am sure Ritchie is playing what he loves with his Missus...
There's been an increasing number of compilations in the USA and UK, while the individual albums have been largely passed over. Do you think there's a case for a proper reissue campaign with each album done fully and properly?
EMI are releasing the first 3 WS albums, remastered with some extra bits to cooincide with my tour...
Cozy Powell once told me Whitesnake was the only band he didn't audition for. True? And y ou once co-wrote an instrumental song with him. How did that come about?
Cozy and I connected very positively at the beginning...We knew it was going to work...Unfortunately, the respect and friendship didn't continue for several reasons...I wrote quite a bit of stuff for Cozy and gave it to him...He was my friend...
And message for your fans?
I can't wait 'til I'm back onstage playing for you!
How is the latest tour going? Proving as popular as ever?
Tickets are going great...I'm very pleased...
Last time I saw Whitesnake you had a pretty diverse audience, all ages enthusiastic. Is this still the case?
Yes...and we have now added a much younger element to the already diverse mix of ages...and they are very welcome!
Interview © March 2006 Joe Geesin
Related>>DVD review
---
| | |
| --- | --- |
| | Print this page in printer-friendly format |
| | Tell a friend about this page |