No Moody and Marsden but plenty of highlights...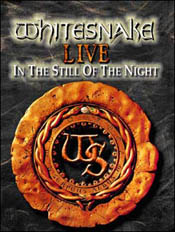 The Yorkshire mane of highlights David Coverdale has kept the band Whitesnake alive, in various (and some unrecognisable) guises for many years now, and in 2004 (as part of their 25th anniversary tour) this show was filmed.
Everyone knows that Whitesnake have existed as two distinct bands, the early to mid 80s blues rock set up and the 1987 onwards American hard rock set. In the style of the latter, the current band feature two shred guitarists in Doug Aldrich and Reb Beach, pianist Tim Drury, bassist Marco Mendoza and drummer Tommy Aldrige.
Kicking off at high pace with Deep Purple's 'Burn' (a classic if there ever was one), it's filled with plenty of high speed guitarwork to make up for the lack of Blackmore finesse, we then get 'Bad Boys' and an excellent version of 'Love Ain't No Stranger'. Coverdale's voice is strong and on form, his body language showing he clearly relishes the spotlight and enthusiastic crowd.
What's nice is the mix of tracks old and new, given that Coverdale almost blanked out that period for a while. 'Ready An' Willin' is a real favourite with me and the crowd, and the band seem pretty engrossed with it too. And, like the opener, the keyboards do help keep the old sound.
Onwards through 'Is This Love', 'Cryin' In The Rain', 'Ain't No Love In The Heart Of The City', 'Don't Break My Heart Again', 'Fool For Your Loving', 'Here I Go Again' and 'Still Of The Night', there's sadly lacking much representation from the Slide It In album, which was their greatest moment. If you accept there's no Moody or Marsden, and can appreciate the modern commercial sound, you'll love this. Well videoed, well presented.
With bonuses including a behind the scenes documentary and a live audio CD (not included on this promo), then more than the average Whitesnake fan will thoroughly enjoy.
****
Review by Joe Geesin
Related>>Interview