Just witnessed your best live gig?.. send us a review!
GREAT BRITISH ROCK & BLUES FESTIVAL
Skegness, 27-29 January 2012
(You can navigate easily from one photo to another using the direction keys on your keyboard)
Photos by Noel Buckley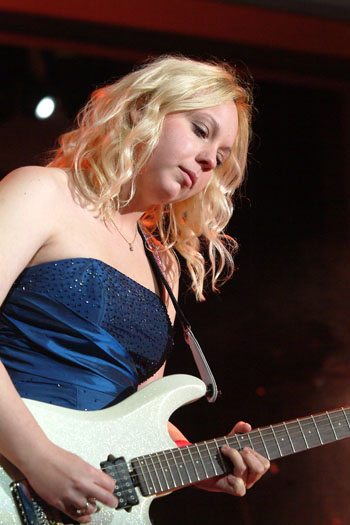 Noel Buckley writes:

Friday: Highlights were Virgil and the Accelerators, new kids on the block who excelled with their brand of rocking blues. Watch out for them in 2012 as they will become darlings of the festival circuit.
Similarly, Chantel McGregor needs no introduction to readers of GRTR! Last act up but not certainly not least. In a very short period of time she has become a respected guitarist and talented writer in her own right.
This audience warmed to her small frame but big heart. The queue for her merchandise stall featuring a t shirt with around 40 dates on it headed by 'Oh My God it's Chantel McGregor' on the back showed what incredible progress this lady has made. Move over Joanne Shaw Taylor!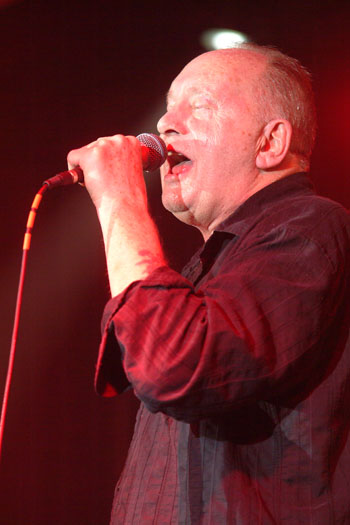 I wanted to like her predecessors, Ten Years After and they didn't play a bad set but it was a pretty pedestrian one. Similarly Roger Chapman played a professional selection which was what you would expect from Chappo. On this occasion, youth won over experience.

Keith Thompson writes:

Saturday: Arriving after the first night, it's always a moment of trepidation when you discover from Noel that you have passed up an up and coming act but we have been saying for some time here at GRTR! that Chantel is Queen.
Welcome to another winter festival Hats off to both Pontins (Hard Rock Hell) and Butlins for contributing to a win win situation. A boost to the live landscape in the winter and also a chance to sustain their business in previously barren months.
Indeed it is only right that we praise the comfortable accommodation, polite good humoured staff and the excellent choice of food at Butlins, Skegness. Put those stereotypes away for good, people.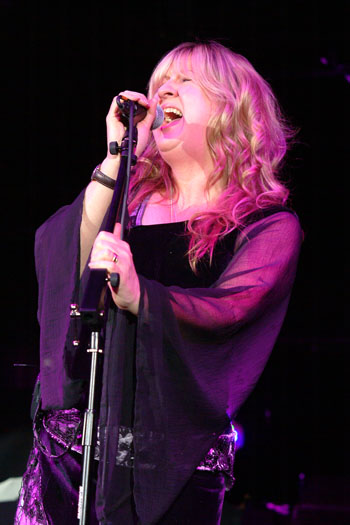 As Deborah Bonham said in the post set interview, she realises the reputation she has to live up to. Brother John is so iconic that she confesses to feeling the pressure at times and sincerely questions her ability to deliver.
This was a moving set to all intents and purposes. 'Killing Fields' was a heartfelt highlight for me but not quite so throat closing as the 'The Old Hyde' which is ostensibly a tribute to the house John built with his dad and brother, but also to other family members who enjoyed it and have recently since departed, John and Deb's mum being a significant recent loss.
It might seem a cliche to say that there wasn't a dry eye in the house, but it was actually true. The encore of 'Rock n' Roll' that followed was the only Zeppelin number of the evening and an aptly timed way to end the performance. Look out for the new album around September.
---
...someone complained to one of the organisers backstage that there "wasn't enough blues" to which a united groan left the lungs of the assembled eavesdroppers. Three days of waking up this morning does not a major festival make.
---

Prior to the Argent set, our little party skipped skipped across to witness The Steve Gibbons Band. My last SGB gig was back in 1979, around the time of ' the fun package,Tulaine.' Sadly that merry moment at the Hamilton Club in Birkenhead was not repeated this time around.
I have a soft spot on my mp3 player for Johnny Cash/Nick Cave style narratives, but after a couple of similar trudging journeys through endless gas stations east of Tupelo, I decided that this was one road trip that needed to stop pronto. Mr Gibbons is a fine human being, but this kind of thing is best appreciated by Country fans.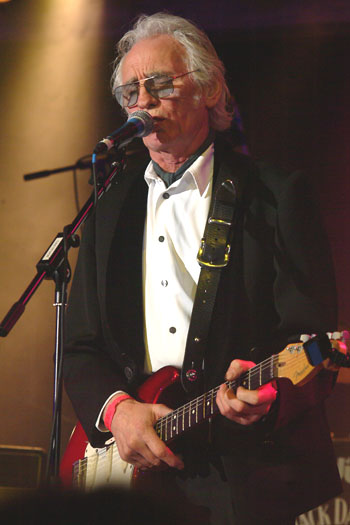 Notwithstanding this blip, someone complained to one of the organisers backstage that there "wasn't enough blues" to which a united groan left the lungs of the assembled eavesdroppers. Three days of waking up this morning does not a major festival make.
I would rather have diversity around the pentatonic scale than purist pretence. I once saw a man lose his night club and livelihood because of giving way to the Delta aficionados. I know this will be greeted with barks of dissent but blues needs the oxygen of diversity. .Delta Blues is part of the rich legacy. It doesn't rule creativity.
---
Argent were never a band to pose or assume a position in anger and yet this did not detract from the quality of the songwriting and musicianship on display.

---
Argent are of course an institution. Who, of a certain age, can honestly say they haven't been moved by Ballard penned songs like 'She's Not There'? Bet you didn't know that, Quizzers beware.
But this was not merely a journey through the 'Greatest Hits,' the set began quit mysteriously with a welling up of the characteristic Hammond. How heartening it must be for roadies who no longer have to cart the valve laden wooden granny up ramps of this world any longer.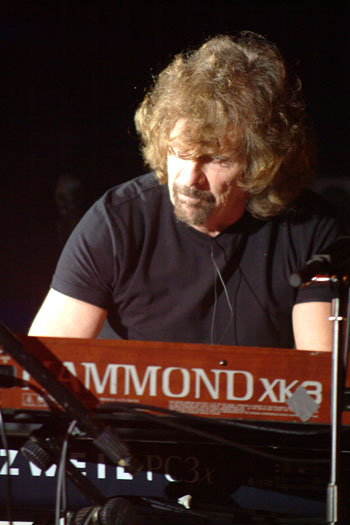 The digital version sounds just as sweet as the original and Rod Argent of course, along with Jon Lord, Richard Wright and, Eddie Hardin were the greatest purveyors of this beautiful instrument.

I have a 'thing' on my radio show at the moment about bands (such as Ten Years After and Black Sabbath) who could still reform with the classic line up. Armed with my 'exclusive' angle, I took the opportunity to remind Rod Argent and Russ Ballard later that my research had so far unfolded very few. The nods were polite but I didn't manage to persuade them to do a 26 date tour instead of a six date fleeting glimpse which served to confound exaggerated rumours of their death.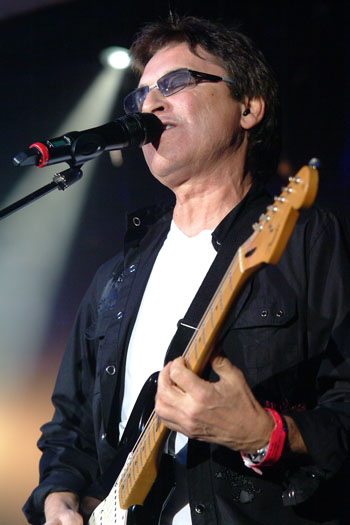 Argent have the luxury of re-launching Jim Rodford and Bob Henrit along with the household names. Slowly but surely, via a thoughtful and yet intriguing set which was tightly executed the hits began to well up.
"Liar' not one of my favourite studio mixes took on a new lease of life in a live context. But the audience were feverishly anticipating the children which Kiss and Rainbow so successfully adopted.
By the time 'Since You've been Gone' and 'God Gave Rock n' Roll to You, this good nature audience of c.4,000 had worked up a frenzy. Argent were never a band to pose or assume a position in anger and yet this did not detract from the quality of the songwriting and musicianship on display. Look out also for Dave Randall's review of the Manchester gig.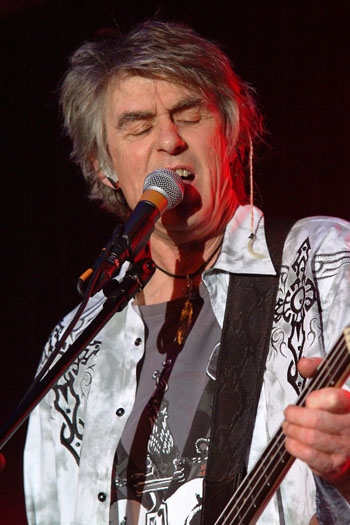 Martin Turner's Wishbone Ash concluded the action on centre stage. Talking of bands that could reform, the classic line up are still alive but with Steve Upton retired from the business, Ted in The States and Andy Powell still doing the rounds with the original name, the likelihood of 'Argus' being toured by the original crew are less than nil. So Turner's four piece it is then.

The set began with the 'Argus' classic, 'The King Will Come' and we got very few surprises but plenty of decent renditions of the best from 'Wishbone 4' like 'No Easy Road.'
But inevitably it was the 'Argus' selection that won over a good natured assemblage. 'Warrior' in particular excelled and it was good to see my own favourite 'Throw Down the Sword' get an airing too.
One minor beef was that both guitarists did seem a little flippant and not what we associate with Ash. I suppose you can't impose attitude on musicians who are interpreting songs they did not write and certainly not a criticism to colour your judgment of this pleasing performance.

As is so often the case with multi stage festivals, it is difficult to do justice to everyone's full set and I had learnt my lesson with the earlier switch to see Gibbo run out of gas.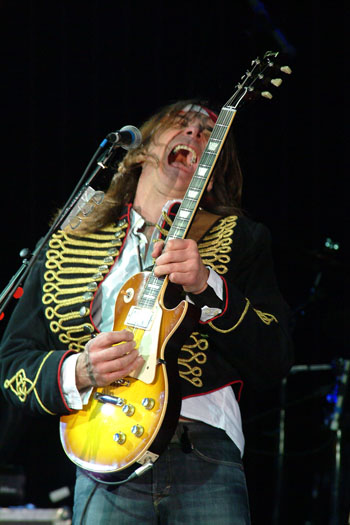 But I did manage to catch the second half of Larry Miller once again. Dressed Sharpe's nemesis, it was clear that he had the audience in the palm of his hand. It's good to see a good honest musician making a proper full time living doing what he does best, without the luxury of a name band or a brace of hit singles to rely on. We are no less entertained.
For me though Larry is a musician to be imbibed live with a cold beer as opposed to his studio work which sometimes purports to try and recapture the live moment and doesn't quite deliver.

A few customary Jack Daniels at the end of the evening with my fellow journo room mates, who included Dave Ling from Classic Rock, rounded off what was a superbly well organised event for which PR, Dave Hill and his team deserve full credit.
Sunday: was spent recovering, so it was with ginger gait that I awaited the arrival of Gerry McEvoy's Band of Friends. Somebody else coined Band of Joy a few years ago but joy was what Gerry, Ted McKenna and moonchild, Dutch guitarist, Marcel Sherpenzeel delivered.
I always warmed to Gerry McEvoy when he played bass for Rory. He and Ted were no backing musicians. They were part of an integral unit that allowed the maestro to present his prodigious talent. Plenty of body language was what I remember. Little nods here, smiles there and just enough ad lib without over milking the solo breaks. The tradition continues with Marcel in Rory's shoes.
Please be assured that this is no tribute band. Think a rendition of a composer's former work performed by those who have a full right to both perform it and choose their musicians. RG would approve. No doubt. 'Moonchild' was my all time personal favourite but I was thankful for rediscovering a lost song, 'Philby." It's hard to dislike Band of Friends due to its legacy but loving it is a different matter. The love poured out during 'Shadow Play' and the encore, 'Bullfrog Blues.'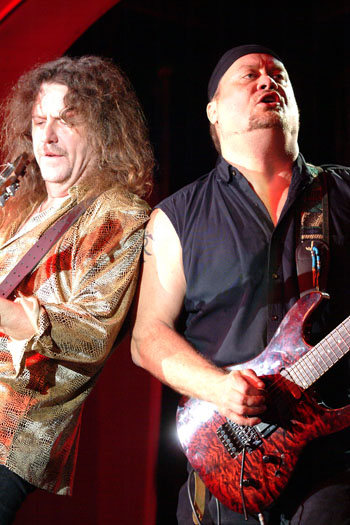 Skinny Molly have been doing the rounds for quite a few years now. Mike Estes is a man I admire greatly having caught him live on a number occasions at smaller clubs. Yes the ex Skynyrd man can rightfully trade on a name but he is very careful not to milk the cow dry too early.
"Hey Rockstar (just shut up and play)' kind of summed it up for me. The band has now grown to a four piece, the extra guitar providing breadth to the Skynyrd classics.

FM are a strange set of circumstances. They didn't quite hit the heights first time around. No major hit single and mainly supporting tours to the great and the good. So is it down to good PR that their return was heralded with such enthusiasm? Was GRTR! readers' favourite of 2010 'Metropolis' a flash in the pan? Is it just me or is almost everything else in melodic rock so shit these days?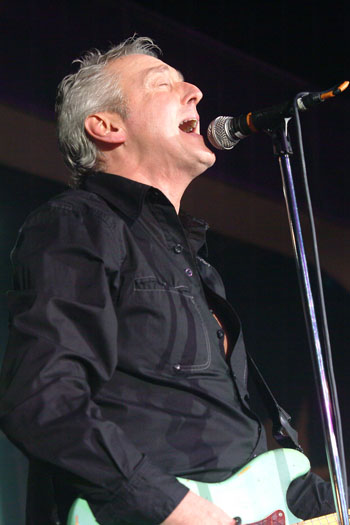 These are questions that will probably remain unanswered no doubt, but FM certainly performed like a group of eager teenagers. 'Wildside' off the aforesaid latter day masterpiece opened the set nicely whilst 'Let Love Be a Leader' is one of the best AOR songs ever and benefits greatly from the rougher live environment as opposed to the sugary pop treatment it received n the 80's.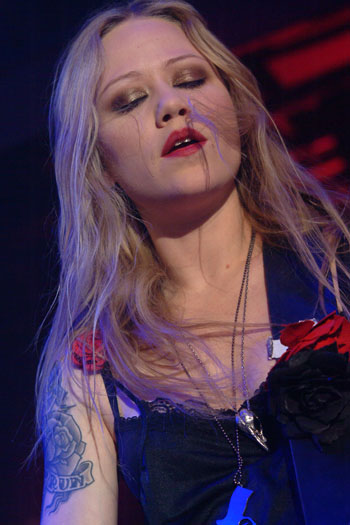 I was dissuaded from seeing large breasted female musicians from Sweden earlier and yet instinct told me that I might be missing a treat. So dutifully I returned in spirit to report a rapturous reception and fine way of celebrating that aforementioned diversity. Crucified Barbara were musically not the best but visually? Matron pass me my Delta Blues collection, quick!

Mark up Rock and Blues for next year. They are offering an early booking deal of £80 per person. A panacea to the winter blues.

Reviews: Noel Buckley, Keith Thompson
Interviews: Keith Thompson
Photos by Noel Buckley for GRTR!
---