Just witnessed your best live gig?.. send us a review!
ROCK AND BLUES FESTIVAL
Butlins, Skegness, 29-31 January 2010
Day 1: Friday 29 January 2010
Photos by Noel Buckley
After having some hellraising times in the last year at Hard Rock Hell and the Hammerfest, I have now realised what fun there is to be had at a holiday camp when great rock music is on the entertainment agenda.
The Rock and Blues Festival at Butlins Skegness has now been running for over fifteen years. With little need to advertise,the vast majority of punters return year after year.
This was my first visit to this festival in what was to be another action packed fun filled weekend watching some great veteran bands and surprisingly some young ,very talented and uprising stars.
After having a trouble free journey on the way up here, as soon as we entered Skeggy, the skies darkened and we were met with one of the thickest blizzards of snow I've ever seen, resulting in a inch of snow laying within minutes. Mix that with the North Sea chill blowing in and one could be thankful for remembering to pack some winter woolies.
Upon entering my accommodation for the weekend, I soon realised how prejudiced I was about the idea of coming to Butlins for the weekend. Butlins have modernised and so too had the chalets, or in our case, self contained flat.
Spacious living room with colour TV on the wall and heating in every room. One could easily just rewind and not venture out at all, which nearly happened on the first night as my photographer for the weekend Mr Buckley and I decided to start on the JD.
Gathering our senses, it was time to watch some action. My only complaint of the whole weekend was that on the two main stages the acts went on stage almost exactly the same time, meaning the sometimes you had to watch a bit of this and then a bit of that, however this was understandable as both venues were full with some 2,000 people in each.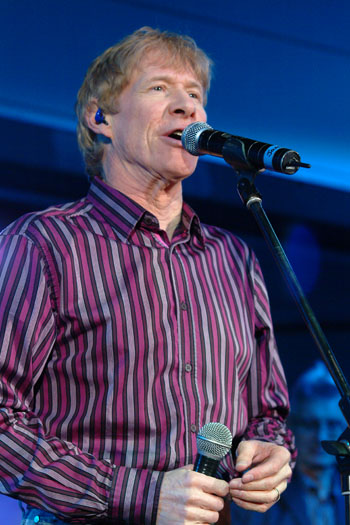 The ever reliable Blues Band was my first band of the weekend fronted by the ever youthful Paul Jones. Their harmonic blues set the tone for the weekend. I was most impressed by the size of the stage, the lighting and the state of the art sound. Something each subsequent band would benefit from.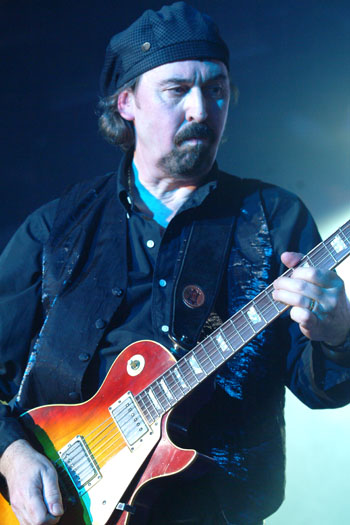 Micky Moody Band actually featured two Micky Moody's, the other being his son on the drums, played a enjoyful heavy blusey set including a great version of Edwin Starr's '25 Miles'. Some felt short changed that no Whitesnake material was included, but as I later found out when i interviewed Micky, he is planning on doing a Whitesnake tour featuring ex members very soon.
Although his lips were sealed, and I doubt that Coverdale would be involved, there are certain other Deep Purple members available (One's that he has played with at charity bashes recently too ... watch this space Whitesnake commandos).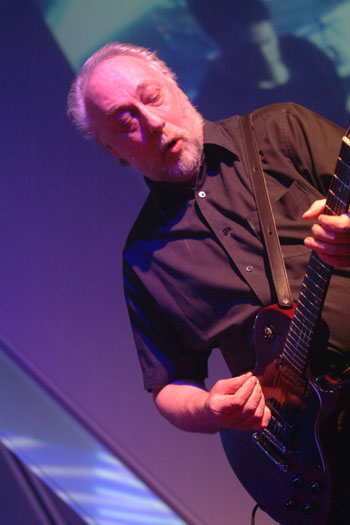 Over, Under, Sideways, Down is one way you could describe the lenghty career of The Yardbirds. A band with a rich heritage, only Chris Dreja and drummer Jim McCarthy remain from the original line up. With more line up changes recently with John Idan leaving to be replaced by youngster Andy Mitchell who did a sterling job in the vocal department showing us the shapes of things to come. A mixture of old and new numbers, the highlight being the original version of 'Dazed And Confused'.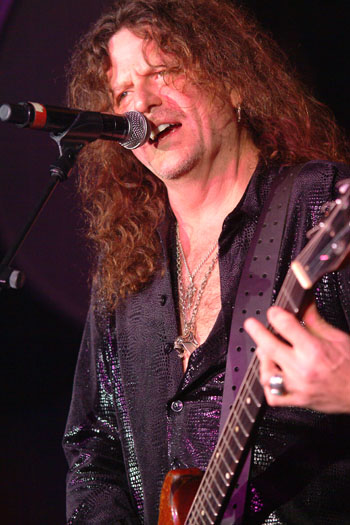 Giving us a Friday night special were Skinny Molly, who are a band I've seen a few times over the last few years and improve with every performance. Fronted by the cool Mike Estes who was a member of Lynyrd Skynyrd during the 'Endangered Species' period.
The band now feel more confident in playing more of their own material which sounds great on the big stage tonight. 'High Price Of Low Livin' from the debut 'No Good Deed' stamps it's own identity but it's a storming 'Freebird' that gets a standing ovation tonight. With a forthcoming release 'Haywire Riot', it looks like another busy touring year for the Skinny Molly boys.
By now it had gone one in the morning as the main halls started to empty, but there was still entertainment to be had in the Jaks Bar for those who wanted to party on into the wee hours, and it was time to go looking for some female talent.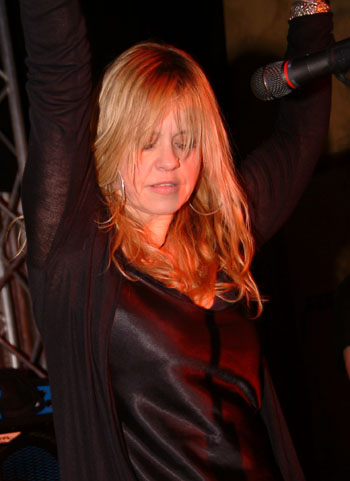 We soon found this in the shape of Helen Turner, who was fronting the Bare Bones Boogie Band. Turner was the best looking blonde haired babe I've seen all day who possess one of those Joplinesque-don't mess with me boys kind of voices. Pwoarh, not 'arf. With Iain Black laying down some cool Free-ish licks, it was an entertaining set to end the evening.
In the early hours, it was time to brave the cold and take a hike back to our room through the snow and ice. It was at this time I experienced my first case of deja-vu.
Those of you that read my Hard Rock Hell report may remember my rock and rolling photographer Noel Buckley coming home caked in mud after doing a drunken somersault, and true to form he performed the same trick here, this time in the snow.
Not once, but twice, and on both occasions, as he got up he went straight back down twice as quick. I was very concerned and went over to check everything was still in working order. I'm glad to report the camera was fine.
Review by Mark Taylor
Photos by Noel Buckley
---