Just witnessed your best live gig?.. send us a review!
ROCK AND BLUES FESTIVAL
Butlins, Skegness, 29-31 January 2010
Day 2: Saturday 30 January 2010
Photos by Noel Buckley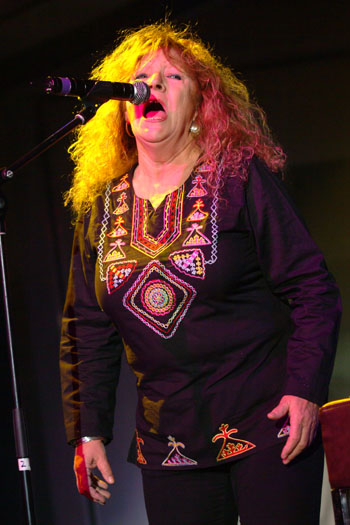 My second case of deja-vu this weekend struck me as soon as i woke up, with a hangover direct from Hard Rock Hell. After waking up my photographer (who resembled a walrus in the early morning), it was time for a few cups of tea and to jog each others memories to see if we could remember anything from the day before.
Once our brain cells started to recharge again, it was time for a stroll to the restaurant to have one of the biggest and the best English Breakfasts i've had in a long time. The full monty, even the black pudding was scrumptious helping to soak up the previous days intake.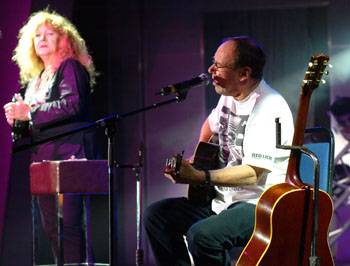 The first act of the day we managed to see was former Stone The Crows singer Maggie Bell, who was doing an acoustic set along with Dave Kelly, the guitarist from the Blues Band. I must admit I'd rather see Maggie perform with a full electric band, but this was an enjoyable set nonetheless.
Maggie Bell still has a fine voice and a friendly nature about her. At one time I thought she was reading the wrong set list as she ripped into a great version of 'House Of The Rising Sun'. A massive hit for the act that was due on stage directly afterwards.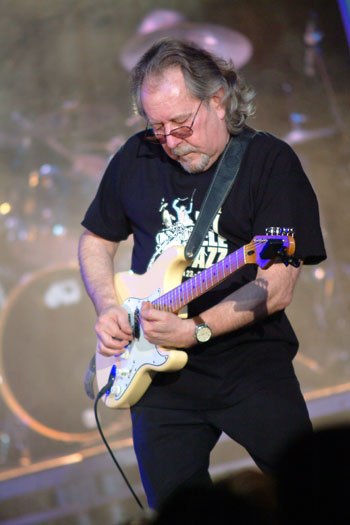 The thought of seeing The Animals without original singer Eric Burdon never appealed to me before, but that's the great thing about weekends like this, where it gives you a chance to check out bands that you wouldn't otherwise.
What is billed as Animals and Friends, only drummer John Steel remains from the original line up from 1963 with Mick Gallagher on the keys who played in the band a couple of years later. Complimented by John Williamson on guitar and Peter Barton on vocals and bass, the band delivered was what to be one of the best performances of the weekend.
I had forgotten how many great hits the Animals had such as 'It's My Life' and 'Don't Let Me Be Misunderstood', but it was a cover of the Screaming Jay Hawkins 'I Put A Spell On You' that sent shivers down my spine, one of many tracks that featured some fantastic swirling keyboard sounds from Mick Gallagher. It was easy to see why he is in such demand as a session player. It was so great to hear 'We Gotta Get Out Of This Place' which really sent the temperature rising. I will be seeing them again in the future. A class act.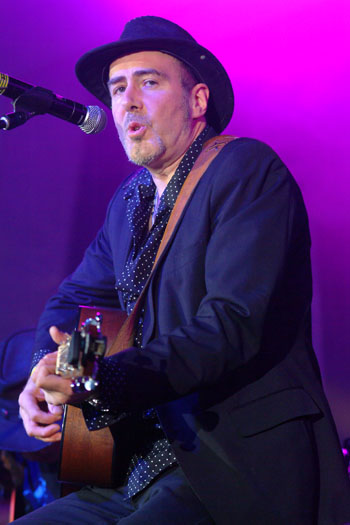 The Smokin Jackets were an interesting band fronted by Andy Sharrocks. Dressed like a travelling hillbilly band, the music was swampy bluegrass with some Tom Wait-ish vocals. Unlike Hayseed Dixie, the songs are more of a serious nature and approach. Worth seeing.
Soon followed on the Centre Stage by the Trevor Burton Band. Although getting great applause the former Move guitarist played a set that was a bit safe for me. If Mark Knopfler played the blues it would sound like this.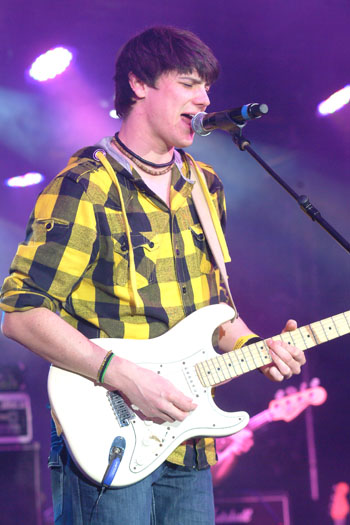 Over on the Reds stage was the first of two young sensations. From Torquay was the Jay Tamkin Band. A power trio who ripped into some heavy jazzy blues. Playing tracks from the recently released 'Sorted' CD. When not playing some mean Stevie Ray Vaughan influenced riffs Jay Tamkin took time out to play the organ and later swapping to play the bass even had a go on the drums towards the end of the set.
Despite showing off his talents, at times I wished they just concentrate on the songs, but with youth on their side this was a minor quibble. Jay Tamkin has it all and I'm sure you'll be hearing more about him in the future.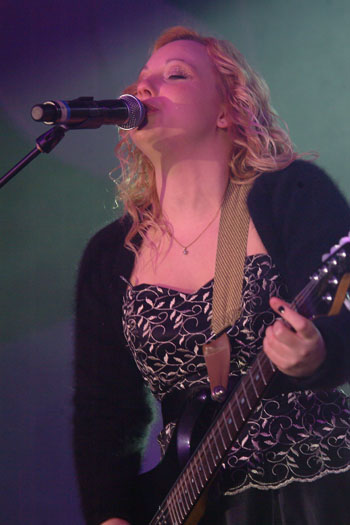 I've never heard of Chantel McGregor before this weekend and only went to check out her out because i liked the look of her on the publicity photo. Only 22 years old and fresh out of university this Northern lass looks like the girl next door who would happily babysit for you, but all presumptions soon flew out of the window as soon as the first chord was struck.
Playing a set of mostly covers, but not your average obvious choices, Chantel McGregor stamped her own unique style on each song. A cover of Jethro Tull's 'A New Day Yesterday' was sublime, each song was firing off in tangental directions.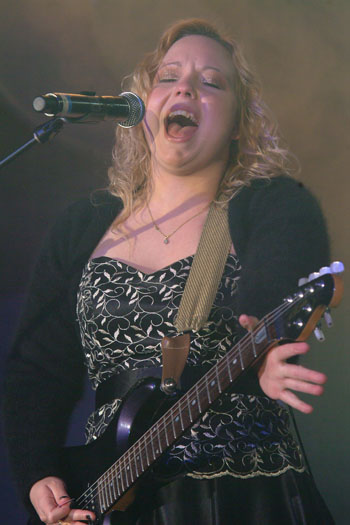 There were moments of Joe Bonamassa blues who has became her mentor, but also going off into metal directions at times via Steve Vai and I even noticed a Eddie Van Halen lick thrown in. Unlike Vai her sonic tapestries come straight from heaven.
It's the ease in her skillful playing that makes it look so simple, often twirling around with her dress flowing round, she looked so dainty whilst blowing our minds with solo after solo. It was mesmerizing, I could have watched her all night. A new star is born.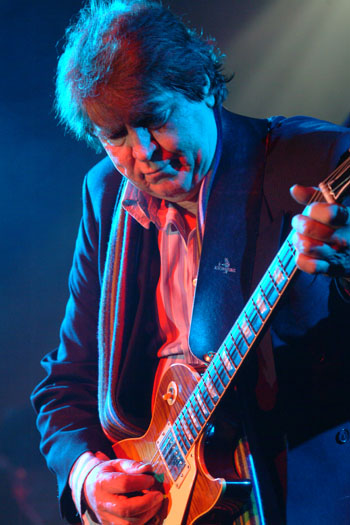 I had only had a few minutes to catch ex Rolling Stone Mick Taylor over at the Centre Stage, but for the first six minutes he let his band play before making an appearence. One for the connoisseur, but anyone who has a song called 'Twisted Sister' is fine by me. It's only rock 'n' roll (But not everyone liked it.)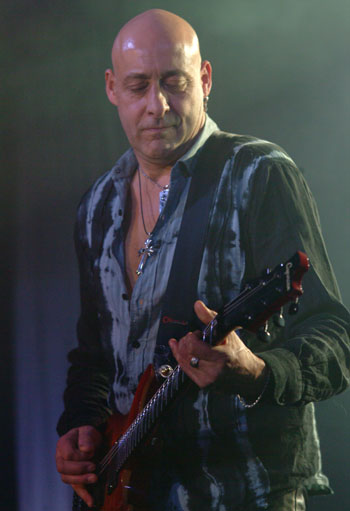 After a long day of blues, this die hard rocker wanted some metal action, which first came in the shape of melodic heavy rockers Praying Mantis. Being a mainly blues crowd at this festival and going on after the excellent set from Chantel McGregor I thought that people may leave in their droves, but I was proved wrong and 99% of the audience remained where they were and enjoyed a refined set from the Mantis.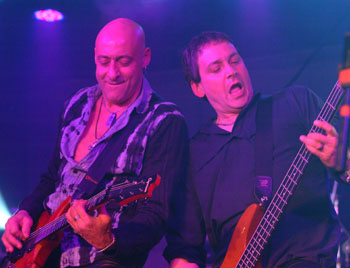 The dancefloor in front of the stage soon filled up and it was the balladish 'Turn The Tide' from the new release 'Sanctuary' that went down best. The more I hear this number the more I like it. Singer Mike Freeland has a fine set of pipes and the Troy brothers seemed to be enjoying themselves on this big stage.
'Captured City' from the early days ended this set with great applause from this receptive crowd, many seeing Praying Mantis for the first time. Praying Mantis are a long way from becoming extinct. Long may they continue.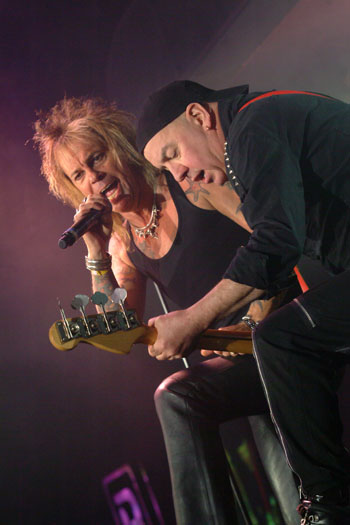 Oliver Dawson Saxon turned the amps up to eleven and were by far the loudest band this weekend. Bassist Steve Dawson and guitarist Graham Oliver were in the original Saxon, and you could soon hear why Saxon were one of the most popular heavy metal bands back in the 80's.
This was my second time of seeing this band and once again they blew me away, as well as everyone else watching tonight. I have warmed to singer John 'Wardi' Ward who refuses not to grab the attention of everyone in all four corners of the hall. Giving his all with his bare chested antics.
All those glorious 80's classics were played and new songs 'Past The Point' and 'Whippin' Boy' upped the ante. This was text book heavy metal. Ending with the encore of 'And The Bands Played On'. They blew away a lot the blues cobwebs.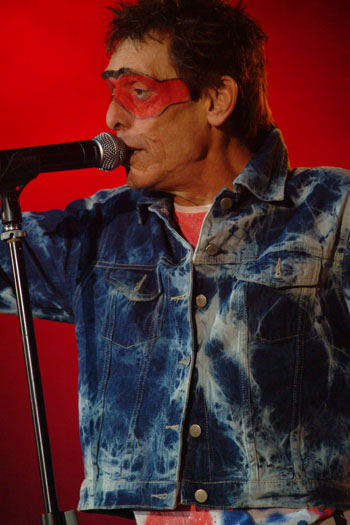 Eddie & The Hot Rods were doing anything they wanna do over at the Centre Stage playing a punkier bluesy set in the tone of fellow Essex boys Dr Feelgood, and brought a feelgood factor too, getting people standing on their seats. I didn't catch them myself, but I only heard good reports.
After another long hectic day, Mr Buckley and I retired to the Jaks bar to catch Gwyn Ashton doing an electric set but we arrived just as he was unplugging, but at least I can say I've seen him.
It was far past 2am before the entertainment had ended. Being a good boy all day, it was back to our posh chalet where waiting for me was my friend Jack Daniels. Oh dear!
Review by Mark Taylor
Photos by Noel Buckley