GLYDER Yesterday, Today and Tomorrow SPV (2010)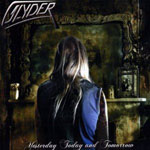 It's been three years since their last album, the rather good 'Playground For Life'. Since then the band have released an EP, toured extensivley and have signed for the revitalised SPV. All this and Mark Wilkinson again produces an eye catching cover, a clever reflection on the album's title.
The album kicks off with a the catchy 'That Line' and the first thing you notice is that the band have added keyboards, which are used again to good effect on a few other songs. This has added another dimension to the band's sound and there is a great keyboard run midway through 'Innocent Eyes', easily the most instant song on the album. A definite one for the radio and a possible single.
The band's love of Thin Lizzy again shines through on 'Jack Strong', featuring another very strong and instant chorus. 'Knockout' is one of those songs where the lyric tells a story, this time the famous 'Rumble in the Jungle' fight. The album's special guest is Y&T's Dave Meniketti who plays on the title track, quite appropriate given the full name of his band! Mind you the band are more than capable off playing up a storm when it comes to catchy guitar riffs and soaring solos.
Glyder have done it again and for me are carrying on the legacy of Thin Lizzy. Not that they are mere copycats but like Thin Lizzy, Glyder go with the musical flow and are not afriad to try new directions. On this album they have added keyboards and on songs like 'All You've Done' they tap into a more reflective sound.
Glyder have progressed nicely with each album and are now of the best of the new wave of classic rock influnced bands. With this new album and a little help from their new label, the band are now ready to breakout into the big time.
****½
Review by Jason Ritchie

---